Consulting news
Strates, le blog de la stratégie et du conseil
Management Engineers (ME) gilt als Perle der deutschen Beraterszene. Doch reichen acht Auslandsbüros auf Dauer aus, um bei den Beauty Contests der internationalen Konzerne die großen Strategieberatermarken zu überstrahlen? Die kleine, aber feine Perle ME ist sich da offenbar nicht mehr so sicher.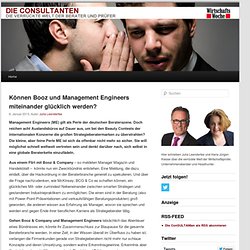 Julia Leendertse: Können Booz und Management Engineers miteinander glücklich werden? « Die ConSULTANten
Von Thomas Katzensteiner Corbis Wenn der Berater kommt: Der deutsche Beratermarkt ist in einer Konsolidierungsphase, kleinere Berater sind unter Druck. Nun verhandelt Booz über eine Übernahme Die Unternehmensberatung Booz & Company verhandelt mit dem Konkurrenten Management Engineers über einen Zusammenschluss.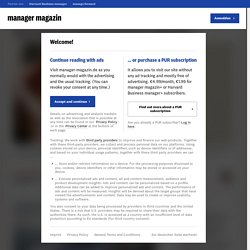 Unternehmensberater: Booz und Management Engineers verhandeln über Bündnis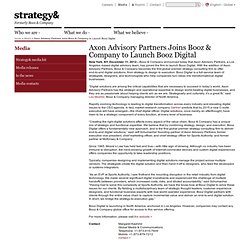 Axon Advisory Partners Joins Booz & Company to Launch Booz Digital New York, NY, December 11, 2012 —Booz & Company announced today that Axon Advisory Partners, a Los Angeles–based digital advisory team, has joined the firm to launch Booz Digital. With the addition of Axon Advisory Partners, Booz & Company becomes the first global premier strategy consulting firm to offer end-to-end digital solutions, from strategy to design to execution. Booz Digital is a full-service team of strategists, designers, and technologists who help companies turn ideas into transformational digital businesses.
Axon Advisory Partners Joins Booz & Company to Launch Booz Digital
Things to think about for 2013: (1) Strategy firms | The Source Blog
September seems to have been a good month for most consulting firms in Europe. This summer, unlike that of 2011, didn't see a crisis of confidence and many clients came back from their vacations keen to get things moving. For the moment the run up to the end of the calendar year is looking fairly positive. Inevitably, firms' thoughts are turning to next year: will 2013 be a good year for the consulting industry?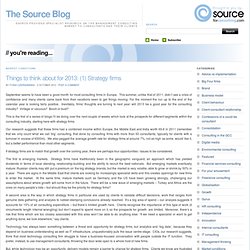 Décideurs. Comment le monde du conseil en stratégie a-t-il affronté le choc de 2008-2009 ? Jean-Marc Le Roux.
Entretien avec Jean-Marc Le Roux, directeur général France, Bain & Company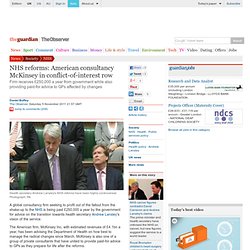 NHS reforms: American consultancy McKinsey in conflict-of-interest row | Society | The Observer
Health secretary Andrew Lansley's NHS reforms have been highly controversial.
Firmsconsulting – About Management Consulting
Le bout du tunnel serait-il en vue?
Le conseil en entreprise a le vent en poupe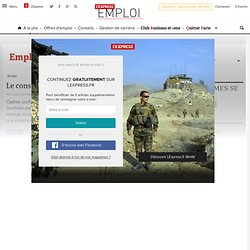 Fusion: Roland Berger wird zweitgrößter Powerpoint-Produzent der Welt - SPIEGEL ONLINE - Nachrichten - Wirtschaft
Hamburg - Es ist eine Nachricht, die eine elitäre Branche aufschreckt: Nach Informationen von manager magazin will die Unternehmensberatung Roland Berger mit dem Consultingbereich der Wirtschaftsprüfungsgesellschaft Deloitte fusionieren. Gemeinsam wären Berger und Deloitte die globale Nummer zwei nach McKinsey.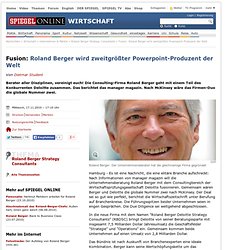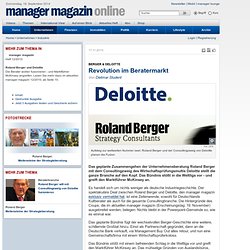 Von Dietmar Student Aufstieg zur weltweiten Nummer zwei: Roland Berger und der Consultingzweig von Deloitte planen die Fusion
Berger & Deloitte: Revolution im Beratermarkt - manager-magazin.de - Unternehmen
ConsultingMag.com
Newsletter - site sur les métiers du conseil - Syntec Etudes Conseils
We have published a new cookie policy . It explains what cookies are and how we use them on our site.
Management Consulting Jobs, Strategy & IT Jobs, News & Career Information - Top-Consultant.com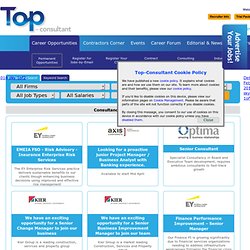 McKinsey-Studie: Trotz der Krise fehlen bald Arbeitskräfte
Artikel per E-Mail empfehlen Trotz der Krise fehlen bald Arbeitskräfte
Handelsblatt: Herr Fink, Bisher war Booz die Nummer vier in Deutschland, AT Kearney die Nummer neun. Ein Zusammenschluss würde beide direkt hinter Branchenprimus McKinsey weit nach vorne katapultieren - ein gelungener Schachzug? Dietmar Fink: Auf jeden Fall.
Booz und AT Kearney: "Fusion Schritt in die richtige Richtung" -
"Wie hoch schätzen Sie das Fachwissen der zehn umsatzstärksten Beratungshäuser ein?" fragte Dietmar Fink, Professor für Unternehmensberatung an der Fachhochschule Bonn-Rhein-Sieg und einer der führenden Kenner der Beraterbranche hierzulande die Top-Entscheider. Das Ergebnis: Mit 403 von insgesamt 500 möglichen Punkten landete der Branchenführer McKinsey in puncto Fachwissen ganz oben im Ranking der zehn umsatzstärksten Beratertruppen.
Fast wie ein Ritterschlag - Unternehmen - Management - Strategie
Die Marktforschungsgesellschaft Lünendonk erstellt jedes Jahr das Ranking, das in der Branche große Beachtung findet, aber auch kritisiert wird. Größte Überraschung ist der Wechsel auf Platz zwei: Die Boston Consulting Group (BCG) zog an Roland Berger vorbei und wird als erster Verfolger des Marktführers McKinsey geführt. McKinsey weist keine Umsätze für Deutschland aus, der Listenwert ist nur mit "größer als 500 Mio.
Lünendonk-Liste: Unternehmensberater büßen deutlich Umsatz ein -
Anonym gern, aber nicht mit Namen - Unternehmen - Management - S
Die größten zehn Beratungen vereinigen 84 Prozent der Meldungen auf sich.
Wie Deutschlands Spitzenberater bei ihren Kunden wegkommen - Unt
ShowImage.aspx (Objet application/pdf)
La Gazette Du Maroc
Consulting für Beamten: Berater krempeln Behörden um - Unternehm
Gerd Kerkhoff: "Im Privatleben ist mir das Feilschen zu blöd" -