GSiemens
WISE: The world's most important education conference
Education is constantly confronted with a dual threat: 1. Acknowledgement that it is a foundation for all human progress and able to lift regions and society out of poverty, 2. Public policy and investment that denies the value of education. When society faces a problem, whether racism, violence, or inequality, education is the first scapegoat and the first solution.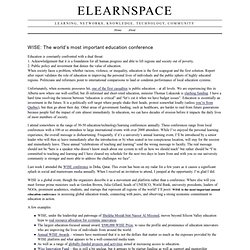 Digital natives and immigrants: A concept beyond its best before date
Over the last few years, I've increasingly encountered reference to Marc Prensky's distinction between "digital natives and digital immigrants".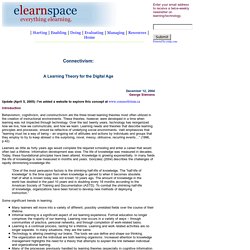 Connectivism: A Learning Theory for the Digital Age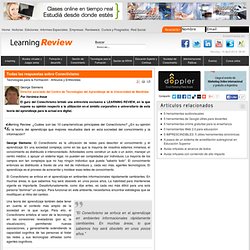 Todas las respuestas sobre Conectivismo | Artículos y Entrevistas
Tecnologías para la Formación - Artículos y Entrevistas George Siemens
Connectivism: Connecting with George Siemens
Knowledge and Our Structures of Learning
everything elearning.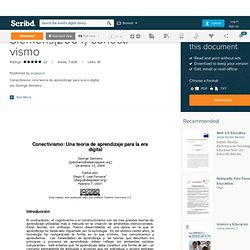 siglas en inglés). Para combatir la reducción en la vida media delconocimiento, las organizaciones han sido obligadas a desarrollar nuevosmétodos para llevar a cabo la capacitación." Algunas tendencias significativas en el aprendizaje:
Siemens(2004)-conectivismo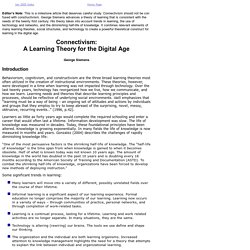 Editor's Note: This is a milestone article that deserves careful study. Connectivism should not be con fused with constructivism.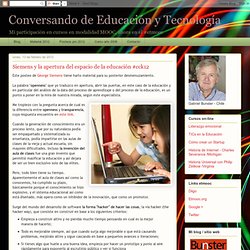 Este posteo de George Siemens tiene harto material para su posterior desmenuzamiento. La palabra "openness" que yo traduzco en apertura, abrir las puertas, en este caso de la educación y en particular del análisis de la data del proceso de aprendizaje o del proceso de la educación, es un punto a poner en la mira de nuestra mirada, según este especialista.
Siemens y la apertura del espacio de la educación #cck12
Siemens.Conociendoelconocimiento
Publicado en 28. oct, 2011 por Manuel Alejandro Molina en la categoría Noticias
A/A George Siemens | Blog del VI Encuentro Internacional EducaRed
Education is constantly confronted with a dual threat: 1.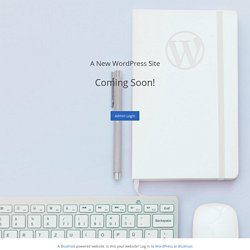 Peak Social
is one of those lovely words that can be added to anything to make it better. Media?
Why does information flow in networks?
People like Barry Wellman and Caroline Haythornthwaite have contributed significantly to advancing the analysis of the impact of networks on society.
Introducción al conocimiento conectivo: Fisicalidad Nueva sección de mi traducción de An introduction to connective knowledge de Stephen Downes, esta vez sobre fisicalidad. Vamos al grano: -------- Una introducción al Conocimiento Conectivo por Stephen Downes (traducción: Diego Leal) a.
Traducciones