Computer Programming
What have you tried? » Matt Legend Gemmell. If you're a developer and you're about to ask another developer a technical question (on a forum, via email, on a chat channel, or in person), you'd better be ready to answer the question "What have you tried?"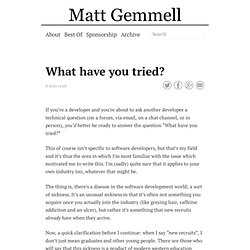 This of course isn't specific to software developers, but that's my field and it's thus the area in which I'm most familiar with the issue which motivated me to write this. I'm (sadly) quite sure that it applies to your own industry too, whatever that might be. CI Feature Matrix.
Note:: This is starting as a straight copy of the document at codehaus since that word is that it will be archived (see comments on the page at codehaus).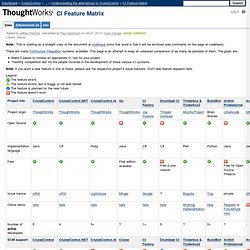 There are many Continuous Integration systems available. This page is an attempt to keep an unbiased comparison of as many as possible of them. The goals are: Make it easier to choose an appropriate CI tool for your project. "Healthy competition aid" for the people involved in the development of these various CI systems. Hudson CI. Redmine - Overview.
JIRA bug tracker. GreenHopper project management. Crucible code review tool. Bamboo CI. Continuous Integration and Release Management Any build server can mindlessly run your builds over and over.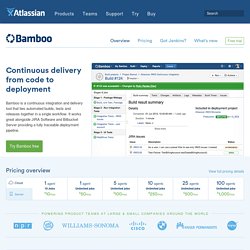 Go further with automated building, testing, deploying, and releasing of your software. Bamboo is a turnkey application that automates your build, test and deployment processes.
Play! Framework. Java. Perl. SWIG on Windows - Getting Started. This chapter describes SWIG usage on Microsoft Windows.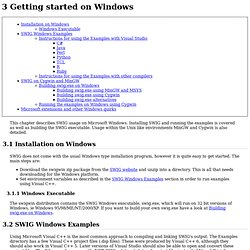 Installing SWIG and running the examples is covered as well as building the SWIG executable. Usage within the Unix like environments MinGW and Cygwin is also detailed. 3.1 Installation on Windows SWIG does not come with the usual Windows type installation program, however it is quite easy to get started. The main steps are:
C++
Nagios plug-in development guidelines. Development platform requirements Nagios Plugins are developed to the GNU standard, so any OS which is supported by GNU should run the plugins.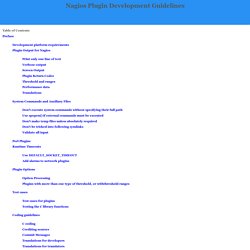 While the requirements for compiling the Nagios Plugins release are very basic, developing from the Git repository requires additional software to be installed. These are the minimum levels of software required: PHP. Stack Overflow. Framework for evolutionary design.
---