CSS
CSS3 Buttonize Framework - Light-Weight, Flexable Instant Button Framework. Gridless - An awesome boilerplate for responsive, cross-browser websites. Layer Styles. Creating Triangles in CSS « Jon Rohan's Web Developer Field Guide. I've come across a few techniques and tips in my career, while working at my last gig a co-worker pointed me to this technique.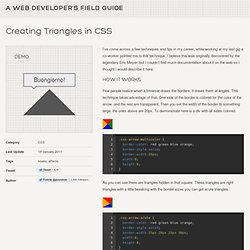 I believe this was originally discovered by the legendary Eric Meyer, but I couldn't find much documentation about it on the web so I thought I would describe it here. How it works Few people realize when a browser draws the borders, it draws them at angles. This technique takes advantage of that. One side of the border is colored for the color of the arrow, and the rest are transparent. Drop shadow with CSS for all web browsers. This article is also available in Bulgarian One of the most common CSS effects is using shadows in various ways.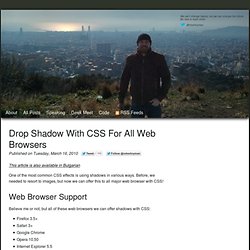 Before, we needed to resort to images, but now we can offer this to all major web browser with CSS! Web browser support Believe me or not, but all of these web browsers we can offer shadows with CSS: CSS Cheat Sheet (V2) - Added Bytes by Dave Child. The second version of the CSS Cheat Sheet, a quick reference guide for CSS, listing selector syntax, properties, units and other useful bits of information.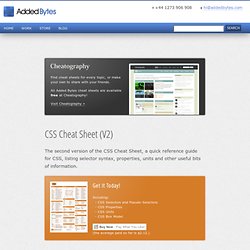 Get It Today! Including: - CSS Selectors and Pseudo-Selectors - CSS Properties - CSS Units - CSS Box Model Buy Now - Pay What You Like! (the average paid so far is $2.12.) CSS Navigation Techniques (37 entries) CSS Compressor - Online code compressor for Cascading Style Sheets. 30 CSS Best Practices for Beginners. CSS is a language that is used by nearly every developer at some point.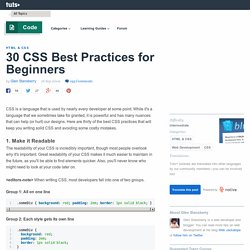 While it's a language that we sometimes take for granted, it is powerful and has many nuances that can help (or hurt) our designs. Here are thirty of the best CSS practices that will keep you writing solid CSS and avoiding some costly mistakes. Equal Height Columns with Cross-Browser CSS and No Hacks. By Matthew James Taylor on 17 October 2008 Creating equal height columns with CSS is not as easy as it may first seem.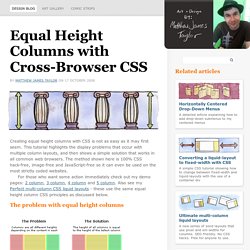 This tutorial highlights the display problems that occur with multiple column layouts, and then shows a simple solution that works in all common web browsers. The method shown here is 100% CSS hack-free, image-free and JavaScript-free so it can even be used on the most strictly coded websites. For those who want some action immediately check out my demo pages: 2 column, 3 column, 4 column and 5 column. Also see my Perfect multi-column CSS liquid layouts - these use the same equal height column CSS principles as discussed below. CSSWARP - CSS Text to Path Generator.
---