Computer Programming
Get flash to fully experience Pearltrees
A good programmer is someone who looks both ways before crossing a one-way street. -- Doug Linder, systems administrator
Learn how to earn $125 or more per hour as a freelancer - Click Here In this post we have collected 350+ free textures.
In my code journeys and programming adventures I've encountered many strange foes, and even stranger allies.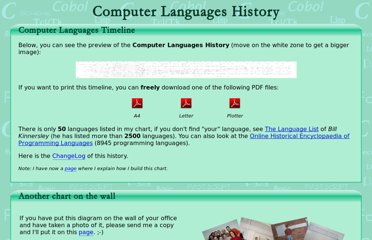 Below, you can see the preview of the Computer Languages History (move on the white zone to get a bigger image): If you want to print this timeline, you can freely download one of the following PDF files:
Missed lectures or hate teachers? Or want to study computer science courses without going to university? … You can study anytime anywhere because there are number of free online computer science courses available on internet that are very interactive.
August 2007 A good programmer working intensively on his own code can hold it in his mind the way a mathematician holds a problem he's working on. Mathematicians don't answer questions by working them out on paper the way schoolchildren are taught to.
Oracle Oracle Technology Network > Java Article