Computer Programming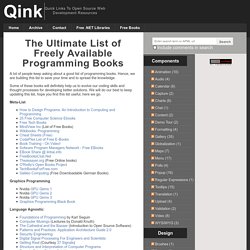 A lot of people keep asking about a good list of programming books. Hence, we are building this list to save your time and to spread the knowledge. Some of these books will definitely help us to evolve our coding skills and thought processes for developing better solutions.
Free Programming Tools / Resources You can find tools, resources and utilities for a wide variety of programming tasks below. If you don't see the category of tools you want listed in the index below, please check out the Miscellaneous Free Programming Tools page, a catch-all page for everything that does not have its own page.
Free Programming Tools: Editors, Debuggers, Disassemblers, Help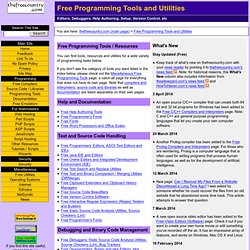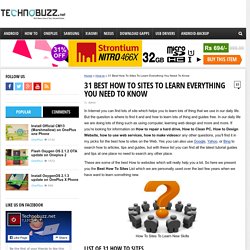 Advertisements In Internet you can find lots of site which helps you to learn lots of thing that we use in our daily life. But the question is where to find it and and how to learn lots of thing and guides free.
Creating your first Flash Professional CS5 document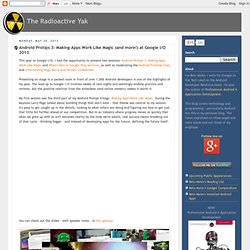 The Radioactive Yak
This is part two of A Deep Dive into Location. This post focuses on making your apps psychic and smooth using the Backup Manager, AsyncTask, Intent Services, the Cursor Loader, and Strict Mode. The code snippets used are available as part of the Android Protips: A Deep Dive Into Location open source project. More pro tips can be found in my Android Pro Tips presentation from Google I/O.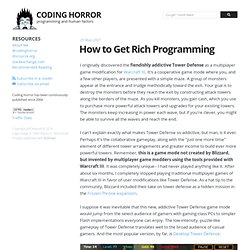 I originally discovered the fiendishly addictive Tower Defense as a multiplayer game modification for Warcraft III. It's a cooperative game mode where you, and a few other players, are presented with a simple maze. A group of monsters appear at the entrance and trudge methodically toward the exit. Your goal is to destroy the monsters before they reach the exit by constructing attack towers along the borders of the maze. As you kill monsters, you gain cash, which you use to purchase more powerful attack towers and upgrades for your existing towers. The monsters keep increasing in power each wave, but if you're clever, you might be able to survive all the waves and reach the end.
The Inmates Are Running the Asylum : Why High Tech Products Drive Us Crazy and How To Restore The Sanity This is the book that introduced the world to the concept of personas: rather than thinking of users as an abstract, difficult-to-describe, amorphous group of people, personas instruct us to talk about specific users who have names, personalities, needs, and goals. Would our users want a print preview feature? Who knows? But if Gerry Manheim, Account Executive, has to print out his weekly expense report as a part of his job, you better believe print preview needs to be in there.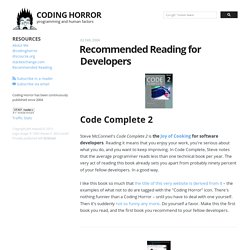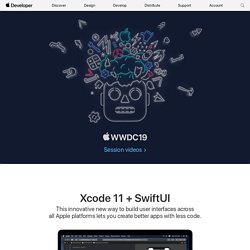 Apple Developer iOS 7 Develop your apps for iOS 7 today.Learn more | iOS Dev Center OS X Mavericks Download the latest version of OS X 10.9.Learn more | Mac Dev Center Xcode 5 See what's new in version 5. Learn more | Download
How to Make Money from Programming
There's a big opportunity here, but the path to Android programming isn't as clear as it should be. That's why I got in touch with Tony Hillerson, a mobile developer at EffectiveUI and the instructor behind the free online course "Developing Android Applications with Java." In the following Q&A, Hillerson discusses the skills and tools you'll need to dive into Android programming.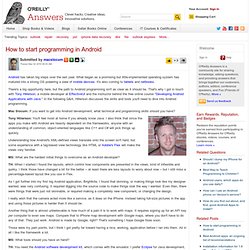 How to start programming in Android
Before installing the Android SDK, you must agree to the following terms and conditions. This is the Android Software Development Kit License Agreement 1. Introduction 1.1 The Android Software Development Kit (referred to in this License Agreement as the "SDK" and specifically including the Android system files, packaged APIs, and Google APIs add-ons) is licensed to you subject to the terms of this License Agreement. This License Agreement forms a legally binding contract between you and Google in relation to your use of the SDK. 1.2 "Android" means the Android software stack for devices, as made available under the Android Open Source Project, which is located at the following URL: http://source.android.com/, as updated from time to time. 1.3 "Google" means Google Inc., a Delaware corporation with principal place of business at 1600 Amphitheatre Parkway, Mountain View, CA 94043, United States.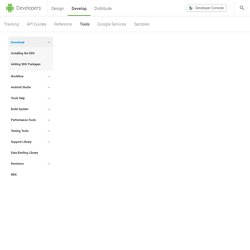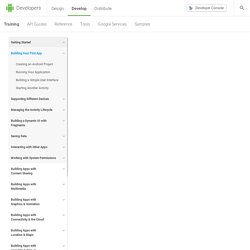 Welcome to Android application development! This class teaches you how to build your first Android app. You'll learn how to create an Android project and run a debuggable version of the app.
About java.net
Java.net is a large community of Java developers and their projects. We welcome anyone interested in Java, related JVM technologies, and education to our discussions and projects. Communities and Projects We manage our projects in a different way from most forges in that we try to maintain curated communities of projects - that is projects that use similar technologies or of similar types are grouped together in an area to make it easier to find other developers with similar interests and skills and their projects. You can find descriptions of our communities here and a description of our project workflow here.
java.blogs - Welcome to the java.blogs community!
Search: Not logged in C++ Language These tutorials explain the C++ language from its basics up to the newest features introduced by C++11. Chapters have a practical orientation, with example programs in all sections to start practicing what is being explained right away.
Welcome! If you're new to C++, I recommend you purchase my ebook, Jumping into C++, a complete step-by-step guide for beginners. If you're looking for free tutorials, learn C++ with our C++ tutorial, starting at C++ Made Easy, Lesson 1 (all lessons) If you want to learn C instead, check out our C tutorial C Made Easy, Lesson 1 (all lessons)
Learn Perl - www.perl.org
Hi, my name is Camelia. I'm the spokesbug for Perl 6, the spunky little sister of Perl 5. Like her world-famous big sister, Perl 6 intends to carry forward the high ideals of the Perl community.
Perl 6
Java Tutorials
Java Coffee Break - your free guide to the world of Java programming, packed full of free articles, tutorials, book reviews, and FAQs