CS Discussion Articles
9 Most Dangerous Apps for Kids, Parenting Kids, Christian Parents. In 2013, a twelve-year-old girl was lured away from her home by a 21 year-old-man.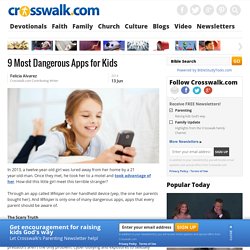 Once they met, he took her to a motel and took advantage of her. How did this little girl meet this terrible stranger? Through an app called Whisper on her handheld device (yep, the one her parents bought her). And Whisper is only one of many dangerous apps, apps that every parent should be aware of. The First Company To Build Your Identity Into Your Phone Wins The Next Decade.
Editor's note: Rebekah Cox is a product designer at Quora and previously a product design lead at Facebook.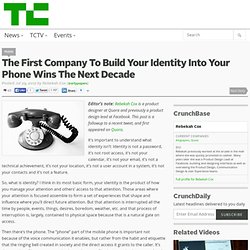 This post is a followup to a recent tweet, and first appeared on Quora. It's important to understand what identity isn't: Identity is not a password, it's not root access, it's not your calendar, it's not your email, it's not a technical achievement, it's not your location, it's not a user account in a system, it's not your contacts and it's not a feature. So, what is identity? I think in its most basic form, your identity is the product of how you manage your attention and others' access to that attention. Those areas where your attention is focused assemble to form a set of experiences that shape and influence where you'll direct future attention. The 'Busy' Trap. Teenage Sexting Is Becoming The Norm. "Under most existing laws, if our findings were extrapolated nationally, several million teens could be prosecuted for child pornography," explains a new study on teen sexting, which finds that a whopping 28% of teenagers text fully-nude pictures of themselves.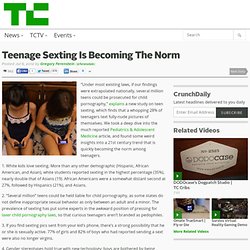 We took a deep dive into the much reported Pediatrics & Adolescent Medicine article, and found some weird insights into a 21st century trend that is quickly becoming the norm among teenagers. 1. Thousands of Twitter passwords exposed | Security & Privacy. Twitter is investigating the release of what appear to be thousands of user account passwords and e-mail addresses.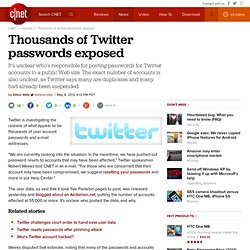 "We are currently looking into the situation. In the meantime, we have pushed out password resets to accounts that may have been affected," Twitter spokesman Robert Weeks told CNET in an e-mail. "For those who are concerned that their account may have been compromised, we suggest resetting your passwords and more in our Help Center. " The user data, so vast that it took five Pastebin pages to post, was released yesterday and blogged about on Airdemon.net, putting the number of accounts affected at 55,000 or more.
It's unclear who posted the data, and why. Twitter Downplays Breach That Exposed Passwords - Security - Attacks/breaches. Nearly 60,000 Twitter usernames and passwords released via Pastebin, but social networking service says half are for blocked spam accounts or duplicates.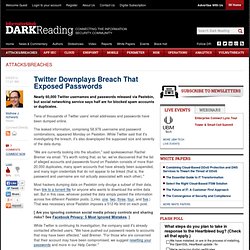 Tens of thousands of Twitter users' email addresses and passwords have been dumped online. The leaked information, comprising 58,978 username and password combinations, appeared Monday on Pastebin. NETS for Coaches. What If School Was More Like Twitter. April 17, 2012 by tomwhitby Every educator knows what their school is like, but few really understand what Twitter is like.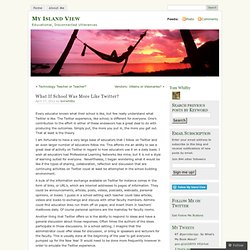 The Twitter experience, like school, is different for everyone. One's contribution to the effort in either of these endeavors has a great deal to do with producing the outcomes. Simply put, the more you put in, the more you get out. That at least is the theory. Teaching kids to be 'digital citizens' (not just 'digital natives') - The Answer Sheet. This was written by John Merrow, veteran education reporter for PBS, NPR, and dozens of national publications.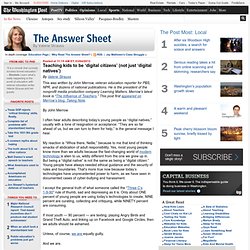 He is the president of the nonprofit media production company Learning Matters. Merrow's latest book is "The Influence of Teachers." This post first appeared on Merrow's blog, Taking Note. Hacked DC School Board E-Voting Elects Bender President. Kids' Cognition Is Changing—Education Will Have to Change With It - Megan Garber - Technology. This morning, Elon University and the Pew Internet and American Life Project released a report about the cognitive future of the millennial generation.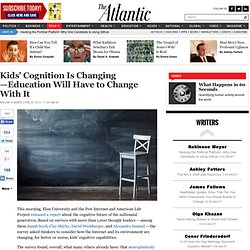 Based on surveys with more than 1,000 thought leaders -- among them danah boyd, Clay Shirky, David Weinberger, and Alexandra Samuel -- the survey asked thinkers to consider how the Internet and its environment are changing, for better or worse, kids' cognitive capabilities. The survey found, overall, what many others already have: that neuroplasticity is, indeed, a thing; that multitasking is, indeed, the new norm; that hyperconnectivity may be leading to a lack of patience and concentration; and that an "always on" ethos may be encouraging a culture of expectation and instant gratification. How Target Figured Out A Teen Girl Was Pregnant Before Her Father Did. Apple's iPad and the Human Costs for Workers in China. Fighting cyber-bullying in the classroom. Oh Shit, I'm A Racist. "I don't think Mike Arrington is a racist" – Angela Benton It's never a good day when people you don't know are having a raging Internet debate about whether or not you're a racist.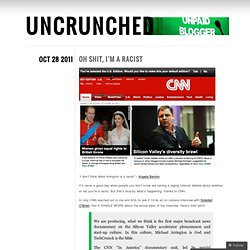 But that's exactly what's happening, thanks to CNN. In July CNN reached out to me and AOL to ask if I'd do an on camera interview with Soledad O'Brien. What If This Is No Accident? What If This Is The Future? The New Luddites are back, and they're packing heat.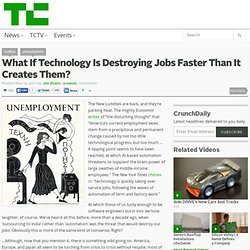 The mighty Economist writes of "the disturbing thought" that "America's current employment woes stem from a precipitous and permanent change caused by not too little technological progress, but too much … A tipping point seems to have been reached, at which AI-based automation threatens to supplant the brain-power of large swathes of middle-income employees." The New York Times chimes in: "technology is quickly taking over service jobs, following the waves of automation of farm and factory work." At which those of us lucky enough to be software engineers burst into derisive laughter, of course. We've heard all this before, more than a decade ago, when 'outsourcing to India' rather than 'automation' was the threat that would destroy our jobs. Obviously this is more of the same kind of nonsense.
---