Digital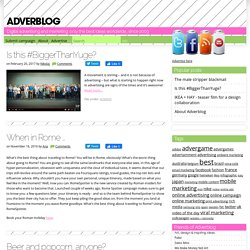 Kusmi Tea – The beauty of blends This campaign for Kusmi Tea created by French agency Quai Des Orfevres is simply beautiful. The campaign consists of 3 spots, each film representing one of the Kusmi Tea blends : Sweet Love, BB Detox and Prince Wladimir.
Interactive Marketing Trends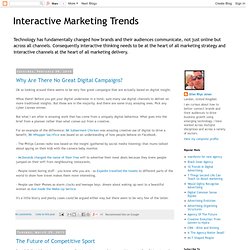 Safe adventure, investment marketing, risk marketing, measureable innovation. Call it what you will but the more I talk to agencies and clients the more I am convinced that to survive, the first/only rule we reallly need to adhere to is McKinsey's 80/20. Spend 80% on stuff you know works and 20% on measurable innovation.
ON: Digital+Marketing
Now more than ever design matters. Now that I am back to my roots of video and mobile I have realized that Agile is here to stay. The economic difficulties of the past years as well as the focus on tangible innovation has almost shoved waterfall under the perverbial bus; now more than ever, long requirements phases and vaporous up-front documentation aren't acceptable. Software must be visible and valuable from the start.