CTO
A Checklist for Retailers Getting Ready for Tablet-driven Commerce. Amazon's Android-based tablet, the Kindle Fire, has debuted to the expected fanfare.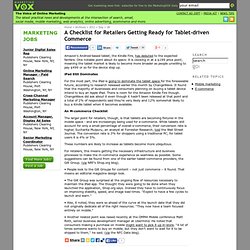 One notable point about its specs: it is clocking in at a $199 price point, meaning the tablet market is likely to become more broader as people unwilling to pay $499 or so for the device step up. iPad Still Dominates For the most part, the iPad is going to dominate the tablet space for the foreseeable future, according to research released earlier this month by ChangeWave. It found that the majority of businesses and consumers planning on buying a tablet device intend to buy an Apple iPad.
There is room for the Amazon Kindle Fire though. 10 problèmes SEO & les outils pour les solutionner. Search Engine Patents and Panda. Bill Slawski is the president and founder of SEO by the Sea, and has been engaging in professional SEO and internet marketing consulting since 1996.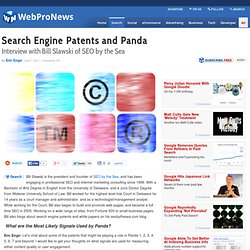 With a Bachelor of Arts Degree in English from the University of Delaware, and a Juris Doctor Degree from Widener University School of Law, Bill worked for the highest level trial Court in Delaware for 14 years as a court manager and administrator, and as a technologist/management analyst. While working for the Court, Bill also began to build and promote web pages, and became a full time SEO in 2005. Working on a wide range of sites, from Fortune 500 to small business pages, Bill also blogs about search engine patents and white papers on his seobythesea.com blog. Netlinking – Partez en campagne pour améliorer votre référencement !
Netlinking, le mode d'emploi complet par Web Me I'm Famous !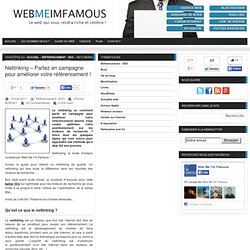 Suivez le guide pour obtenir un netlinking de qualité. Un netlinking qui fera toute la différence dans les résultats des moteurs de recherche… The Ultimate Website Launch Checklist | Our Blog. We're developing a checklist that all websites should be checked against before launch.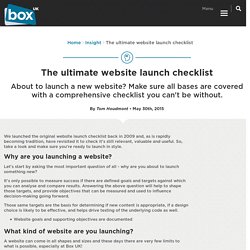 Let us know if we've missed something out, or if something needs further clarification. Some well-known and well-documented tasks (such as validation and accessibility testing) are not explained in detail. Add your suggestions in the comments. Updated 17 Feb '09, 15:21 Added notifications ( @keeran ), Hidden copy ( @jennybee ) and Test search ( @bwass ). Blog. Notre équipe et nos partenaires sont ravis de mettre à votre disposition les supports de conférences et d'ateliers qui vous ont été présentés lors de la journée exceptionnelle du 31 mars 2011 !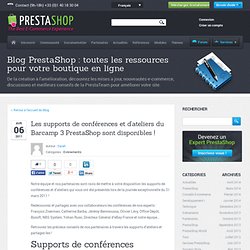 Redécouvrez et partagez avec vos collaborateurs les conférences de nos experts : François Ziserman, Catherine Barba, Jérémy Benmoussa, Olivier Lévy, Office Dépôt, Bysoft, NBS System, Yohan Ruso, Directeur Général d'eBay France et notre équipe… Retrouvez les précieux conseils de nos partenaires à travers les supports d'ateliers et partagez-les !
Ouverture de la journée. 8 Essential Web Typography Resources. The Web Development Series is supported by Rackspace, the better way to do hosting.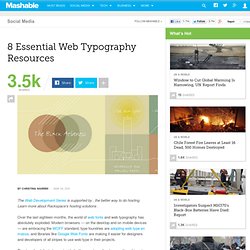 Learn more about Rackspace's hosting solutions here. Over the last eighteen months, the world of web fonts and web typography has absolutely exploded. Modern browsers — on the desktop and on mobile devices — are embracing the WOFF standard, type foundries are adopting web type en masse, and libraries like Google Web Fonts are making it easier for designers and developers of all stripes to use web type in their projects. The rise of web fonts has coincided with a greater cultural recognition of type in general. Freelancer.com | Online Jobs | Freelance Employment | Outsourcing Services | Programmers | Web Design | Freelancers.
PSD to Prestashop Theme / Template, Convert PSD to Prestashop Integration. We can load an array of benefits to your PSD to Prestashop conversion project: To make your online store fully compatible with all major web browsers To render pixel perfection web design For faster loading web pages of the website Providing search engine optimized and semantic coding for better functioning of website all across the varied platforms Giving highly scalable and flexible Prestashop ecommerce store Creating user-friendly functioning and professional looking online store Providing fully hand-coded, clean and well-structured codes that meets W3C validations Fostering your website with professional touch to give advantage over your competitors We accept all design files (like PSD, PNG, JPG etc.) for PSD to Prestashop template / theme conversion.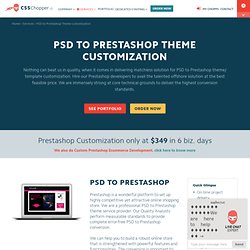 We deeply analyze the client's requirements before commencing the conversion process. 50+ Awesome CSS3 Techniques for Better Designs. CSS3 is gaining momentum, despite the fact that the standard hasn't even been finalized.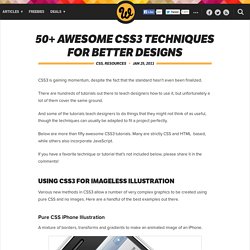 There are hundreds of tutorials out there to teach designers how to use it, but unfortunately a lot of them cover the same ground. And some of the tutorials teach designers to do things that they might not think of as useful, though the techniques can usually be adapted to fit a project perfectly. Below are more than fifty awesome CSS3 tutorials. Many are strictly CSS and HTML based, while others also incorporate JavaScript. If you have a favorite technique or tutorial that's not included below, please share it in the comments! 250+ Resources to Help You Become a CSS Expert. CSS is the second-most-important thing you can master when it comes to web design, right after HTML.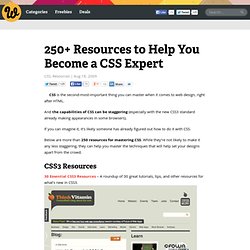 And the capabilities of CSS can be staggering (especially with the new CSS3 standard already making appearances in some browsers). If you can imagine it, it's likely someone has already figured out how to do it with CSS. Below are more than 250 resources for mastering CSS. While they're not likely to make it any less staggering, they can help you master the techniques that will help set your designs apart from the crowd. 10 Best CSS Practices to Improve Your Code. It's really easy to find yourself wondering how your CSS got to be such a mess.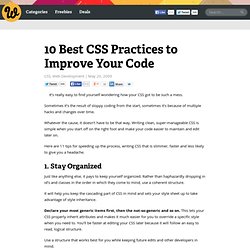 Sometimes it's the result of sloppy coding from the start, sometimes it's because of multiple hacks and changes over time. Whatever the cause, it doesn't have to be that way. Writing clean, super-manageable CSS is simple when you start off on the right foot and make your code easier to maintain and edit later on. Here are 11 tips for speeding up the process, writing CSS that is slimmer, faster and less likely to give you a headache. 1. Energie verte - Energie Durable - Wattimpact. HOW TO: Hire a Great Web Designer, With Y Combinator's Garry Tan. This post originally appeared on the American Express OPEN Forum, where Mashable regularly contributes articles about leveraging social media and technology in small business. If you're looking to hire a web designer, you probably have dozens of questions swirling around in your head: How do I really know if this "kid" is as good as he says he is?
Will a work-from-home designer slack off and overcharge me? Will my website look awful if I use a cheaper designer from overseas? Garry Tan knows more than most do about hiring great web design talent. As the designer-in-residence for Y Combinator, a highly influential startup incubator, he's compiling a directory of the best web design talent around the world, which means he spends a lot of time poring over portfolios, client lists and resumes. Loic Le Meur's Ten Rules For Startup Success. Les pièges à éviter en se lançant dans l'e-commerce. Le paiement en ligne : les solutions avec contrat VAD. 1. Solutions classiques de paiement en ligne avec un contrat de Vente A Distance (VAD) Votre démarche prioritaire doit être d'obtenir avec votre banque ou un autre organisme bancaire un contrat de vente à distance (VAD).
Il s'agira simplement de remplir un formulaire, que l'organisme choisi vous remettra, en répondant à des questions concernant votre activité commerciale. Une fois le contrat accepté et signé par les deux parties, la banque vous attribuera un numéro de VAD, c'est une clé commerçant qui vous permettra d'utiliser le Terminal de Paiement Electronique virtuel (en ligne) afin de pouvoir accepter le paiement en ligne par carte bancaire. Les 7 étapes pour lancer son site ecommerce ! Conseilsmarketing accueille Remy Bigot, qui nous rappelle les conseils indispensables pour se lancer dans l'ecommerce à partir de son expérience via le site www.fee-corsetee.com. Etape 1 : Trouver un spécialiste ecommerce Lors de la mise en ligne de la boutique de la fée corsetée , j'ai du trouver un expert en Os commerce, la plateforme que je souhaitais utiliser pour notre projet (nb: depuis il existe des solutions plus modernes comme WiziShop). En effet, je suis plus un référenceur/marketer qu'un véritable webmaster/designer, même si je possède quelques connaissances.
---