Analyse
7 segments avancés Google Analytics à créer absolument
Estimurl, un outil pour analyser le référencement de vos pages
Le référencement, c'est important. Répète après moi : i… m… p… o… r… t… a…n… t. Sans un bon référencement, ton site n'est pas visible.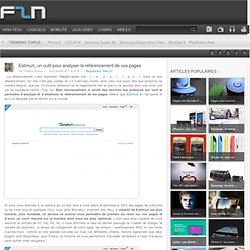 5 bons outils pour faire une analyse SEO
Google Website Optimizer is no longer available. We invite you to use Google Analytics Content Experiments to test your website and take advantage of the robust segmentation and ease-of-use provided by Google Analytics. About Google Analytics Content Experiments We integrated content testing into Google Analytics to help you meet your goals of measuring, testing, and optimizing all in one place. Content Experiments helps you optimize for goals you have already defined in your Google Analytics account, and can help you decide which page designs, layouts, and content are most effective. With Content Experiments, you can develop several versions of a page and show different versions to different visitors.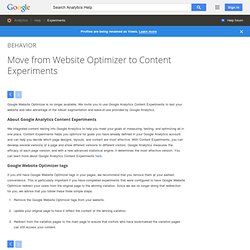 Par Olivier Duffez , Lundi 2 avril 2012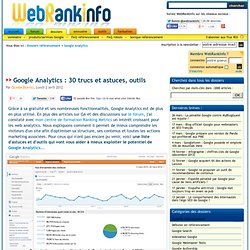 ecommerce | La Bible des Indicateurs Clé de Performance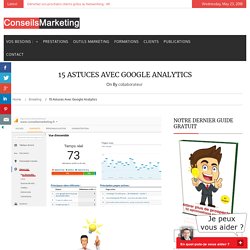 Google Analytics est une des sources les plus importantes d'informations sur vos clients et prospects . Pourtant, tout comme Word et Excel, nous n'utilisons pas plus de 30% des possibilités offertes par Google Analytics… En effet en plus des informations basiques fournies par défaut (sources des visiteurs, taux de rebond, temps passé, nombre de pages vues…), Google Analytics offre des possibilités énormes pour mieux connaitre les visiteurs de son site Web via quelques paramétrages basiques.
Hyper Alerts - The feature Facebook forgot
Ne cherchez plus le Jules parfait, il est là : Consultant web et Expert e-commerce - Ludovic Passamonti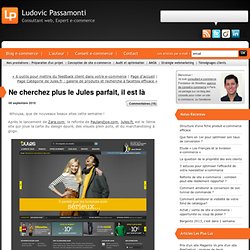 Whouaa, que de nouveaux beaux sites cette semaine !