Season 3
Christmas Musical Episode
Season 3 - Promo/Sneak Peek #1. Season 3 - Promo/Sneak Peek #2. Season 3 - Promo/Sneak Peek #3. Dan Harmon on Season 3. Joel McHale and Alison Brie Interview. A little over a week ago, I got to visit the set of one of the best shows on television: NBC's Community.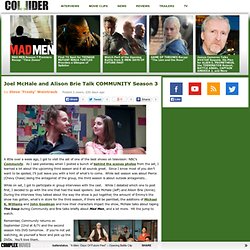 As I said yesterday when I posted a bunch of behind the scenes photos from the set, I learned a lot about the upcoming third season and it all sounds great. Since I know most of you don't want to be spoiled, I'll just leave you with a hint of what's to come. Danny Pudi Talks Community. Actor Danny Pudi discusses playing Abed on Community, the Season 2 DVD set, Chuck, Knights of Badassdom, Season 3 of Community, and more.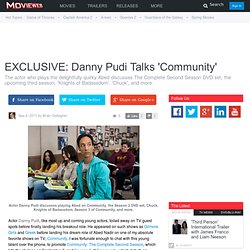 Actor Danny Pudi, like most up and coming young actors, toiled away on TV guest spots before finally landing his breakout role. He appeared on such shows as Gilmore Girls and Greek before landing his dream role of Abed Nadir on one of my absolute favorite shows on TV, Community. I was fortunate enough to chat with this young talent over the phone, to promote Community: The Complete Second Season, which hits the shelves on September 6, and Season 3 of Community, which debuts on Thursday, September 22 at 8 PM ET on NBC. Take a look at what he had to say below. EVIL TROY AND EVIL ABED.
---