Week Ending January 21
Evolving Care 2010
African-Americans with uncontrolled high blood pressure benefited from an intervention using DVDs of real patients' stories of how they dealt with their chronic disease.
Culturally Appropriate Storytelling to Improve Blood Pressure
SuccessEHS client Winn Community Health Center (CHC) became the nation's first federally qualified health center (FQHC) to receive a Medicaid electronic health record (EHR) incentive payment on January 12, 2011.
SuccessEHS Provider is the First Federally Qualified Health Center to Receive Stimulus Funds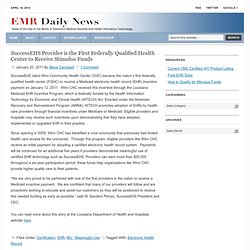 Healthy Communities Online | Using Social Media to Build Healthy Communities
GoogleIR's Channel
The Wyden–Brown Bill — Short on State Flexibility | Health Policy and Reform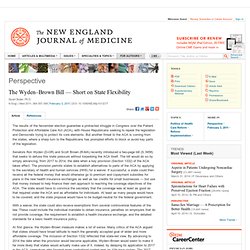 The results of the November election guarantee a protracted struggle in Congress over the Patient Protection and Affordable Care Act (ACA), with House Republicans seeking to repeal the legislation and Democrats trying to protect its core elements.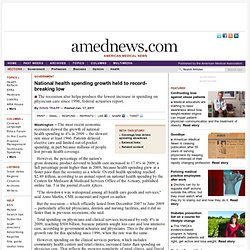 Washington -- The most recent economic recession slowed the growth of national health spending to 4% in 2009 -- the slowest rate since at least 1960. Patients delayed elective care and limited out-of-pocket spending, in part because millions of people lost private health coverage. However, the percentage of the nation's gross domestic product devoted to health care increased to 17.6% in 2009, a full percentage point higher than in 2008, because health spending grew at a faster pace than the economy as a whole.
National health spending growth held to record-breaking low :: Jan. 17
Health Affairs
AHRQ to survey 400 Medicaid providers to determine MU barriers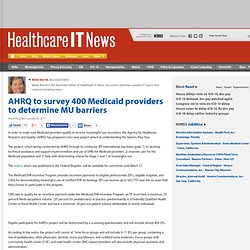 In order to make sure Medicaid providers qualify to receive meaningful use incentives, the Agency for Healthcare Research and Quality (AHRQ) has proposed a two-year project aimed at understanding the barriers they face.
Use Live Streaming, Podcasts and Tweetchats
On December 8th, John O'Brien appeared on CHCRadio.com's broadcast.