Week Ending January 21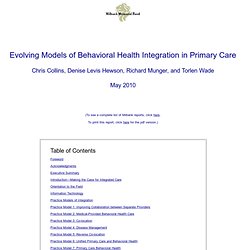 * http://www.ama-assn.org/ama/pub/category/3113.html Selected Articles Agency for Healthcare Research and Quality. 2008. Integrating Behavioral Health and Nutrition Services into Primary Care Clinics Significantly Reduces Mental Health—Related Hospitalizations for Staff-Model Health Maintenance Organization. Rockville, MD: Agency for Healthcare Research and Quality.
Evolving Care 2010
Culturally Appropriate Storytelling to Improve Blood Pressure
SuccessEHS client Winn Community Health Center (CHC) became the nation's first federally qualified health center (FQHC) to receive a Medicaid electronic health record (EHR) incentive payment on January 12, 2011. Winn CHC received this incentive through the Louisiana Medicaid EHR Incentive Program, which is federally funded by the Health Information Technology for Economic and Clinical Health (HITECH) Act. Enacted under the American Recovery and Reinvestment Program (ARRA), HITECH promotes adoption of EHRs by health care providers through financial incentives under Medicare or Medicaid. Eligible providers and hospitals may receive such incentives upon demonstrating that they have adopted, implemented or upgraded EHR in their practice. Since opening in 2009, Winn CHC has benefited a rural community that previously had limited health care access for the uninsured.
SuccessEHS Provider is the First Federally Qualified Health Center to Receive Stimulus Funds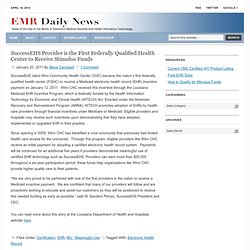 Healthy Communities Online | Using Social Media to Build Healthy Communities
GoogleIR's Channel
The Wyden–Brown Bill — Short on State Flexibility | Health Policy and Reform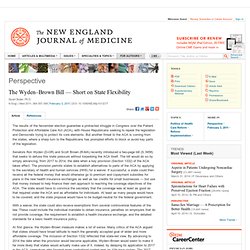 The results of the November election guarantee a protracted struggle in Congress over the Patient Protection and Affordable Care Act (ACA), with House Republicans seeking to repeal the legislation and Democrats trying to protect its core elements. But another threat to the ACA is coming from the states, where a sharp turn to the Republicans has prompted efforts to block or avoid key parts of the legislation. Senators Ron Wyden (D-OR) and Scott Brown (R-MA) recently introduced a two-page bill (S.3958) that seeks to defuse this state pressure without torpedoing the ACA itself. The bill would do so by simply advancing, from 2017 to 2014, the date when a key provision (Section 1332) of the ACA takes effect.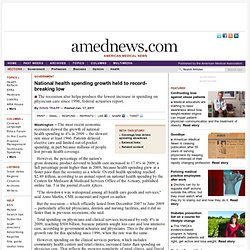 Washington -- The most recent economic recession slowed the growth of national health spending to 4% in 2009 -- the slowest rate since at least 1960. Patients delayed elective care and limited out-of-pocket spending, in part because millions of people lost private health coverage. However, the percentage of the nation's gross domestic product devoted to health care increased to 17.6% in 2009, a full percentage point higher than in 2008, because health spending grew at a faster pace than the economy as a whole.
National health spending growth held to record-breaking low :: Jan. 17
Health Affairs
AHRQ to survey 400 Medicaid providers to determine MU barriers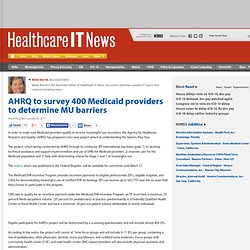 In order to make sure Medicaid providers qualify to receive meaningful use incentives, the Agency for Healthcare Research and Quality (AHRQ) has proposed a two-year project aimed at understanding the barriers they face. The project, which being conducted by AHRQ through its contractor, RTI International, has three goals: 1) to develop technical assistance and support implementation and use of EHRs for Medicaid providers, 2) improve care for the Medicaid population and 3) help with determining criteria for Stage 2 and 3 of meaningful use. The notice, which was published in the Federal Register, will be available for comments until March 21. The Medicaid EHR Incentive Program provides incentive payments to eligible professionals (EPs), eligible hospitals, and CAHs for demonstrating meaningful use of certified EHR technology.
Use Live Streaming, Podcasts and Tweetchats
On December 8th, John O'Brien appeared on CHCRadio.com's broadcast. It was my second week as Social Media Manager at chc1.com so I didn't get a chance to be as involved as I would like. Since then, I've started having live Tweetchats about shows as they get broadcast. It would be good to see SAMHSA live stream forums and other events, produce podcasts, live tweet during when material is broadcast, and have Tweetchats to discussion important issues.