Community & Events
I found a post on another blog called "Ten reasons you should own private gold" and I think number 5 is where bitcoin comes into the picture. 5. US Gold Coins are completely private, easy to carry and 100% Liquid.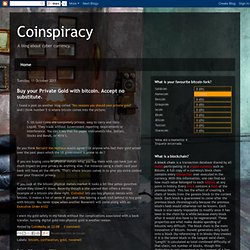 Coinspiracy
Language: English Bahasa Indonesia Bahasa Melayu Dansk
Bitcoin Info (bitcoininfo) on Twitter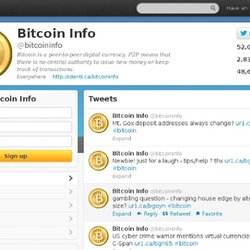 Bitcoin Weekly (@BitcoinWeekly) sur Twitter
Bitcoin is a peer-to-peer network based anonymous digital currency. "Peer-to-peer" (P2P) means that there is no central authority to issue new money or to keep track of the transactions. Instead, those tasks are managed collectively by the nodes of the network.
(4) Bitcoin - Quora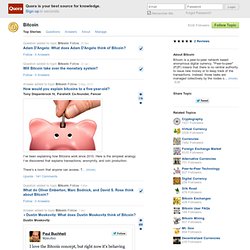 Bitcoin Forums
UK Bitcoin Forums
Sign In - btc::log
"I love JS Weekly and HTML 5 Weekly, both topics are of interest to me, but I don't have the time to search out current information about them so it's nice to have a awesome curated list delivered to my inbox every week." Co-founder, DailyPath "JavaScript Weekly is great.
Bitcoin Weekly - Latest Commentary, Analysis