Common Core
Common Core Video Series. Education Commissioner John King, David Coleman and Kate Gerson explain every key aspect of Common Core standards in depth.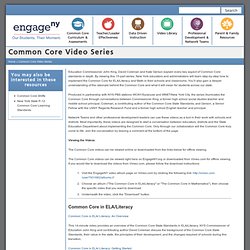 By viewing this 15-part series, New York educators and administrators will learn step-by-step how to implement the Common Core for ELA/Literacy and Math in their schools and classrooms. You'll also gain a deeper understanding of the rationale behind the Common Core and what it will mean for students across our state. Produced in partnership with NYS PBS stations WCNY/Syracuse and WNET/New York City, the series illuminates the Common Core through conversations between Commissioner King, a former high school social studies teacher and middle school principal; Coleman, a contributing author of the Common Core State Standards; and Gerson, a Senior Fellow with the USNY Regents Research Fund and a former high school English teacher and principal. Visual Recording on the iPad. English Language Arts and Literacy Resources.
Five Questions for Common Core | InService Blog. There is much talk, and a lot of confusion, about the new Common Core State Standards among frontline educators in the classroom.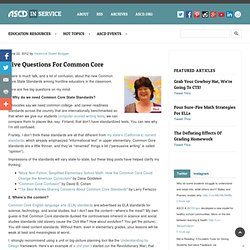 Here are five big questions on my mind: 1. Why do we need Common Core State Standards? Advocates say we need common college- and career-readiness standards across the country that are internationally benchmarked so that when we give our students computer-scored writing tests, we can compare them to places like, say, Finland, that don't have standardized tests.
Ten Takeaway Tips for Teaching Critical Thinking | Common Core State Standards for School Leaders. Core Strategies for Innovation and Reform in Learning. Edutopia is dedicated to transforming the learning process by helping educators implement the strategies below.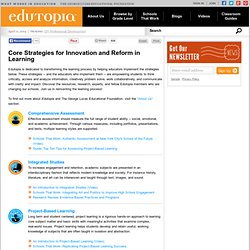 These strategies -- and the educators who implement them -- are empowering students to think critically, access and analyze information, creatively problem solve, work collaboratively, and communicate with clarity and impact. Discover the resources, research, experts, and fellow Edutopia members who are changing our schools. Join us in reinventing the learning process!
To find out more about Edutopia and The George Lucas Educational Foundation, visit the "About Us" section. Common Core Essentials - Home. Achievethecore.org. Common Core. Common Core State Standards. College and Career Readiness Illinois joined more than 40 states in a collaborative effort to raise learning standards and improve college and career readiness for all students, regardless of where they live.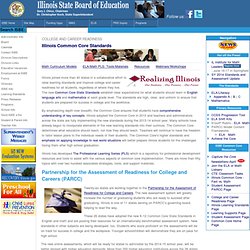 The new Common Core State Standards establish clear expectations for what students should learn in English language arts and mathematics at each grade level. The standards are high, clear, and uniform to ensure that students are prepared for success in college and the workforce. Common Core Support Tools. Below you will find unpacking standards documents to support teachers in their understanding of the common core and essential standards.
The unpacking documents demonstrate at a granular level the knowledge and skills students are expected to master at a particular grade. Important Note: The current Standard Course of Study will continue to be taught and tested during the 2010-11 and 2011-12 school years. New standards and assessments are to be implemented for the first time beginning with the 2012-13 school year. Please send any thoughts, feedback, questions and ideas about additional resources that would help you start preparing to teach the new standards to feedback@dpi.nc.gov. Common Core State Standards - English Language Arts Materials. English Language Arts Materials Common Core Content Standards for ELA: Overview PowerPoint Presentation This PowerPoint shows the design and structure for all grades K-12.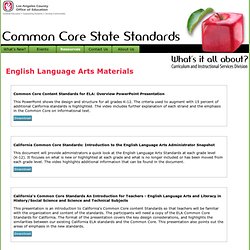 The criteria used to augment with 15 percent of additional California standards is highlighted. Common Core and 21st Century Standards. School Improvement Services. School Improvement Services (SIS) provides dynamic leadership and improvement in educator effectiveness, curriculum, assessment, instruction, data and accountability, professional development, and educational leadership to enhance all students' learning.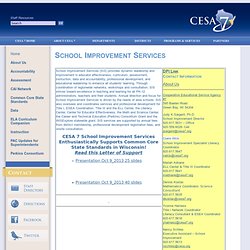 Through coordination of regionwide networks, workshops and consultation, SIS strives toward excellence in teaching and learning for all PK-12 administrators, teachers and their students. Annual direction and focus for School Improvement Services is driven by the needs of area schools. SIS also oversees and coordinates services and professional development for Title I, ESEA Coordination, Title III and the ELL Center, the Literacy Center, Center for Educator Effectiveness, the Math and Science Center, the Career and Technical Education (Perkins) Consortium Grant and the WISExplore statewide grant. COMMON CORE INTRODUCTION. Common Core for the Holidays. Video: Common Core for English: Read like a detective and write like a conscientious investigative reporter! | 6-Traits Resources. NCSM - Position Papers. NCSM has collaborated with AMTE, ASSM, and NCTM to make joint public statements to help our members interpret important national documents that impact their work.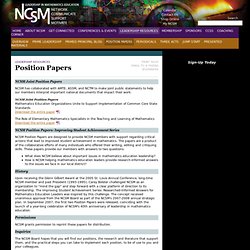 Mathematics Education Organizations Unite to Support Implementation of Common Core State StandardsDownload the entire paper The Role of Elementary Mathematics Specialists in the Teaching and Learning of MathematicsDownload the entire paper. Clearinghouse. E-Newsletter SignUp Show.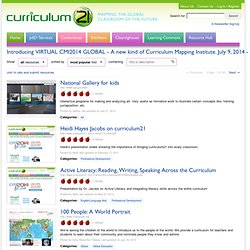 Partnership for Assessment of Readiness for College and Careers | PARCC. On the Road to Implementation Common Core Standards with Common Sense. Login | The Learning Connection. Implementation of the ELA Common Core State Standards Across the Country. Brenda Overturf is a member of the International Reading Association's Board of Directors.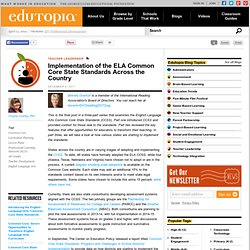 You can reach her at boverturf[AT]reading[DOT]org. This is the final post in a three-part series that examines the English Language Arts Common Core State Standards (CCSS). Part one introduced CCSS and provided context for those new to the standards. Common Core Curriculum Maps | Common Core's ELA Maps have been in use by teachers for over two years. During this time, the non-profit organization has established an unparalleled reputation for creating high-quality, low-cost curriculum tools based on the Common Core State Standards. Our Common Core Curriculum Maps, released in August 2010, were the first new, CCSS-based curriculum tools to come out after the standards were finalized. Written by teachers for teachers, our ELA Maps are detailed guides for creating CCSS-aligned lessons that delve deeply into key core knowledge content and utilize the best and most important literary and informational texts.
These carefully crafted maps include all of the new standards. Common Core Curriculum Maps | Frequently Asked Questions. Overview. This is a brief description of the unit. It explains the unit's theme and provides a summary of what students will learn. It explains the structure, progression, and various components of the unit.
It may offer some guidance regarding the selection of texts.
---