Comments systems and discussion analytics
Echo: Join the Real-Time Web. Echo. Echo: Products > Overview. A fundamental shift in how people consume information and engage with each other on the web is underway.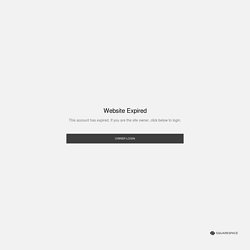 With the increasing popularity of social networks, people now expect to discover new content and talk about their favorite subjects instantly. Echo provides a real-time platform bundled with a suite of applications that enables you to transform your website into a vibrant, real-time social experience. One that keeps users engaged as the web continues to evolve. Slate, Time, WashPo And Other Big-Name Publishers Add The Echo Comment Platform. Back in December, we covered the rebranding of the startup previously known as JS-Kit, which has now assumed the name of its flagship product, Echo.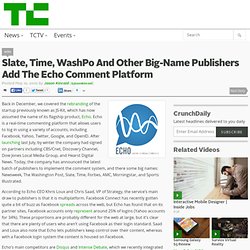 Echo is a real-time commenting platform that allows users to log in using a variety of accounts, including Facebook, Yahoo, Twitter, Google, and OpenID. After launching last July, by winter the company had signed on partners including CBS/Cnet, Discovery Channel, Dow Jones Local Media Group, and Hearst Digital News. Echo. IntenseDebate comments enhance and encourage conversation on you. IntenseDebate. Plugin API. Introduction This page provides documentation of the API (Application Programming Interface) hooks available to IntenseDebate plugin developers, and how to use them.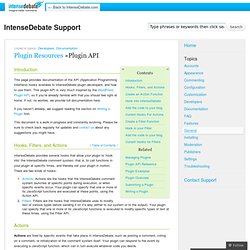 This plugin API is very much inspired by the WordPress Plugin API, so if you're already familiar with that you should feel right at home. If not, no worries, we provide full documentation here. If you haven't already, we suggest reading the section on Writing a Plugin first. DISQUS Comments | Powering Discussion on the Web. DISQUS.
---