DC Comics
The Flash. Wonder Woman. Watchmen. Super Friends. League of Extraordinary Gentlemen. Superman. Sandman and Neil Gaiman. Aquaman. Batman. The Official Site of DC Comics.
Vertigo. RADIO FREE BARBELITH. Super Friends of Dorothy « Comics discussions, with flair… Supergirl Comic Box Commentary. DC Comics. DC Comics Database. Little League. Giant-Size Geek. DarkMark's Comics Indexing Domain. Undefined DarkMark's Comics Indexing Domain!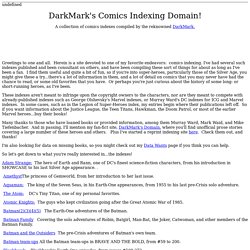 A collection of comics indexes compiled by the reknowned DarkMark. CosmicTeams! The Unofficial Guide to the DC Universe. DC Movies Wiki. DCAU Wiki - The DC Animated Universe Wikia.
---