DC Comics
Justice Society (JSA), Young All-Stars, & All-Star Squadron
League of Extraordinary Gentlemen
RADIO FREE BARBELITH
Super Friends of Dorothy « Comics discussions, with flair…
Supergirl Comic Box Commentary
DC Comics - Google+
Little League
Saturday Night Live - Superhero Party - Video
Giant-Size Geek
DarkMark's Comics Indexing Domain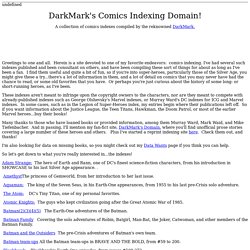 undefined DarkMark's Comics Indexing Domain! A collection of comics indexes compiled by the reknowned DarkMark.
CosmicTeams!
The Unofficial Guide to the DC Universe
DC Movies Wiki
Copyrights Batman: The Animated Series , Superman: The Animated Series , The New Batman Adventures , Batman Beyond , The Zeta Project , Static Shock , Justice League , Justice League Unlimited , Gotham Girls , and Lobo: Webseries and all characters, episode ideas, etc. are all registered trademarks of Warner Bros.
DCAU Wiki - The DC Animated Universe Wikia