Collections
Gorgeous Macro Photographs of Dew-Soaked Dandelions by Sharon Johnstone. Beauty of Nature. » dead horse point state park. Random photo Submit your photo Stumble Thru landscape photography Tags: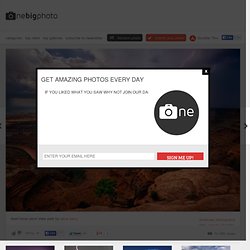 Awesome Photoshop Colorized Photos | Bad Control. Double Exposures - Andre De Freitas. 50+ Stunning Examples of Bokeh Photography. In photography, bokeh is the blur, or the aesthetic quality of the blur, in out-of-focus areas of an image.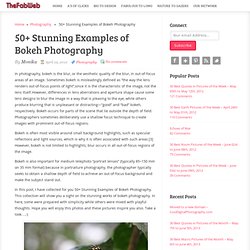 Sometimes bokeh is misleadingly defined as "the way the lens renders out-of-focus points of light",since it is the characteristic of the image, not the lens itself.However, differences in lens aberrations and aperture shape cause some lens designs to blur the image in a way that is pleasing to the eye, while others produce blurring that is unpleasant or distracting—"good" and "bad" bokeh, respectively.
Bokeh occurs for parts of the scene that lie outside the depth of field. Photographers sometimes deliberately use a shallow focus technique to create images with prominent out-of-focus regions. Bokeh is often most visible around small background highlights, such as specular reflections and light sources, which is why it is often associated with such areas.[3] However, bokeh is not limited to highlights; blur occurs in all out-of-focus regions of the image. 10 Great Masters of Tilt-Shift Photography.
You might not recognize the term "tilt-shift" immediately, but you'll certainly recognize the photo style when you see it.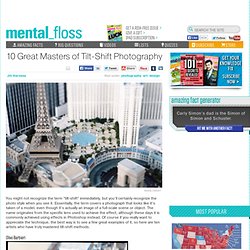 Essentially, the term covers a photograph that looks like it's taken of a model, even though it's actually an image of a full-scale scene or object. The name originates from the specific lens used to achieve the effect, although these days it is commonly achieved using effects in Photoshop instead. Of course if you really want to appreciate the technique, the best way is to see a few great examples of it, so here are ten artists who have truly mastered tilt-shift methods.
Miniature Liquid Worlds by Markus Reugels. Winter Wonderland in Its Striking Forms of Cold. Winter.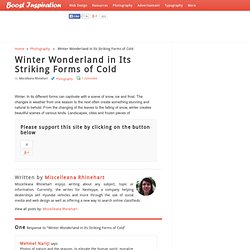 In its different forms can captivate with a scene of snow, ice and frost. The changes in weather from one season to the next often create something stunning and natural to behold. From the changing of the leaves to the falling of snow, winter creates beautiful scenes of various kinds. Landscapes, cities and frozen pieces of Please support this site by clicking on the button below. Winter Wonderland in Its Striking Forms of Cold. Four Seasons - a gallery on Flickr. Photographer Marc Bower-Briggs paints Stonehenge with light. Incredible Images Competing In The National Geographic Photo Of The Year Contest.
Photo and caption by Russell Watkins/National Geographic Photo Contest An unexpected side-effect of the 2010 flooding in parts of Sindh, Pakistan, was that millions of spiders climbed up into the trees to escape the rising flood waters; because of the scale of the flooding and the fact that the water took so long to recede, many trees became cocooned in spiders webs.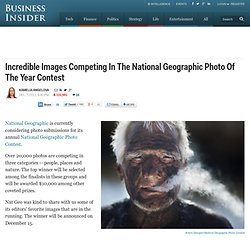 People in the area had never seen this phenomenon before, but they also reported that there were fewer mosquitoes than they would have expected, given the amount of standing water that was left. Not being bitten by mosquitoes was one small blessing for people that had lost everything in the floods. The 45 Most Powerful Images Of 2011. Alan Sailer's photographs of objects exploding as they are hit at high speed. Perfectly Timed Photos | I DID A FUNNY. Every American State Through a Beautiful Photo. The Most Beautiful Sand Dunes on Earth | Environmental Graffiti. Sand dunes are some of the world's great natural wonders.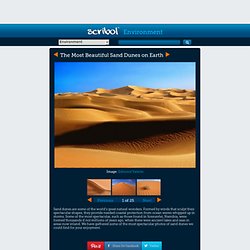 Formed by winds that sculpt their spectacular shapes, they provide needed coastal protection from ocean waves whipped up in storms. Some of the most spectacular, such as those found in Sossusvlei, Namibia, were formed thousands if not millions of years ago, when there were ancient lakes and seas in areas now inland. We have gathered some of the most spectacular photos of sand dunes we could find for your enjoyment. Michele Collet Scribol Staff. Wtf Photos From Old Times. Simon Tong Photography. Split Family Faces.
Cousins: Justine, 29, & Ulric, 29 How much do you and your family members really look alike?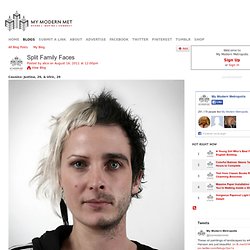 Quebec, Canada-based graphic designer and photographer Ulric Collette has created a shockingly cool project where he's exploring the genetic similarities between different members of the same family. By splitting their faces in half and then splicing them together, he creates interesting new people that are sometimes quite normal looking and other times far from it. He calls this series Genetic Portraits. (Did you notice that Ulric, the photographer, is one-half of some of these pairings? 50 Images from National Geographic`s 2010 Photo Contest. This is one of the most anticipated annual photo contests.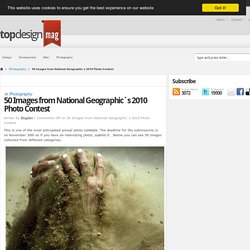 The deadline for the submissions is on November 30th so if you have an interesting photo, submit it. Below you can see 50 images collected from different categories. An Indian wrestler smears mud on his head before starting wrestling in Kolkata, India, March 30, 2010. Wrestling is one of the oldest sports in India. 72 Stunning Examples of Bokeh Photography | Web Resources, Design Inspiration, and Fun Spill!
Galleries / Photography. Best Pictures Of The Decade: The Noughties TotallyCoolPix - StumbleUpon. TotallyCoolPix is all about the images and this is a retrospect all about the years 2000-2010 aka The Noughties.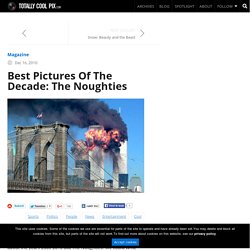 We could write about September 11th 2001 or the tsunami or countless earthquakes or the Middle East conflict or Barack Obama or Michael Schumacher or Saddam Hussein or Facebook or the human race. But we'll let the pictures speak for themselves. Note: The images are in no particular order, some contain graphic scenes and they are the personal choice of the editors.
If you miss something, we're sorry. Join TotallyCoolPix on Facebook and Twitter or join our Flickr Group. 20 Cool Pictures of Earth from Space. 20 cool pictures of Earth from Space thanks to National Geographic and a collection of amazing photographers.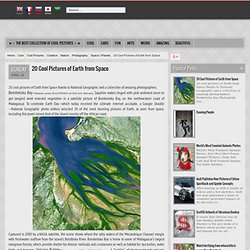 Bombetoka BayPhotograph courtesy Terra/ASTER/NASA and NASA Earth Observatory Sapphire waters tinged with pink sediment seem to get tangled amid emerald vegetation in a satellite picture of Bombetoka Bay, on the northwestern coast of Madagascar. To celebrate Earth Day—which today received the ultimate Internet accolade, a Google Doodle—National Geographic photo editors selected 20 of the most stunning pictures of Earth, as seen from space, including this jewel-toned shot of the island country off the African coast. London riots: update. G A L L E R Y. Magnetic. Smashing Picture | The World's Best Pictures.
Explorations with space : cole rise. Earth from Above a collection of aerial photography... - justpaste.it. "Earth From Above" is the result of the aerial photographer Yann Arthus-Bertrand's five-year airborne odyssey across six continents. It's a spectacular presentation of large scale photographs of astonishing natural landscapes. Every stunning aerial photograph tells a story about our changing planet.
---