Roasters & Retailers
Methodical Coffee :: A New Coffee Bar in Greenville, SC. One Village Coffee. Balzac Brothers and Company. The Good Coffee Company of Charleston - Rainforest Alliance Certified. Charleston Coffee Exchange | Home. Ceremony Coffee Roasters. Terroir Select Coffees. Blue Bottle Coffee. Blue Bottle Coffee. ALTERRA™ | Home. Stone Creek Coffee Roasters - Wholesale Coffee, Retail Coffee, Mail Order Coffee. The Haberdashery Coffee House and Eatery. Little River Roasting. Roast.com. Scotto's Coffee & Tea. MINISTRY OF COFFEE | Wholesale coffee beans. Seven Bridges Cooperative. Ground to Cup Coffee. GoCoffeeGo. Klatch Coffee. Klatch Roasting has been in the coffee business since 1993.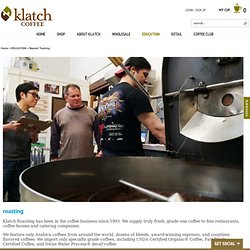 We supply truly fresh, grade one coffee to fine restaurants, coffee houses and catering companies. We feature only Arabica coffees from around the world, dozens of blends, award-winning espresso, and countless flavored coffees. Storyville Coffee Company. MadCapCoffee. The Black Dog Coffee Company. Raven's Brew Coffee. Counter Culture Coffee. Clive Coffee. Animal Coffee. Blacksmith Coffee Roastery - Welcome. Monmouth Coffee : Home. Morning Glory Coffee :: West Yellowstone :: HOME. Higher Ground Roasters. Higher Ground's commitment to quality is also a social and an environmental commitment.
We roast exclusively Fair Trade Organic and Shade Grown coffees to ensure that independent farmers are compensated fairly for their harvest, and that the integrity of the natural environment is preserved. At Higher Ground, every cup of our hand-roasted coffee is a vote for responsible trade and sustainability. Choose from the menu on the left to explore our selection.
Square Mile Coffee Roasters - Welcome. Intelligentsia Coffee and Tea | Intelligentsia Coffee & Tea. The People's Roast. These green coffees are high quality single origin specialty coffees.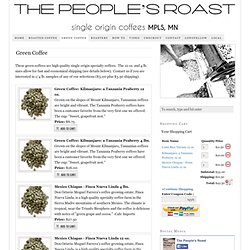 The 12 oz. and 4 lb. sizes allow for fast and economical shipping (see details below). Contact us if you are interested in 1/4 lb. samples of any of our selections ($3.00 plus $3.50 shipping). Green Coffee: Kilmanjaro: a Tanzania Peaberry 12 oz.Grown on the slopes of Mount Kilmanjaro, Tanzanian coffees are bright and vibrant. The Tanzania Peaberry coffees have been a customer favorite from the very first one we offered.
---