Roasters & Retailers
One Village Coffee
Balzac Brothers and Company
The Good Coffee Company of Charleston - Rainforest Alliance Certified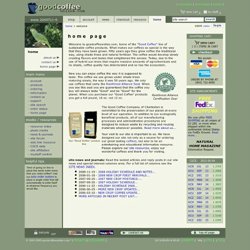 The Good Coffee Company of Charleston is committed to the preservation of our planet at every level of our operation. In addition to our ecologically beneficial products, all of our manufacturing processes and administration procedures are designed to reduce waste by recycling and reusing materials whenever possible. Read more about us ... Your visit to our site is important to us. We have designed our site not only as a source for ordering our great tasting coffees , but also to be an entertaining and educational information resource. Please explore our site resources , enjoy our wonderful coffees and thank you for visiting.
It's time to enjoy a refreshing cup of coffee roasted right here in our store! Whether morning or afternoon, we have fresh brewed coffee waiting for you. All our drinks are specially prepared either hot or cold. Every one is a tasteful delight with a unique flavor you can select. We also roast all of our coffee right here in the store.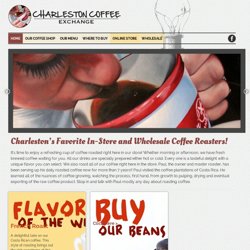 Charleston Coffee Exchange | Home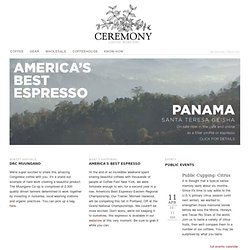 What's Happening America's Best Espresso At the end of an incredible weekend spent sharing beautiful coffees with thousands of people at Coffee Fest New York, we were fortunate enough to win, for a second year in a row, America's Best Espresso Eastern Regional Championship.
Ceremony Coffee Roasters
Terroir Select Coffees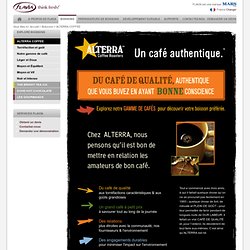 ALTERRA™ | Home
Du café de qualitéaux torréfactions caractéristiques & aux goûts grandioses Un grand café à petit prixà savourer tout au long de la journée Des relationsplus étroites avec la communauté, nos fournisseurs & l'environnement Des engagements durablespour minimiser l'impact sur l'environnement Tout a commencé avec trois amis, à qui il fallait quelque chose qu'on ne se procurait pas facilement en 1993 - quelque chose de fort, de robuste et PLEIN DE GOÛT - pour leur permettre de tenir pendant de longues nuits de DUR LABEUR. Il fallait un vrai CAFÉ DE QUALITÉ et, pour l'obtenir, ils décidèrent de tout faire eux-mêmes.
Stone Creek Coffee Roasters - Wholesale Coffee, Retail Coffee, Mail Order Coffee
The Haberdashery Coffee House and Eatery
Little River Roasting
Roast.com
I've been to every 4 star restaurant in New York City, and dozens of other restaurants in the area over the years. I am fortunate enough to be able to afford such pleasures now and again (that's the humble way of saying I worked my ass off to get where I am), and as a foodie and a serious home cook, this is one of the things that I really like to do. WD-50 has always been on my mind to go to, but in the back of my head it was relegated to second-tier status. I finally remedied the situation over the weekend, and now I am kicking myself that it took so long. In a nutshell, the food is thought-provoking, and more importantly, delicious. WD-50 and its chef, Wylie Dufresne, have gotten lots of press over the years, chiefly because of chef Dufresne's use of what is called molecular gastronomy.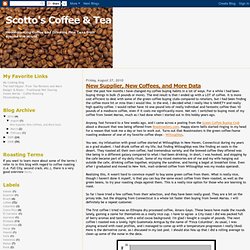 Scotto's Coffee & Tea
ABOUT US .At the source of great coffee... Suppliers of some of the industries most superior coffee, Ministry of Coffee provides the finest roasted coffee to some of the most well-respected coffee houses, restaurants and hotels around the world. All of our coffee blends are crafted and tested by our barista experts, who have years of knowledge and experience.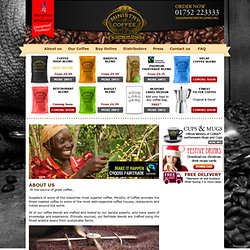 MINISTRY OF COFFEE | Wholesale coffee beans
Seven Bridges Cooperative
All of the products labeled organic that we sell are now certified organic by California certified Organic Farmers, a USDA recognized agency.Buying certified organic means all of the equipment and storage facilities have been inspected to make sure no non-organic chemicals are used in cleaning equipment or pest management, and no chemical or other potentially harmful processing aids or additives are used in the processing of organic foods. For more information about organic certification please visit the following links: http://www.ccof.org/ - California Certified Organic Farmers website http://www.ams.usda.gov/nop/index.htm - National Organic Program Website
Ground to Cup Coffee
At Ground to Cup Coffee we offer the finest Arabica coffee beans from around the world. We carry organic and non-organic coffee as well as a variety of flavored coffees roasted from light to dark. Our coffee is fairly traded and always freshly roasted, ensuring the highest quality coffee with every indulging cup. Visit our Online Store to select your favorite coffee. Visit Our Online Store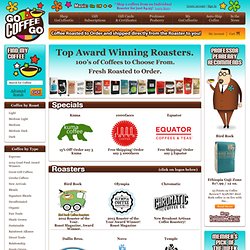 Welcome to the ultimate destination to buy coffee online. We've brought together the top award winning roasters on one site with one easy checkout. These artisans roast only the best coffee sourced from the highest quality, hand-picked beans grown throughout the world. Whether you are on a search to find a great single origin coffee, espresso or coffee blend, you've come to the right place.
GoCoffeeGo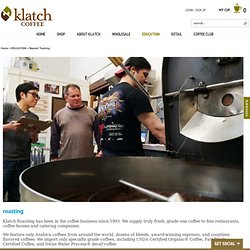 Klatch Roasting has been in the coffee business since 1993. We supply truly fresh, grade one coffee to fine restaurants, coffee houses and catering companies. We feature only Arabica coffees from around the world, dozens of blends, award-winning espresso, and countless flavored coffees.
Klatch Coffee
Storyville Coffee Company
MadCapCoffee
The Black Dog Coffee Company
All prices are per 1/2 pound. We package our beans fresh out of the roaster in sealed, multilayer 1/2lb bags. A patented one-way valve allows the natural off-gassing of the beans to escape without allowing damaging oxygen back in, keeping your coffee fresher, longer. Be sure to check back often. Coffee is a crop, so our offerings will change as exciting new coffees become available. Tools to help you get the most from your coffee.
Raven's Brew Coffee
Counter Culture Coffee
Clive Coffee
Animalcoffee is the original source of authentic kopi luwak on the internet. Based in Indonesia we have been supplying genuine wild collected kopi luwak from Sumatra, Java and Bali for over ten years. Our kopi luwak is sourced directly from coffee plantations and surrounds as luwak scats (droppings) and we are the only site offering raw, unprocessed kopi luwak.
Animal Coffee
Blacksmith Coffee Roastery - Welcome
Monmouth Coffee : Home
Morning Glory Coffee :: West Yellowstone :: HOME
Higher Ground Roasters
Higher Ground's commitment to quality is also a social and an environmental commitment. We roast exclusively Fair Trade Organic and Shade Grown coffees to ensure that independent farmers are compensated fairly for their harvest, and that the integrity of the natural environment is preserved. At Higher Ground, every cup of our hand-roasted coffee is a vote for responsible trade and sustainability. Choose from the menu on the left to explore our selection.
Square Mile Coffee Roasters - Welcome
The People's Roast