Resources
Coffee Quality Institute - Home
espresso_field_guide1
The Texas Coffee School Vacuum Siphon Brewing How-To Guide | Coffee Education | Barista School | Coffee Business Tips
The Texas Coffee School Guide to Brewing Coffee With a Vacuum Siphon Pot – Also Known as a "Vacpot" Below you will learn the technique and best practices essential to making great tasting coffee using the siphon brewing method. If you want to learn more about coffee extraction and gain an in-depth understanding of every primary coffee brewing method, check out our Coffee Education Program for a complete list of upcoming coffee classes and barista training workshops. • Hot water (202 Degrees F) • A high-quality burr grinder • A Vacuum Siphon Coffee Pot ( Stovetop or Tabletop ) • A butane burner (if you have tabletop version) • Cloth siphon filters (Only if your pot didn't come with any) • A digital kitchen scale • A Bonavita Variable Temperature Digital Electric Gooseneck Kettle for controlled pouring and accurate water temperature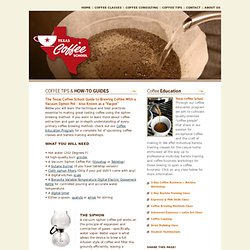 The Health Benefits of Coffee vs Tea Infographic - Roaming Originals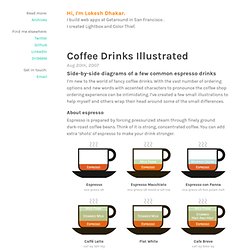 I'm new to the world of fancy coffee drinks. With the vast number of ordering options and new words with accented characters to pronounce the coffee shop ordering experience can be intimidating. I've created a few small illustrations to help myself and others wrap their head around some of the small differences. About espresso Espresso is prepared by forcing pressurized steam through finely ground dark-roast coffee beans. Think of it is strong, concentrated coffee.
CoffeeKid - Exploring the Culture and Artistry of Espresso and Coffee
Specialty Coffee Association of America
Cup of Excellence
How Coffee Changed America
Talk About Coffee
Cafe Makers
coffee_tasting_flavor_wheel
Coffee FAQ
Banish Uneven Extractions with the WDT Many grinders inflict clumps, static, and uneven distribution upon the hapless home barista, keeping them from reaching their goal of extraordinary espresso. We can hope that these design flaws will eventually be addressed in home grinders. But until then, there is a simple, inexpensive solution to grinder problems: the Weiss Distribution Technique, or WDT.
Home Barista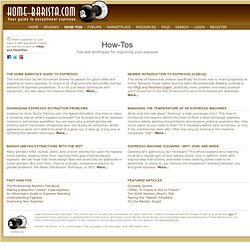 CoffeeTools App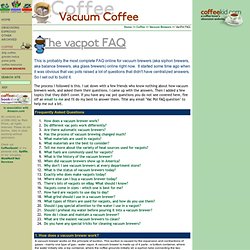 A wide range of filtering devices have (and are) used with vacuum brewers. Muslin, oil cloth, and even old socks and silk were used in the past. Today, we have the benefits of technology to aid us, but still some of the best filters are the old methods. Different types in use today include: Cloth (with ceramic and/or metal shaper and spring): usually a double piece of cloth material - one piece has a coarse, heavy thread makeup, the other piece has more of a felt, fine threading.
The Vacuum Brewer FAQ