Coding
VIM, emacs, Eclipse etc. betlamed Aug 4
Professor Clayton Christensen at Business of Software 2011: The Job your Product Does
Clayton Christensen, BoS, 2011 This is probably one of the most important talks you will ever see if you are an entrepreneur in any discipline. It was the opening talk at last year's Business of Software. Professor Clayton Christensen talks models of disruptive innovation, what the job of your product is and explains why there will always be room for disruptive innovation an entrepreneurs in the world. Trust us, you just don't want to miss this talk.The first of our talks from Business of Software 2011. Take the time to watch the whole 90 minutes if you get a chance.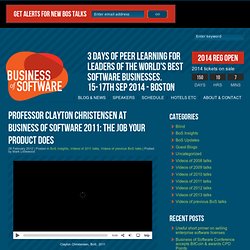 Recently I talked to a couple of friends, which all wailed quite a bit about their operations or internal IT departments. Most of these teams had to fight with some very basic things. They lacked a decent monitoring system or monitoring at all. They didn't deploy systems, they installed it by hand. Systems where not documented etc.
A Systems Policy | Stefan Schlesinger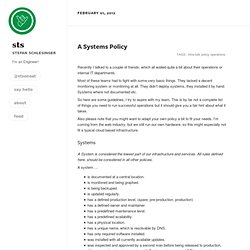 unnamed pearl
Example Depot | Useful code samples
tele-TASK Lecture: Programming and Scaling - Your online archive for high quality e-learning content
What is ImageMagick? A No-Holds-Barred Summary ImageMagick is designed for batch processing of images. That is, it allow you to combine image processing operations in a script (shell, DOS, Perl, PHP, etc.) so the operations can be applied to many images, or as a sub-system of some other tool, such as a Web application, video processing tool, panorama generator, etc. It is not a GUI image editor. ImageMagick is, first of all, an image-to-image converter.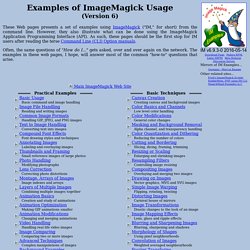 v6 Examples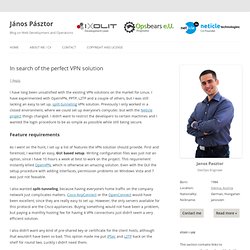 In search of the perfect VPN solution – János Pásztor
I have long been unsatisfied with the existing VPN solutions on the market for Linux. I have experimented with OpenVPN, PPTP, L2TP and a couple of others, but I was still lacking an easy to set up, split-tunneling VPN solution. Previously I only worked in a closed environment, where we could set up everyone's computer, but with the Neticle project things changed. I didn't want to restrict the developers to certain machines and I wanted the login procedure to be as simple as possible while still being secure. Feature requirements As I went on the hunt, I set up a list of features the VPN solution should provide.
linux / libre / open source / hacking
Welcome Visitors