Visuel
Get flash to fully experience Pearltrees
28 avril 2011 | Thomas Price | Marketing Mobile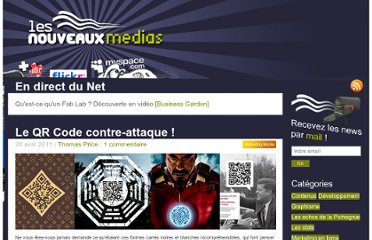 En avance sur les usages des mobiles, le Japon pourrait nous enseigner l'art de l'utilisation des QR Codes. Antoine Malin, Marketing Associate pour SET Japan, nous dresse un état des lieux de cette technologie au pays du soleil levant. Les Japonais sont en avance d'une bonne tête sur l'usage des QR codes.
Phil Spiegel, Small Planet Organics , gets his bald dome snapped at VegFest Seattle 2011.
The European bank AXA has created a giant QR code to entice customers in Belgium into learning about its loan campaign. With a smartphone in hand, it's very likely you'd be compelled to unlock a QR code, especially if you saw a giant QR code made of paint cans hanging from the sky. AXA's creative advertisement consists of thousands of paint cans, sporting an array of various colours that make up the interactive QR code.