Social Media
Brewing Controversy - How Starbucks Embraces Social Media. Health Care Reform, Tax Fairness, The War in Afghanistan, Occupy Wall Street, same-sex marriage.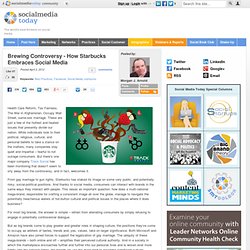 These are just a few of the hottest and heated issues that presently divide our nation. While individuals look to their political, religious, cultural, and personal beliefs to take a stance on the matters, many companies stay quiet and impartial – fearful to not outrage consumers. But there's one major company Track Social has been monitoring that doesn't seem to shy away from the controversy, and in fact, welcomes it. From gay marriage to gun rights, Starbucks has staked its image on some very public, and potentially risky, social-political positions.
Starbucks Rates Number 1 in Study of Most Socially Engaged Companies by Research Firm PhaseOne. Company Mascots, Characters Head to Twitter, Facebook. A Quick Guide to Tumblr for Business. There's a very engaged Tumblr audience waiting to see your content.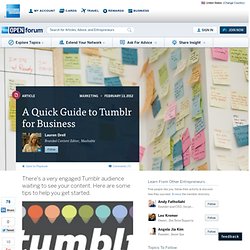 Here are some tips to help you get started. February 13, 2012. Meet the Coolest Facebook Brand Timelines From Coke to ESPN to Ford | Digital. Celebs Make Most of Social Media by Creating Own Websites | Digital. 6a00e54fd9f05988330168e7794408970c-pi (JPEG Image, 640 × 5098 pixels) - Scaled (12%) Pinterest as Free Market Research - Grant McCracken. My first reaction was panic.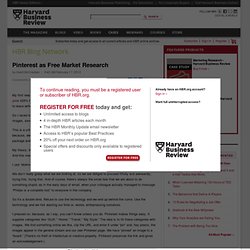 You know how it goes. First I heard about Pinterest. Then I heard that it grew 429% from September to December 2011. And I thought, Oh, my god, the future is preparing to leave without me…again. So I raced to have a look. Coca-Cola to Host Google+ Hangout Next Week. In another vote of confidence from Corporate America for Google+, Coca-Cola is planning to launch a Hangout on the network next week.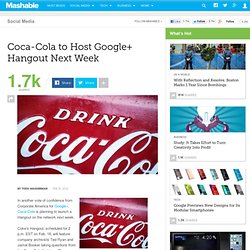 Coke's Hangout, scheduled for 2 p.m. EST on Feb. 16, will feature company archivists Ted Ryan and Jamal Booker taking questions from the Coca-Cola Archives. The Archives have been featured on CNBC and Bloomberg TV as well as in Coke's Virtual Online Museum, but it is not open to the public and the company has never hosted an event there. Ryan says the talk, scheduled to run 30 to 45 minutes, will include a look at some Olympics memorabilia and a document showing Coca-Cola's original patent award in 1887. How Starbucks Built an Engaging Brand on Social Media. Starbucks has a big brand presence online.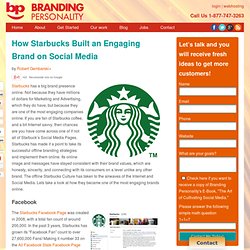 Not because they have millions of dollars for Marketing and Advertising, which they do have, but because they are one of the most engaging companies online. If you are fan of Starbucks coffee, and a bit Internet savvy, then chances are you have come across one of if not all of Starbuck's Social Media Pages. Starbucks has made it a point to take its successful offline branding strategies and implement them online.
Its online image and messages have stayed consistent with their brand values, which are honesty, sincerity, and connecting with its consumers on a level unlike any other brand.
---