Comercio-e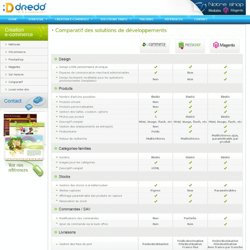 Design 100% personnalisé et unique. Espaces de communication marchand administrables Design facilement modifiable pour les opérations promotionnelles (templates)
Comparatif des solutions e-commerce Lyon
Sistemas Para Tiendas En Linea / E-Commerce Gratuitos y OpenSource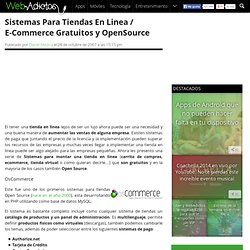 El tener una tienda en linea lejos de ser un lujo ahora puede ser una necesidad y una buena manera de aumentar las ventas de alguna empresa. Existen sistemas de paga que juntando el precio de la licencia y la implementación pueden superar los recursos de las empresas y muchas veces llegar a implementar una tienda en linea puede ser algo alejado para las empresas pequeñas. Ahora les presento una serie de Sistemas para montar una tienda en linea (carrito de compras, ecommerce, tienda virtual o como quieran decirle…) que son gratuitos y en la mayoria de los casos también Open Source. OsCommerce Este fue uno de los primeros sistemas para tiendas Open Source (nace en el año 2000), esta desarrollando en PHP utilizando como base de datos MySQL.
Free, Open Source Ecommerce Solution | Digistore | Ecommerce Website Design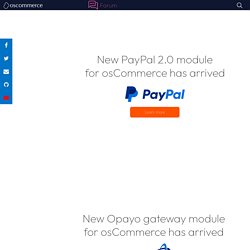 We provide you the tools to set up your very own complete and self-hosted online store website for free to market and securely sell products and services to customers worldwide. You have complete access to and total control of your online store and data. Our growing community of over 260,000 store owners, developers, and service providers are there to help you at every stage of running your online store and business. Over 7,000 free Add-Ons have been uploaded by the community to use and customize your online store with. New here? Find out more about us here.