Cloudcomputing
Getting to Maybe: How the World Is Changed: Frances Westley, Brenda Zimmerman, Michael Patton
A couple of months ago, Hugh Macleod created a bit of buzz with his blog post The Cloud's Best Kept Secret. Hugh's argument: that cloud computing will lead to a huge monopoly. Of course, a couple of weeks ago, Larry Ellison made the opposite point, arguing that salesforce.com is "barely profitable", and that no one will make much money in cloud computing.
Web 2.0 and Cloud Computing - O'Reilly Radar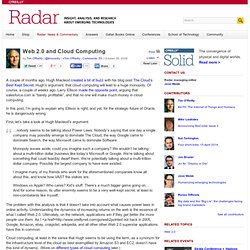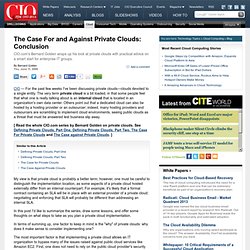 CIO — For the past few weeks I've been discussing private clouds—clouds devoted to a single entity. The very term private cloud is a bit loaded, in that some people feel that what one is really talking about is an internal cloud that is located in an organization's own data center.
The Case For and Against Private Clouds: Conclusion - CIO.com - Business Technology Leadership
Cloud Computing: What Does It Mean For User Experience? A Lot. And It's All Good. | Usability Counts | User Experience, Social Media
Cloud computing is exactly what it sounds like: the usage of services like web servers, database servers and other applications so it's transparent to the user and developer. The configuration and management is taken care of by a large company (in this case, a Microsoft and Amazon), and they provide all the software and services that are needed to run web applications without any of the maintenance.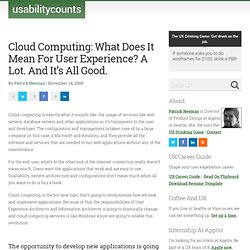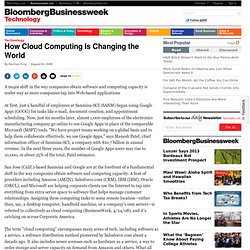 How Cloud Computing Is Changing the World
A major shift in the way companies obtain software and computing capacity is under way as more companies tap into Web-based applications
It is the infrastructural paradigm shift that is sweeping across the Enterprise IT world, but how is it best defined?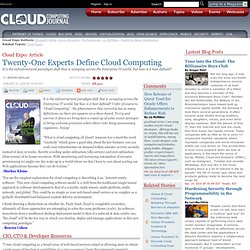 Twenty-One Experts Define Cloud Computing