Cloud a Open technologie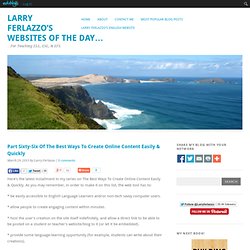 Part Sixty-Six Of The Best Ways To Create Online Content Easily & Quickly
Here's the latest installment in my series on The Best Ways To Create Online Content Easily & Quickly. As you may remember, in order to make it on this list, the web tool has to: * be easily accessible to English Language Learners and/or non-tech savvy computer users. * allow people to create engaging content within minutes. * host the user's creation on the site itself indefinitely, and allow a direct link to be able to be posted on a student or teacher's website/blog to it (or let it be embedded). * provide some language-learning opportunity (for example, students can write about their creations).
35 Digital Tools To Create Simple Quizzes And Collect Feedback From Students
35 Digital Tools To Create Simple Quizzes And Collect Feedback From Students If there is one thing teachers lack, it's time. And while using technology to automate learning has been frowned upon by many, using it to automate time-consuming processes or aggregate data automatically is among the many seamless fits technology can make into any classroom. Which is where the following collections of apps and tools comes in. These sites, tools, and apps can save teachers time by allowing them to create simple quizzes that can be taken asynchronously, and make polls and forms to collect feedback from students (content-based or otherwise).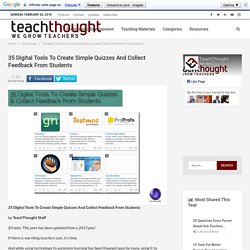 Build Your Own Interactive Timeline Using the extraordinary Exhibit and Timeline scripts written by MIT's SIMILE project and the flexible power of Google Docs spreadsheets, it's now possible to build custom, interactive, and searchable timelines for use in your research and your teaching. Watch the screencast below to see exactly how such a timeline works. But why would you want to build a timeline? Well, just imagine that you are teaching a survey course of Victorian literature.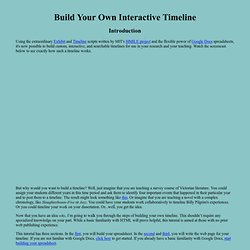 Thoughts of a Cyber Hero: Top 20 Sites-Apps for Creating Timelines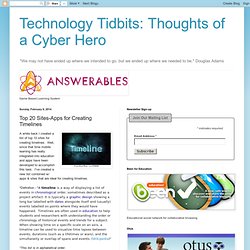 A while back I created a list of top 10 sites for creating timelines. Well, since that time mobile learning has really integrated into education and apps have been developed to accomplish this task. I've created a new list combined w/ apps & sites that are ideal for creating timelines.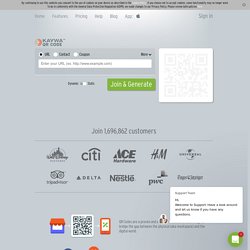 Choose Coupon Type step 1 of 2Online Coupon (for your web shop)step 2 of 2In Store Coupon step 2 of 2 Sign Up & Continue * Please select prefered coupon type ! Create an onlinestore coupon and we'll provide you with a QR Code that links to it