Mgmt On Top of IaaS
Right Scale
Deliver next-generation IT with a portfolio of cloud services that help you innovate faster, deliver new capabilities, and grow revenue and profitability. Cloud Management Balance agility and control with lifecycle automation and governance.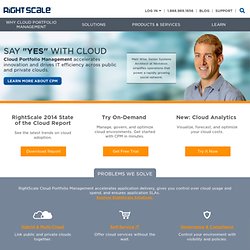 Who are the competitors ?
*Dons his detective hat and pulls a magnifying glass from his pocket* - According to Google Trends and verified with client roster, the runner up is Scalr (disclaimer: I work there), a scrappy, bootstrapped, open source project. - But Sherlock, how did such a scrappy, bootstrapped, open source project grow to become the #2 Cloud Management platform? - Elementary, Mr. Watson! I will supply your inquisitive mind with answers galore, if you would be so kind as to sit back down on your seat!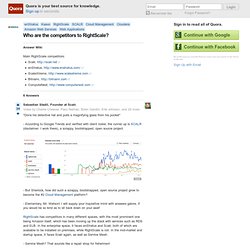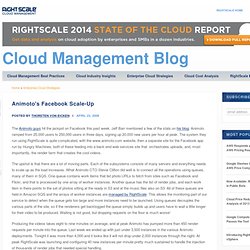 Animoto usecase
The Animoto guys hit the jackpot on Facebook this past week. Jeff Barr mentioned a few of the stats on his blog: Animoto ramped from 25,000 users to 250,000 users in three days, signing up 20,000 new users per hour at peak. The system they run using RightScale is quite complicated, with the www.animoto.com website, then a separate site for the Facebook app run by Hungry Machines, both of these feeding into a back-end web services site that orchestrates uploads, and, most importantly, the render farm that creates the cool videos.
Hybrid Clouds as a Reality
Scalr
Sebastian S.
CloudKick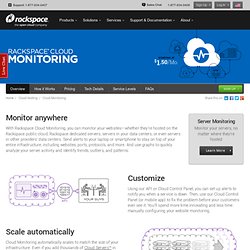 Monitor anywhere With Rackspace Cloud Monitoring, you can monitor your websites—whether they're hosted on the Rackspace public cloud, Rackspace dedicated servers, servers in your data centers, or even servers in other providers' data centers. Send alerts to your laptop or smartphone to stay on top of your entire infrastructure, including websites, ports, protocols, and more. And use graphs to quickly analyze your server activity and identify trends, outliers, and patterns. Server Monitoring
Manage Amazon EC2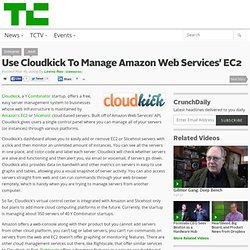 Cloudkick, a Y Combinator startup, offers a free, easy server management system to businesses whose web infrastructure is maintained by Amazon's EC2 or Slicehost cloud-based servers. Built off of Amazon Web Services' API, Cloudkick gives users a single control panel where you can manage all of your servers (or instances) through various platforms. Cloudkick's dashboard allows you to easily add or remove EC2 or Slicehost servers with a click and then monitor an unlimited amount of instances.
Features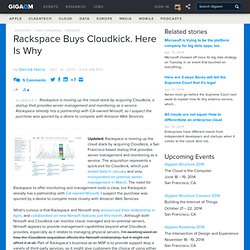 Updated: Rackspace is moving up the cloud stack by acquiring Cloudkick, a San Francisco-based startup that provides server management and monitoring as a service. The acquisition represents a quick exit for Cloudkick, which just exited beta in January and only incorporated on-premise server management in March. The need for Rackspace to offer monitoring and management tools is clear, but Rackspace already has a partnership with CA-owned Nimsoft. I suspect the purchase was spurred by a desire to compete more closely with Amazon Web Services. What's curious is that Rackspace and Nimsoft only announced their relationship in April, and collaborated on new Nimsoft features just this month. Although both Nimsoft and Cloudkick can monitor cloud, managed and on-premise servers, Nimsoft appears to provide management capabilities beyond what Cloudkick provides, especially as it relates to managing physical servers.
Rackspace Buys Cloudkick
Just two years after starting its business, Cloudkick has been acquired by Rackspace. The terms of the deal were not disclosed. What this means for Cloudkick is a big ramp up in its operations. It will also establish a presence for Rackspace in San Francisco.
Another Giant Gets Another Sexy Startup: Rackspace Acquires Cloudkick - ReadWriteCloud