Mgmt On Top of IaaS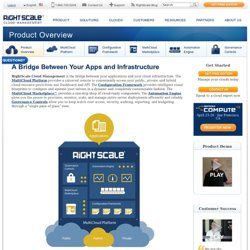 Overview
RightScale Cloud Management is the bridge between your applications and your cloud infrastructure. The MultiCloud Platform provides a universal remote to conveniently access your public, private, and hybrid cloud resource pools from one Dashboard and API. The Configuration Framework provides intelligent cloud blueprints to configure and operate your servers in a dynamic and completely customizable fashion. The MultiCloud Marketplace™ provides a one-stop shop of cloud-ready components.
Who are the competitors ?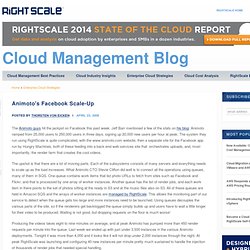 Animoto usecase
The Animoto guys did hit the jackpot on Facebook this past week. Jeff Barr mentioned a few of the stats on his blog : Animoto ramped from 25,000 users to 250,000 users in three days, signing up 20,000 new users per hour at peak. The system they run using RightScale is quite complicated with the http://www.animoto.com web site, then a separate site for the facebook app run by Hungry Machines, both of these feeding into a back-end web services site which then orchestrates uploads, and, most importantly, the render farm which creates the cool videos. The upshot is that there are a lot of moving parts!
Hybrid Clouds as a Reality
Scalr
Sebastian S.
CloudKick
Manage Amazon EC2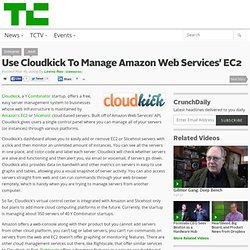 Cloudkick , a Y Combinator startup, offers a free, easy server management system to businesses whose web infrastructure is maintained by Amazon's EC2 or Slicehost cloud-based servers. Built off of Amazon Web Services' API, Cloudkick gives users a single control panel where you can manage all of your servers (or instances) through various platforms. Cloudkick's dashboard allows you to easily add or remove EC2 or Slicehost servers with a click and then monitor an unlimited amount of instances.
What's happening? Rackspace Cloud Monitoring, a new cloud monitoring service based on the Cloudkick architecture, is rapidly becoming the primary product we are investing in. There are many differences between Cloudkick and Cloud Monitoring that are covered in this blog . Most of these differences were made in an effort to simplify complexities, increasing our ability to offer a great level of service. More importantly, we've added functionality to increase our power as a platform.
Features
Rackspace Buys Cloudkick
Another Giant Gets Another Sexy Startup: Rackspace Acquires Cloudkick - ReadWriteCloud