Classe virtuelle
Classe virtuelle synchrone - Enseignant - Scénariser le déroulement. Guild eBooks: Handbook on Synchronous e-Learning. January 16, 2007 The eLearning Guild's Handbook on Synchronous e-Learning is intended for anyone who wants to produce, lead, or promote live, interactive learning events on the Web.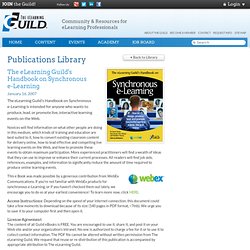 Novices will find information on what other people are doing in this medium, which kinds of training and education are best suited to it, how to convert existing classroom content for delivery online, how to lead effective and compelling live learning events on the Web, and how to promote these events to obtain maximum participation. More experienced practitioners will find a wealth of ideas that they can use to improve or enhance their current processes.
All readers will find job aids, references, examples, and information to significantly reduce the amount of time required to produce online learning events. This e Book was made possible by a generous contribution from WebEx Communications. Comment animer une formation en classe virtuelle ? Comment animer une formation en classe virtuelle ?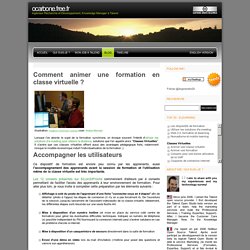 Illustration: credit: Andrea Mercado Lorsque l'on aborde le sujet de la formation synchrone, on évoque souvent l'intérêt d'utiliser les solutions d'e-meeting pour réduire la distance, solutions que l'on appelle alors "Classes Virtuelles". Il s'avère que ces classes virtuelles offrent aussi des avantages pédagogique forts, notamment lorsque le modèle économique induit l'individualisation de la formation :) Accompagner les utilisateurs.
12 conseils pour préparer une classe virtuelle | Si loin Si proche.
---