University/HE~Media (in medias res)
Is Using A Minotaur To Gore Detainees A Form Of Torture? | The Onion - America's Finest News Source | Onion News Network
studentenbladen overzicht
Have an account? Sign in New to Twitter? Join Today »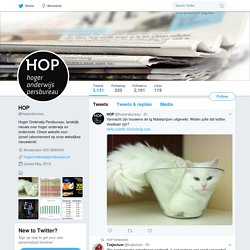 @hopersbureau
NyenrodeBU : Creative entrepreneur Reinout
Breda University of Applied Sciences: education in digital entertainment, hospitality, leisure, mobility and tourism
NHTV Insight (InsightNHTV) on Twitter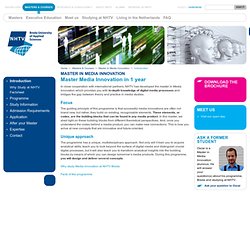 In close cooperation with international partners, NHTV has developed the master in Media Innovation which provides you with in-depth knowledge of digital media processes and bridges the gap between theory and practice in media studies. Focus The guiding principle of this programme is that successful media innovations are often not brand new, but rather, they build on existing, recognisable elements. These elements, or codes, are the building blocks that can be found in any media product. In this master, we shed light on these building blocks from different theoretical perspectives. And, once you understand the codes behind a media product, you can make new connections.
Introduction - Master in Media Innovation | NHTV Breda
Tijdschrift OnderwijsInnovatie
Nederlandse Defensie Academie | Ministerie van Defensie
Saxion Aangenaam
SAX Deventer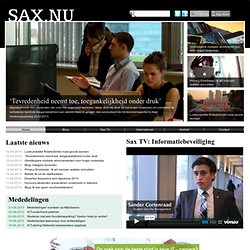 Lustrumeditie Ride4aSmile moet groots worden Ride4aSmile viert dit jaar haar eerste lustrum. Ook deze vijfde editie van de wielertocht wordt georganiseerd door studenten van de opleiding Commerciële Economie. De organisatie hoopt vanwege het lustrum op een flinke opkomst en hoge opbrengst, die naar Stichting Matthijs gaat. HomeBlog BlogSax TV Sax TVInternational
Sax.nu (Sax_nu) sur Twitter
Thijs Klaverstijn (TheRealThijs) on Twitter
Blijf op de hoogte via de app van Sax, het redactioneel onafhankelijke nieuwsmedium van hogeschool Saxion. * Het laatste nieuws over alles Saxion, maar ook over het landelijke hoger onderwijs* Eenvoudig reageren op nieuwsartikelen en de discussie aangaan met studenten en medewerkers* Nieuws dat jij belangrijk vindt snel delen via Twitter of Facebook* Filmpjes van SaxTV* Een agenda met de leukste evenementen in Apeldoorn, Deventer en Enschede* Blogs van studenten en medewerkers* And also English news for international students Se tenir au courant via l'application de Sax, le milieu nouvelles indépendance éditoriale des Saxion collège.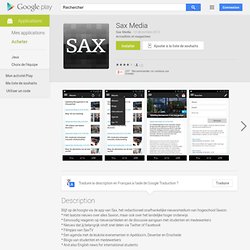 android store: Sax Media
@wendyvantil
TV
Avans Hogeschool, hbo-opleidingen in Breda, 's-Hertogenbosch & Tilburg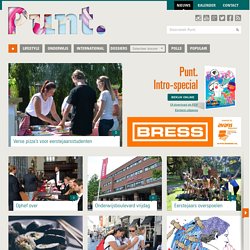 Punt is een uitgave van Avans Hogeschool. Naast de website bestaat er ook een papieren editie die maandelijks verschijnt, met uitzondering van de schoolvakanties. De redactie werkt volgens beginselen van onafhankelijke journalistiek, zoals vastgesteld in het redactiestatuut. De redactie wordt terzijde gestaan door een Raad van Advies, die toeziet op de naleving van het redactiestatuut en fungeert als klachteninstantie.
Punt (PuntAvans) on Twitter
Laura Janssen (LCWJanssen) on Twitter
Maarten Gerats (maartengerats) on Twitter
hskwin' (hskwin) sur Twitter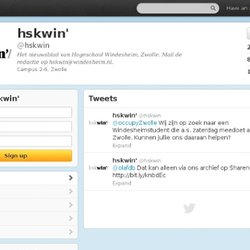 Language: English Bahasa Indonesia Bahasa Melayu
baan / werk / carrière gerelateerd
UK student newspapers (in media res)
USA student newspapers (in media res)
De Leeslijst van Toon Boon De boeken van Bill BrysonAvonturen van een Nederbelg van Derk Jan EppinkBelgistán – el laboratoria nacionalista van Jacobo de RegoyosMijn Vlaamse jaren van Jeroen BrouwersBelgië – een parcours van herinnering van Jo TollebeekLa ciudad de los prodigos van Eduardo MendozaOns feilbare denken van Daniel KahnemanTraffic – Waarom wij rijden zoals wij rijden van Tom VanderbiltA Mathematician Reads the Newspaper van John Allen PaulosAantekeningen uit het ondergrondse van DostojevskiOblomov van GontsjarovVan oude mensen, de dingen die voorbijgaan van Louis CouperusMax Havelaar van Multatuli Juristen zijn ordelijke mensen. Toon Boon, juridisch raadgever op het rectoraat en specialist onderwijsrecht, komt dan ook niet met boeken aandragen, maar met een netjes gestructureerde inventaris van zijn boekenkast. "Ja, ik lees graag, terwijl de televisie door anderen wordt ingepalmd. Geef mij een terrasje, een glas wijn en een boek, en je hoort me niet meer.
Campuskrant | Nieuws
Forschung Forschung an Fachhochschulen Hoch hinaus Der größte Geldtopf ist fest in Universitätshand: In der Deutschen Forschungsgemeinschaft (DFG) verteilen Uni-Professoren Milliarden an ihre Uni-Kollegen. Einige FHs wollen die Festung nun einnehmen – mit akademischer Guerilla-Taktik. >>> mehr
duz - unabhängige deutsche Universitätszeitung - Magazin für Forscher und Wissenschaftsmanager