Occupy Oakland
Occupy Oakland
Occupy Oakland Media | Occupy Oakland Media Committee
Occupy Oakland (@occupyoakland) sur Twitter
#occupyoakland #opdraid 1, Recorded on my Android phone. punkboyinsf on USTREAM. Citizen Journalist
Media Roots TV: Why Occupy Oakland?
Occupy Oakland: A walk through "People's Park" and "the Renaissance Fair." Part 1
Occupy Oakland: A walk through "People's Park" and "the Renaissance Fair." Part 2
Occupy Oakland March Shuts Down Chase Bank Branch 12160.info/ #ows #OccupyWallStreet #OccupytheFed
Occupy Oakland March 10/25/2011
Occupy Oakland March October 25
Occupy Oakland march - Video #1
facebook Oakland Mayor Jean Quan Oct25,2011
Occupy Oakland Raided
Occupy Oakland Camp Raided by Police - Rough Edit
Occupy Oakland video_ Riot police fire tear gas, flashbang grenades.flv
Veteran shot in the face by rubber bullet at Occupy Oakland protests
Occupy Oakland Will Continue to Stand 
Image 3Mpp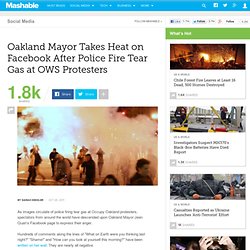 mashable: facebookpage disabled :-)
As images circulate of police firing tear gas at Occupy Oakland protesters, spectators from around the world have descended upon Oakland Mayor Jean Quan's Facebook page to express their anger. Hundreds of comments along the lines of "What on Earth were you thinking last night?" "Shame!"
Fullsize - http://yfrog.com/odp3hyeuj
Oakland Policeman Throws Flash Grenade Into Crowd Trying To Help Injured Protester
yep, but there is more http://pear.ly/gOoVy by notpicnic Nov 4
Scott Olsen's message to the Occupy Wall Street Movement
Occupy Oakland Rubber Bullet Bruise [Raw Vid]
badge numbers from #occupyoakland raid tonight, from this link but not all of th
Occupy Oakland: Police Standoff & Brutal Assault, Tear Gas
Protester knocked unconscious then cops throw exploding gas canister into the crowd helping him
Cops brutalize Occupy Oakland protesters, get paintballed.flv
So it's OK then ? New details surface from 'Occupy Oakland' protester Scott Olsen's past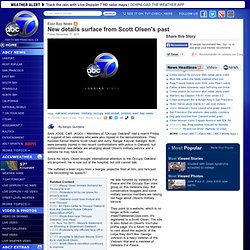 By Sergio Quintana SAN JOSE, Calif. (KGO) -- Members of "Occupy Oakland" had a march Friday in support of two veterans who were also injured in the demonstrations.
New details surface from Scott Olsen's past | Video
Breaking: Police Face Questions in Occupy Oakland Clashes
Riot police tear down Occupy Oakland
Oakland demonstrators worry about police crackdown | Video
'Occupy Oakland' protesters head to the streets | Video
Police raid 'Occupy Oakland' encampments | Video
Police fire tear gas at protesters | Video
Keith Olbermann: oct-26-11 Special Comment, Occupy Violence
Oakland Spends Millions in Attack on Occupy Protesters, Closes 5 Schools Next Day - Occupy Oakland
On Tuesday evening at 5pm Occupy Oakland gathered at the foot of the Oakland Library on 14th Avenue before setting off on a march past the jail and onward to Frank Ogawa Plaza. The peaceful gathering swelled as it marched through downtown, growing upwards of 1,000 people strong. Along their route were police from 17 jurisdictions in California, decked out in riot gear and weaponry. Just before 8pm the police began throwing concussion grenades and tear gas directly into the crowd, injuring several nonviolent protesters.
Oakland's interim police chief gives press conference | Video
abc7news: [video]Oakland tense after police, protesters clash 300 at library
Oakland police dismantle 'Occupy Oakland' tent city, protests continue
the simple image sharer
#SophisticatedHyphy (@Shake9169) sur Twitter
OAKLAND, Calif. — Anti-Wall Street protesters filled a street with a late-night march Wednesday and Oakland's police chief pledged a vigorous investigation into an earlier clash between police and protesters that left an Iraq War veteran in critical condition with a fractured skull. Police Chief Howard Jordan spoke as tensions grew over demonstration encampment in the Bay area. "It's unfortunate it happened. I wish that it didn't happen.
Oakland protesters hold late-night march - US news - Life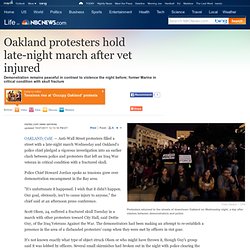 #occupyoakland on Twitter
abc7news.com | Search
Oakland Cops Open Fire With Shotgun Beanbags & Tear Gas On Peaceful Protesters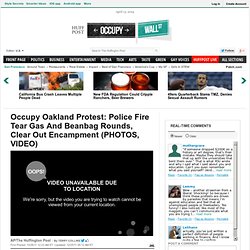 OAKLAND, Calif. (AP) -- Dozens of police in riot gear and hundreds of protesters supporting the Occupy Wall Street movement engaged in a game of cat-and-mouse in downtown Oakland on Tuesday, with authorities using tear gas to respond to demonstrators' repeated agitations. The latest such skirmish came around 11:15 PDT in front of City Hall, where a haze of chemical smoke still hung in the air following several similar clashes at the site over the course of the night.
Occupy Oakland Protest: Police Fire Tear Gas And Beanbag Rounds, Clear Out Encampment
In Frank Ogawa Plaza (renamed Oscar Grant Park by the occupiers), Occupy Oakland were attacked by Oakland police about 4 am this morning. The police surrounded the camp with vans, hummers and riot cops. They declared the camp an "unlawful assembly" and proceeded to use smoke bombs to force the camp to disperse. And downtown Oakland was sealed off with Oakland City Center reportedly shut down to prevent people from coming down to protest the eviction. Police immediately moved in to take down tents.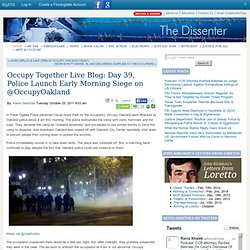 Occupy Together Live Blog: Day 39, Police Launch Early Morning Siege on @OccupyOakland
woensdag 26 okt 2011, 09:56 (Update: 26-10-11, 10:03) 'We are the 99%' Harrie van Veen / NOS In Atlanta, in het zuidoosten van de VS, heeft de politie een tentenkamp van Occupy-demonstranten ontruimd. Tientallen betogers die weigerden te vertrekken, zijn gearresteerd.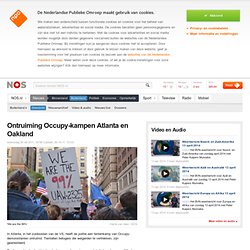 NOS: Ontruiming Occupy-kampen Atlanta en Oakland
Long Range Acoustic Device
The LRAD is the round black device on top of the New York City police Hummer.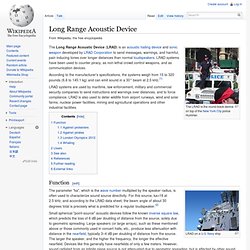 Photo: Adreadnonymous. Protester in wheelchair at Oakland protest, tear-gassed. [Video Link: Oakland police throwing tear gas bombs at protesters.] From Oakland North blog: Vowing to reoccupy Frank Ogawa Plaza, hundreds of Occupy Oakland protestors marched through the streets of downtown Oakland late Tuesday afternoon, chanting "Fight back!"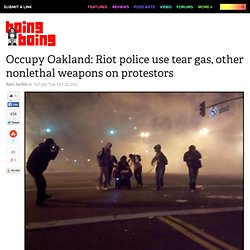 Occupy Oakland protestors face off with riot police after chaotic day of evictions, arrests (UPDATED) – Boing Boing
Newyorkist: Again, some news folk on t
Oakland North (@northoaklandnow) sur Twitter
Oakland North: Current scene at 14th St a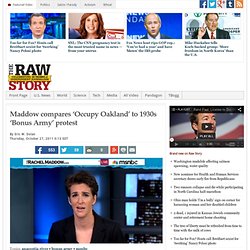 By Eric W. DolanThursday, October 27, 2011 0:13 EST MSNBC host Rachel Maddow on her show Wednesday night highlighted the similarities between the recent crack down on "Occupy Oakland" protesters and the crack down on the "Bonus Army" protesters in 1932. The "Bonus Army" was comprised of war veterans who camped out near the Anacostia River in Washington, D.C.
Maddow compares 'Occupy Oakland' to 1930s 'Bonus Army' protest
March of the Bonus Army - Part 1
March of the Bonus Army - Part 2
March of the Bonus Army - Part 3 2:09 brother can you spare a dime
Brother, Can You Spare a Dime?
Summary[edit] In the song a beggar talks back to the system that stole his job.[3] Gorney said in an interview in 1974 "I didn't want a song to depress people. I wanted to write a song to make people think.
The Bonus Army was the popular name of an assemblage of some 43,000 marchers—17,000 World War I veterans, their families, and affiliated groups—who gathered in Washington, D.C., in the spring and summer of 1932 to demand cash-payment redemption of their service certificates. Its organizers called it the Bonus Expeditionary Force to echo the name of World War I's American Expeditionary Force, while the media called it the Bonus March. It was led by Walter W. Waters, a former Army sergeant. Many of the war veterans had been out of work since the beginning of the Great Depression.
Bonus Army
Today I was shot at, had a flash bang go off by my head, punched an anarchist in the face and have never been prouder of my community. #OccupyOakland : occupywallstreet
Occupy Oakland
Despite Iraq Vet's Cracked Skull, DoJ Sees No Evil in Occupy Crackdown | Threat Level
After Scott Olsen, a two-tour Iraq war veteran, suffered a skull fracture Tuesday when police shot Occupy Oakland protestors with rubber bullets and threw flash bang and tear gas grenades at them, you might think that the Justice Department would investigate. After all, the Justice Department has the power and responsibility to investigate state and local police violations of Americans' constitutional rights. Sorry, Scott Olsen.
Ypfqb
Shockupy Wall Street Fad - The Colbert Report - 2011-27-10
Update Oct. 12, 2012Oakland police chief wants two officers fired, 42 disciplined, for abuse of Occupy protestershttp://www.mercurynews.com/breaking-news/ci_21759765/oakland-police-chief-seeks-fire-two-police-officersUPDATED FEB 24, 2012: (Above) Police video used to identify Oakland police officer R. Roche. Watch video:http://www.bsnorrell.blogspot.com/2012/02/oakland-cop-identified-who-shot-scott.html
Who shot Scott Olsen at Occupy Oakland?
Marine Says Oakland Used Crowd Control Methods That Are Prohibited In War Zones
wikipedia commons 40mm tear gas launcher As the events that led to Oakland protester Scott Olsen's head injury continue to unfold and investigations begin, we thought it important to offer some perspective. This comment is from a former Marine with special operations in crowd control. He points out that shooting canisters such as those that likely hit Scott Olsen is prohibited under rules of engagements in Iraq and Afghanistan. Regardless of any political position on the Occupy protests, these are some Interesting insights:
Scott Olsen 'cannot talk' after injury at Occupy Oakland protest | World news
PROOF that Oakland PD infiltrated #OWS
GENERAL STRIKE & MASS DAY OF ACTION – NOVEMBER 2 - Occupy Oakland
Occupy Oakland general strike – live | World news
Occupy Oakland Protesters Force Halt To Operations At Busy Port [LATEST UPDATES]
Occupy Oakland Violence: Peaceful Occupy Protests Degenerate Into Chaos
Riot police fire projectiles, arrest dozens of Occupy Oakland protesters
"Occupy Oakland": Aktivisten blockieren amerikanischen Handelshafen - Ausland
Occupy Oakland - Rally & March - 10/25/11
Police clash with 'Occupy Oakland' protesters - Americas
abc7news: 'Occupy Oakland' protesters, police stand off
Occupy Oakland Attendance Buried By MSM
Police Clear Occupy Oakland Encampment, but Protesters Return
Who Rules Oakland?
Whose streets? Oakland's shadow government presses City Hall to end the occupation
The Oakland Commune
The Battle of Oakland on Vimeo
Police Brutality at Occupy Oakland January 28th Night Time Protest on Vimeo
MR Original - May Day Occupy Oakland Protest