Intro video's material
Brian Jones - Still Separate, Still Unequal. Stop the Circus. The Time For Action Is Now (Occupy CUNY) Occupy Wall Street folks put Harvard University yard on lock for public. OWS solidarity march on Brooklyn Bridge, 11-17-2011. OWS Protests Shifting to College Campuses. Msnbc: OSW & Naomi Klein Rachel Maddow Show. Tweed Protesters Denounce 'Privatization' of Schools – SchoolBook. They may not have been a big crowd, but they were spirited.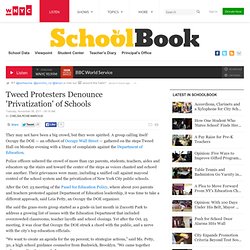 A group calling itself Occupy the DOE — an offshoot of Occupy Wall Street — gathered on the steps Tweed Hall on Monday evening with a litany of complaints against the Department of Education. Police officers ushered the crowd of more than 150 parents, students, teachers, aides and educators up the stairs and toward the center of the steps as voices chanted and echoed one another. Their grievances were many, including a unified call against mayoral control of the school system and the privatization of New York City public schools. After the Oct. 25 meeting of the Panel for Education Policy, where about 200 parents and teachers protested against Department of Education leadership, it was time to take a different approach, said Leia Petty, an Occupy the DOE organizer. Occupy Colleges. MSNBC: D. Ratigan interviews spokeswoman Natalia Abrams of Occupy Colleges. Natalia Abrams of Occupy Colleges and Tamara Draut of the Demos policy think tank discuss the rising debts of college graduates and their staggering unemployment rate.Young Americans fight status quo.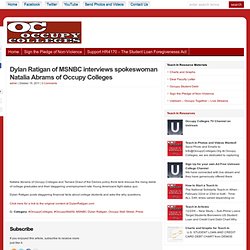 Dylan Ratigan posts staggering financial facts about college students and asks the why questions. Click here for a link to the original content at DylanRatigan.com Category: #OccupyColleges, #OccupyWallSt, MSNBC Dylan Ratigan, Occupy Wall Street, Press. SANHEDRON: #FF @9up9ake, @indiemusicb... OccupyColleges: #ff @peterrothberg @Krysti... The Real Social Network (EXCLUSIVE NEW FOOTAGE!) 15 year old Tells Establishment to Stick it. RAP NEWS 7: #Revolution spreads to America (#OccupyWallSt) - w Pilger, Mahfouz & Glenn Beck.
I AM NOT MOVING - Short Film - Occupy Wall Street.
---