Free speech - online freedom
Free speech fights
Free speech fights are conflicts over the right to speak freely, particularly involving the Industrial Workers of the World (the "IWW", or "Wobblies'") efforts in the early twentieth century to organize workers and publicly speak about labor issues. Wobblies, Single Taxers, and other radicals of the time were actively engaged in organizing workers and others, and their efforts were often opposed, and sometimes met with violent repression by local government and business authorities. The most notorious of these conflicts was the "San Diego Free Speech Fight",[1] which brought the IWW to the greater notice of the American public and was notable for the intensity of violence by anti-labor vigilantes directed at the IWW; this violence included the kidnapping and tarring and feathering of Ben Reitman, who was a physician, and was Emma Goldman's lover. More generally, a free speech fight is any incident in which a group is involved in a conflict over its speech.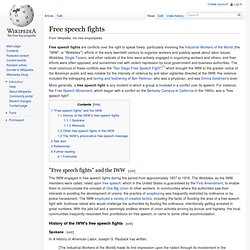 during #mediablackout do NOT scoop the wire : EvictionDay
A reminder about WikiLeaks
"Just in time to spoil the celebration of the 40th anniversary of the publication of the Pentagon Papers, the Obama Justice Department is trying to do what Richard Nixon couldn't: indict a media organization. . . . Charging Julian Assange with 'conspiracy to commit espionage' would effectively be setting a precedent with a charge that more accurately could be characterized as 'conspiracy to commit journalism'" — James Goodale, General Counsel of The New York Times during its Pentagon Papers fight with the Nixon administration, writing in The Daily Beast, June 12, 2011. When, many years ago, I first read about the Nixon administration's infamous break-in to the office of Daniel Ellberg's psychiatrist as a means to discredit the Pentagon Papers leak, I was baffled by the motivation.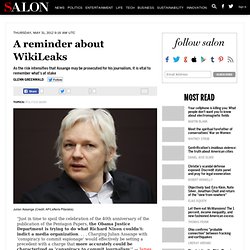 Blood on their Hands: Media Framing of the Afghan War Diary Leaks
@ICTsiege316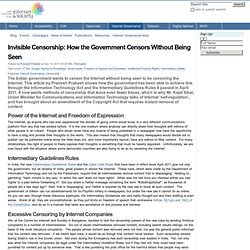 The Indian government wants to censor the Internet without being seen to be censoring the Internet. This article by Pranesh Prakash shows how the government has been able to achieve this through the Information Technology Act and the Intermediary Guidelines Rules it passed in April 2011. It now wants methods of censorship that leave even fewer traces, which is why Mr. Kapil Sibal, Union Minister for Communications and Information Technology talks of Internet 'self-regulation', and has brought about an amendment of the Copyright Act that requires instant removal of content.
Invisible Censorship: How the Government Censors Without Being Seen
WikiLeaks: The Great Visa Escape on Vimeo
RAP NEWS 7: #Revolution spreads to America (#OccupyWallSt) - w Pilger, Mahfouz & Glenn Beck
Wikileaks Needs You!
MSM: Assange on 'Kremlin Mouthpiece'
CHOMSKY on WIKILEAKS on Vimeo
Frontline Club: OWS & Assange , occupy and what do they want ?
Welcome to FoWL: Friends of WikiLeaks!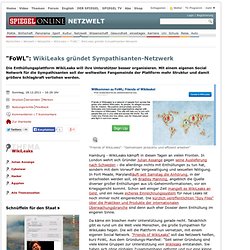 "FoWL": WikiLeaks gründet Sympathisanten-Netzwerk - SPIEGEL ONLINE - Nachrichten - Netzwelt
Hamburg - WikiLeaks kämpft in diesen Tagen an vielen Fronten. In London wehrt sich Gründer Julian Assange gegen seine Auslieferung nach Schweden - die allerdings nichts mit Enthüllungen zu tun hat, sondern mit dem Vorwurf der Vergewaltigung und sexuellen Nötigung. In Fort Meade, Marylandläuft seit Samstag die Anhörung, in der entschieden werden soll, ob Bradley Manning, angeblich die Quelle diverser großer Enthüllungen aus US-Geheiminformationen, vor ein Kriegsgericht kommt. Schon seit einiger Zeit mangelt es WikiLeaks an Geld, und ein neues sicheres Einreichnungssystem für neue Leaks ist noch immer nicht eingereichtet. Die kürzlich veröffentlichten "Spy Files" über die Praktiken und Produkte der internationalen Überwachungsbranche sind denn auch eher Dossier denn Enthüllung im engeren Sinne. Da käme ein bisschen mehr Unterstützung gerade recht.
Activist Daniel Ellsberg weighs in on the importance of WikiLeaks suspect Bradley Manning's case - Countdown with Keith Olbermann
To Our Faithful Current.com Users: Current's run has ended after eight exciting years on air and online. The Current TV staff has appreciated your interest, support, participation and unflagging loyalty over the years. Your contributions helped make Current.com a vibrant place for discussing thousands of interesting stories, and your continued viewership motivated us to keep innovating and find new ways to reflect the voice of the people.
Manning/Assange Link Found?
* Article: Liquid Information Leaks. By Nathan Jurgenson and PJ Rey. Summary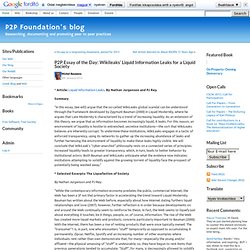 Wikileaks' Liquid Information Leaks for a Liquid Society - Zygmunt Bauman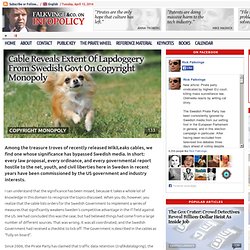 Among the treasure troves of recently released WikiLeaks cables, we find one whose significance has bypassed Swedish media. In short: every law proposal, every ordinance, and every governmental report hostile to the net, youth, and civil liberties here in Sweden in recent years have been commissioned by the US government and industry interests. I can understand that the significance has been missed, because it takes a whole lot of knowledge in this domain to recognize the topics discussed. When you do, however, you realize that the cable lists orders for the Swedish Government to implement a series of measures that significantly weakens Sweden's competitive advantage in the IT field against the US. We had concluded this was the case, but had believed things had come from a large number of different sources.
Cable Reveals Extent Of Lapdoggery From Swedish Govt On Copyright Monopoly
WikiLeaks founder Julian Assange attends a press conference in London, 27 February 2012, about the release of more than 5m emails from private intelligence firm Stratfor. Photograph: Kerim Okten/EPA WikiLeaks, the whistleblower website, has again published a massive trove of documents, this time from a private intelligence firm known as Stratfor. The source of the leak was the hacker group Anonymous, which took credit for obtaining more than 5m emails from Stratfor's servers. Anonymous obtained the material on 24 December 2011, and provided it to WikiLeaks, which, in turn, partnered with 25 media organizations globally to analyze the emails and publish them.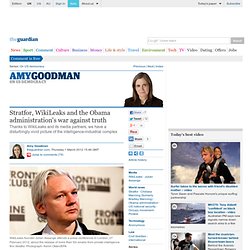 Stratfor, WikiLeaks and the Obama administration's war against truth | Amy Goodman | Comment is free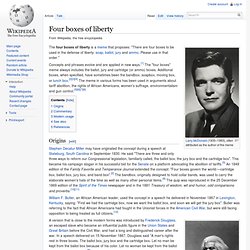 Four boxes of liberty
Larry McDonald (1935–1983), often attributed as the author of the meme The four boxes of liberty is a meme that proposes: "There are four boxes to be used in the defense of liberty: soap, ballot, jury and ammo. Please use in that order." Concepts and phrases evolve and are applied in new ways.[1] The "four boxes" meme always includes the ballot, jury and cartridge (or ammo) boxes. Additional boxes, when specified, have sometimes been the bandbox, soapbox, moving box, or lunch box.[2][3][4] The meme in various forms has been used in arguments about tariff abolition, the rights of African Americans, women's suffrage, environmentalism and gun control.[5][6][7][8]
Clay Shirky: Defend our freedom to share (or why SOPA is a bad idea)
There is a war coming: Cory Doctorow on the future regulation of general purpose computation – video | Comment is free
Do We Really Have To Prepare For The Fourth Box?
As I watch the legislative abominations named SOPA, PIPA, and NDAA follow the lead of the DMCA and the Patriot Act in the United States, I realize that the worst possible scenario for civil liberties appears to actually be materializing. The internal talk within the Swedish Pirate Party has long been that it's our job to prevent Europe from descending into totalitarian fascism. The United States is lost; it is beyond help and repair and will descend. Our job is to prevent Europe from happily following suit, but instead break off the leash in time. This was apparent five years ago, and is screamingly obvious today. This article took me well over 24 hours to write, after a week of procrastination.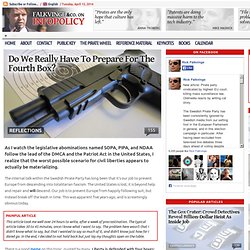 SOPA: What if Google, Facebook and Twitter Went Offline in Protest?
Can you imagine a world without Google or Facebook? If plans to protest the potential passing of the Stop Online Piracy Act (SOPA) come to fruition, you won't need to; those sites, along with many other well-known online destinations, will go temporarily offline as a taste of what we could expect from a post-SOPA Internet. Companies including Google, Facebook, Twitter, PayPal, Yahoo! and Wikipedia are said to be discussing a coordinated blackout of services to demonstrate the potential effect SOPA would have on the Internet, something already being called a "nuclear option" of protesting. The rumors surrounding the potential blackout were only strengthened by Markham Erickson, executive director of trade association NetCoalition, who told FoxNews that "a number of companies have had discussions about [blacking out services]" last week. According to Erickson, the companies are well aware of how serious an act such a blackout would be:
Anonymous Responds to SOPA: We'll Deface The Internet In Protest
The Stop Online Piracy Act (SOPA) is a bill that was introduced in the United States House of Representatives on October 26, 2011, by Texan Republican Representative Lamar Smith and a bipartisan group of 12 initial co-sponsors. The bill, which we describe in great detail here, could signal the end of the Internet as we know it. It's chock full of loose political language that's open to interpretation in the worst way. It essentially expands the ability of U.S. law enforcement and copyright holders to fight online trafficking in copyrighted intellectual property and counterfeit goods. According to Wikipedia, "the U.S. Attorney-General could require US-directed Internet service providers, ad networks such as Google and payment processors such as PayPal or Visa to suspend doing business with sites found to infringe on federal criminal intellectual property laws and take technically feasible and reasonable measures to prevent access to the infringing site.
The government debate over the Stop Online Piracy Act may have taken a break for the holidays, with the hearings in the House of Representatives apparently delayed until an unspecified date next year, but just in case you thought the debate online might calm down, Anonymous has entered the fray. In a statement released earlier this week, Anonymous announced OpBlackOut, a plan to "replace the face of the internet with a clear message about how we feel about censorship." Calling SOPA "an oppressive new law that will allow the Federal Government of the United States to shut down, arrest, fine and prosecute any website and its operator(s) at the behest of corporations who can and do stand to profit from weaponized citizenship," Anonymous is planning OpBlackOut as a response in which front pages of sympathetic websites will be replaced by an image they call "a simple, clear protest page" to stand united against the potential passing of SOPA.
'Anonymous' Blacks Out the Internet in Response to SOPA Debate
Boycott SOPA: Android App To Find SOPA Backers
The anti-SOPA movement has been gathering pace, helped by online campaigns to boycott supporting companies by hitting them where it hurts — their bank accounts. Go Daddy saw its customers transfer their accounts in their thousands, online campaigners have mobilsed and forced other companies to withdraw their support and Google, Amazon, Facebook, Yahoo and several other Internet companies are said to be considering taking their services offline in protest. Whilst Internet-based companies have incurred the wrath of their anti-SOPA users and customers, hundreds of other supporting companies are not as easy to influence. However, that could be set to change with the launch of 'Boycott SOPA' a new Android application that allows users to scan barcodes of different products to identify if the company that makes or sells it is a supporter of the Stop Online Piracy Act.
What I Wish Wikipedia and Others Were Saying About SOPA/PIPA
The SOPA/PIPA blackout today by Wikipedia, Mozilla, WordPress.com and many other sites is (I hope) drawing attention to proposed legislation that is considered a threat to "Internet freedom." That's fine, admirable, and (with any luck) will be effective at curbing SOPA/PIPA for at least another legislative season. The backgrounders I've read so far by Wikipedia and others explain pretty well why SOPA/PIPA shouldn't pass. What they don't say is that SOPA/PIPA are business as usual, and the protest is a last-ditch effort necessary because the legislative system and mainstream media are fundamentally broken. The blackout and other protests today are the result of a long, sustained, full-court press against legislation that's being pushed through despite widespread opposition.
Sopa victory for tech community as US House committee adjourns | Technology
The Internet Spoke and, Finally, Congress Listened!
BlackoutSOPA.org - Change your profile picture to protest SOPA!
#BlackoutSOPA: How 87,000 People Taught Us About The Future of Online Activism
How SOPA's 'circumvention' ban could put a target on Tor | Privacy Inc.
Net founders fight piracy law with 'censorship' claim
Geeks to Testify (Finally!) About SOPA Blacklisting Implications | Threat Level
SOPA PIPA Internet Censorship
Hackers plan space satellites to combat censorship
RIP Internet: Brein = censuurdictator
Ziggo en XS4All moeten Pirate Bay blokkeren -  nieuws detailpagina - TROS Radar
Ziggo moet Pirate Bay blokkeren
Brein vs. Pirate Bay: internet naar de haaien? | Inleiding | Pro | Tweakers.net Reviews
Beyond ACTA: next secret copyright agreement negotiated this week—in Hollywood
Alles over antipiraterijwetgeving tijdens actualiteitencollege
Organised Opposition Health of the Body Politic
EXCLUSIVE: Jacob Appelbaum (Wikileaks/Tor) on SOPA
28c3: How governments have tried to block Tor
Robert McDowell: The U.N. Threat to Internet Freedom
Dan Gillmor: The WSJ editorial pages ar
SOS Internet
events.waag.org 23/02 SOS INTERNET »
Google's Screenwise Project Will Give You Money If You Give Up Your Privacy
The Leveson Inquiry
Dutch Judge Who Ordered Pirate Bay Links Censored Found To Be Corrupt
The Internet as Playground and Factory - Gabriella Coleman on Vimeo
Gene Sharp - How to Start a Revolution Trailer on Vimeo
How To Start A Revolution | a film by Ruaridh Arrow
@genesharpfilm
Under Watch: A Day in the New Surveillance Society
Invallen NMa bij KPN, Vodafone, T-Mobile
Quinn Norton: I swear, #SOPA and #NDAA a
Hillary Clinton and Internet Freedom Glenn Greenwald
Can the U.S. Government close social media accounts?
@HSMPress
The Other 99, Ustream.TV: -Twitter- @Timcast @TheOther99 This channel is being maintained by The Other 99. We continue to be a primary source from the
28c3: The coming war on general computation
How the Right Wing Destroyed the U.S. Postal Service
Stratfor emails reveal secret, widespread TrapWire surveillance system
Amazing mind reader reveals his 'gift'
YouTube
DU, ITU, & Internet Zensur [german]
France's censorship demands to Twitter are more dangerous than "hate speech" | Glenn Greenwald | Comment is free
TPB AFK: The Pirate Bay Away From Keyboard
Terms and Conditions May Apply
Montevideo Statement on the Future of Internet Cooperation
The core Internet institutions abandon the US Government