Play 'corporate òr state' publishing power
Citizen Journalism versus Corporate Media Jan 8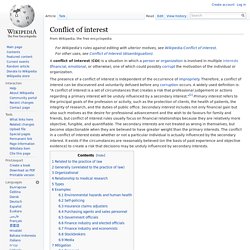 The presence of a conflict of interest is independent of the occurrence of impropriety. Therefore, a conflict of interest can be discovered and voluntarily defused before any corruption occurs. A widely used definition is: "A conflict of interest is a set of circumstances that creates a risk that professional judgement or actions regarding a primary interest will be unduly influenced by a secondary interest."[1] Primary interest refers to the principal goals of the profession or activity, such as the protection of clients, the health of patients, the integrity of research, and the duties of public office.
"Remember, the guy who suggests getting the dynamite is usually the Fed." - Old hippie saying Who knows - this might even be the old hippie who said it.
Techniques the Corporate Powers Will Use to Destroy the OWS Movement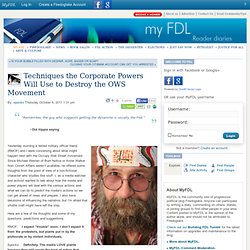 manufacturing consent -theoretical-
manufacturing consent -practice-
GOOD NIGHT AND GOOD LUCK
during #mediablackout do NOT scoop the wire
it takes a Quiz Show Host
during #mediablackout do NOT scoop the wire : EvictionDay
CNN Anchor Mocks Occupy Wall Street - Cenk Responds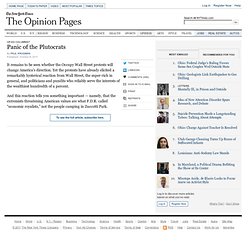 And this reaction tells you something important — namely, that the extremists threatening American values are what F.D.R. called "economic royalists," not the people camping in Zuccotti Park. Consider first how Republican politicians have portrayed the modest-sized if growing demonstrations, which have involved some confrontations with the police — confrontations that seem to have involved a lot of police overreaction — but nothing one could call a riot. And there has in fact been nothing so far to match the behavior of Tea Party crowds in the summer of 2009. Nonetheless, Eric Cantor, the House majority leader, has denounced "mobs" and "the pitting of Americans against Americans." The G.O.P. presidential candidates have weighed in, with Mitt Romney accusing the protesters of waging "class warfare," while Herman Cain calls them "anti-American."
Keith Olbermann calls out Media Blackout on 'Occupy Wall Street' Protest
Occupy Wall Street's first media problem was that there was no media. On September 21, Keith Olbermann chastised New York newspapers and major news outlets for ignoring the demonstrations in their first five days. "[The protesters] are not going to be able to refine their goals based on reading bad reviews in the protest critics of the New York Times," said the Current TV anchor, formerly of MSNBC. Mr. Olbermann did not explain why the Times would be obligated to help Occupy Wall Street crystallize unrest into specific demands.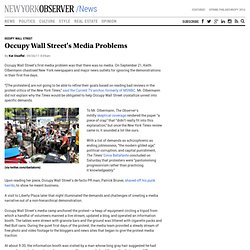 Occupy Wall Street's Media Problems | The New York Observer
Parks and Demonstration - The Daily Show with Jon Stewart - 10/05
Bonuses Worthy of Protest for Gannett and Tribune Executives
"The bonus system has gone beyond a means of rewarding talent and is now Wall Street's primary business," the newspaper editorial stated, adding: "Institutions take huge gambles because the short-term returns are a rationale for their rich payouts. But even when the consequences of their risky behavior come back to haunt them, they still pay huge bonuses." Well thought and well put, but for one thing: If you were looking for bonus excess despite miserable operations, the best recent example I can think of is , which owns USA Today.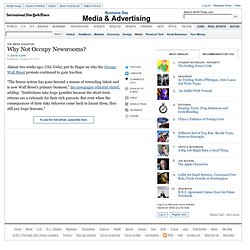 Language: English Bahasa Indonesia Bahasa Melayu Dansk Deutsch Español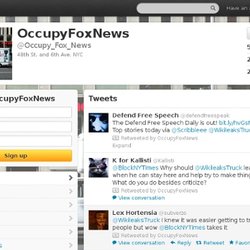 OccupyFoxNews (occupy_fox_news) on Twitter
The Biggest Wall Street Protest You Dont Know About 09-20-11 (4)
Has the spirit of the Arab Spring come to Wall Street, or are the protesters just anarchists looking for trouble? It started in Lower Manhattan. A handful of protesters descended on Wall Street calling themselves representatives of 'the 99 per cent' – the majority of Americans who feel unfairly treated by an economic system in which wealth accrues to the already rich. Despite an initial lack of coverage, the protests spread country-wide and the crowds grew.
AlJazeera: 'OWS': A media blackout?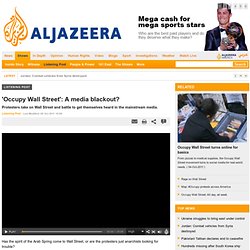 Occupy Wall Street - American Media Coverage
Most Americans are being kept in the dark about the US Day of Rage by the corporate cable news giants at CNN, Fox News, and MSNBC who have imposed a de facto blackout on the protest. Even though estimates have varied from hundreds to as many as 50,000 protesters flooded into Manhattan and others cities to take part in events around the country to, "nonviolently disrupt the disloyal, incompetent, and corrupt special interests which have usurped our nation's civil and military power, spawning a host of threats to our liberty, lives and national security," the three cable news networks have devoted no airtime to the story. This is becoming an all too familiar scene. In Wisconsin hundreds of thousands of regular people took to the streets each weekend to protest the theft of their rights, and were completely ignored by CNN, Fox News, and MSNBC.
Blackout: CNN, Fox, and MSNBC Ignore Thousands Of US Day Of Rage Protesters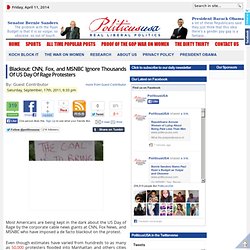 Geraldo Rivera (Fox News) the days of the "media blackout" will be a quaintly nostalgic memory in comparison.
Denis Farina or Geraldo Rivera at Occupy Wall Street? Blow the trumpets and bang in your drum circle: the MSM have finally arrived in the form of Geraldo Rivera, who came down to Zuccotti Park Sunday morning to cover the protests for Fox News. Fox News!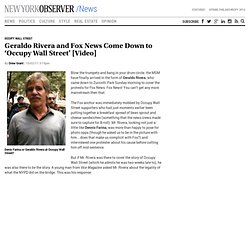 Protester Jesse LaGreca schools Fox producer Even if was at the Zuccotti Park yesterday , Fox News has generally been a tad dismissive of the Occupy Wall Street movement. Foxnews.com (as of this writing) has no coverage of this national event on their front page stories. (Hard to imagine for a network that was so gung-ho about the Tea Party!) 's went out to try to "prank" the protesters . sent a producer minion out with the same mission : to belittle OWS's cause by cutting up interviews to make people sound stupid.
Exclusive: OWS Activist Slams Fox News Producer In Un-Aired Interview [Video] | The New York Observer
OWS 'We Will Not be Co-opted'
'Anonymous' Threatens to Take Down Fox News Next Month
Well, that's certainly one way to complain about news coverage. Hackers claiming to represent Anonymous have announced plans to take down Fox News' website on November 5 in protest over the network's coverage of the Occupy Wall Street demonstrations. Calling the Fox coverage "continued right-wing, conservative propaganda against the occupations," the hackers explained in a new video that "since [Fox] will not stop belittling the occupiers, we will simply shut them down." Sean Hannity, Bill O'Reilly and former Fox News personality Glenn Beck are named as "primary targets" for the attack, according to a caption. (MORE: 'Anonymous' Forces 40+ Child Pornography Sites Offline)
Anonymous-Operation Fox Hunt:Anti Fox News Campaign
Occupy News Corp (occupynewscorp) on Twitter
Occupy Wall Street Interview with "Fake Fox News Guy" Chris Cobb
Zombie John Lennon @ Occupy Wall Street, NYC. 10-3-2011
Brooklyn College Walk-Out ( YouTube
Fox News Blames Occupiers For Police Violence?
#NLRevolutie
Reuters Bizarre Anti-OWS Piece
Jeroen Wollaars: NOS bus is het prikbord va
NOS Journaal 20:00: za 15 okt 2011, 20:00
prof. dr. Huub Wijfjes (UvA): 'Tussen Holle Bolle NOS en kwaliteitsimpulsen.
criticsm at NOS
Occupy Nijmegen: Gelukkig heeft #OccupyNL h
busted for just tweeting/ livestream- ing/ videotaping/ arrests
Ralph Nader Speaks to Media Roots
Media Lies Exposed by life stream at Occupy Amsterdam
Minister Farrakhan Blasts Media & Reporters During Radio Interview Commercial!
Louis Farrakhan
pepperspraying CUTV_camera- team and more
- imminently perilous to life -
empty tents ! PownNews GeenStijl
NextGeneration journalist's
Google Declines To Remove Police Brutality Videos, Still Complies With 63% Of Gov't Takedown Requests
Content Removal Requests – Google Transparency Report
Yahoo! Customer Care: We apologize 4 blocking 'o
Twitter Buzz Builds for the OWS Movement
Twitter Says It's Not Censoring Occupy Wall Street–People Really Are More Concerned With Doritos Right Now
Twitter: We Are Not Blocking Terms Related To #OccupyWallStreet In Any Way, Shape or Form
Occupy the URL Takes Protests to The Internet
Fox News Smears Mom @ Occupy Wall Street
The 'Occupy Wall Street' media blackout myth: Plenty of stories, none of them big
Total media blackout on the mass Israeli protests
Jest [video]Where OWS Headlines Come From
How OWS confuses and ignores Fox News and the pundit class
Observations of a Jailed Journalist | MetroFocus
OccupyIVTeach in on USTREAM
blurring news & advertising
Bonnier Group
Frontline Club: OWS & Assange , occupy and what do they want ?
Chomsky: Anarchy rules OK Chomsky tells Australia
Julian Assange, Wikileaks founder, discusses philosophy of censorship
swedenvsassange (@swedenvsassange) sur Twitter
WikiLeaks: The Swedish Murdochs. One
Rupert Murdoch
Dossier shows NoW surveillance on massive scale
Alexi Mostrous: Where was BBC during phone
Phone-hacking scandal: Who's linked to who?
New York Post
Time to throw the bums out
Reading Between the Lines:'New York Post' Supports Message of Occupy Wall Street | The New York Observer
New York Post: Search Results: occupy
Seven Media Sins | TheOccupiedTimes
Occupy U.C. Berkeley - The Colbert Report - 2011-10-11
New York Post declares war on Occupy Wall Street - Occupy Wall Street
Falkvinge: When Pirate Comradeship Beats Old Grudges
The Revolution Will Not Be Televised
NYT Biz Writer Checks Out Occupy Wall Street–Based on CEO's Worries
Chomsky: The U.S. Behaves Nothing Like a Democracy, But You'll Never Hear About It in Our 'Free Press'