Beyond Tourism
Sebchan (sebchan) Powerhouse Museum | Science + Design | Sydney Australia. Members | Government 2.0 Taskforce. Fifteen members make up the Government 2.0 Taskforce.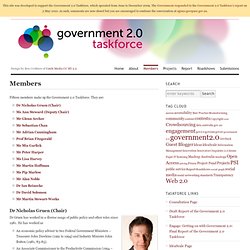 They are: Dr Nicholas Gruen (Chair) Science World HOME - Science World. Forum Virium Helsinki | Jarmo Eskelinen "Open public data" (Lift France10 EN) - a Tech & Science video. Open Public Data, a New Resource for Innovation - une vidéo High-tech et Science. Virtueel Platform (virtueelp) Floor van Spaendonck (fvspaendonck) Michael Edson (mpedson) Smithsonian-webstrategy.wikispaces. I'm the Director of Web and New Media Strategy for the Smithsonian Institution, in the Office of the CIO.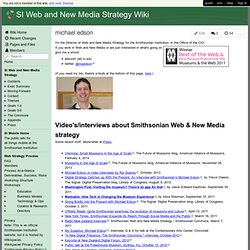 If you work in Web and New Media or are just interested in what's going on give me a shout! Edsonm [at] si.edutwitter: @mpedson (If you need my bio, there's a blurb at the bottom of this page, here.) Some recent stuff. More/other at Press. Concern. Peggy weil (peggyweil) Peggy Weil. The BLURING TEST is a conversation with a computer program named MRMIND who asks visitors to his website to convince him that they are human.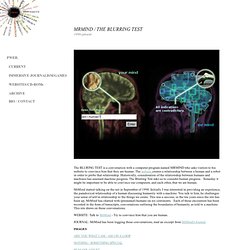 The website creates a relationship between a human and a robot in order to probe that relationship. Historically, consideration of the relationship between humans and machines has assessed machine progress. The Blurring Test asks us to consider human progress. Someday it might be important to be able to convince our computers, and each other, that we are human. School of Cinematic Arts - Programs » Interactive Media. About the Interactive Media & Games Division The Interactive Media & Games Division in the USC School of Cinematic Arts is a vibrant community of students and faculty dedicated to providing leadership in the education, creation, study and research of interactive media and digital arts.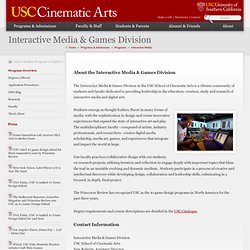 Students emerge as thought leaders, fluent in many forms of media, with the sophistication to design and create innovative experiences that expand the state of interactive art and play. The multidisciplinary faculty - composed of artists, industry professionals, and researchers - creates digital media scholarship, media art, games, and experiences that integrate and impact the world at large. Our faculty practices collaborative design with our students on research projects, utilizing iteration and reflection to engage deeply with important topics that blaze the trail in an unstable evolving and dynamic medium.
---