Colleges / assemblies / Universities
Occupy Isla Vista
Occupy Virginia Tech
Occupy Virginia Tech - 10/13/2011
@OccupyColleges
Occupy Colleges
Colleges/HS - We All Occupy
Glimpses of Occupy Virginia Tech
Occupy Isla Vista
Rowan University
Occupy Rutgers-Newark
Occupy Collegesuta
#OccupyUW
Occupy UW movement asks for education rights
Before the protesters marched north on Charter Street and up Bascom Hill, members of the movement made signs at Union South to inform those witnessing the march of their causes.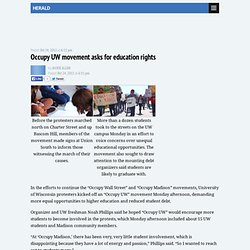 Occupy Norman
Occupy Norman (University of Oklahoma)
Occupy MU Ohio
OccupyGeneseo
Occupy Susquehanna
Asnnmc EagleSpirit
Rhodes College
Asnnmc EagleSpirit
Occupy NKU
#OccupyFelician
Cerritos College
Occupy C. W. Post/LIU - Organisme communautaire - Brookville, NY
Occupy CSU (@OccupyCSU) sur Twitter
OCCUPY UCLA (@Occupy_UCLA) sur Twitter
#OccupyLA (OccupyLA) on Twitter
Occupy Dartmouth (@OccupyDartmouth) sur Twitter
Occupy Colleges UTA - Google+
BU occupies Boston
@BUOccupyBoston
BU Occupies Boston (@BUOccupyBoston) sur Twitter
StudentsOccupyBoston (@StudentsOccupy) sur Twitter
OccupyDC students march to Sallie Mae
Dr. Santos Speaks Out Occupy CSUB
Chris Cruz Boone Talks Social Media @OccupyCSUB
Circle March
Occupy CSM (@OccupyCSM) sur Twitter
OccupyCSM Foto's
Occupy UT Austin
@occupyutaustin) sur Twitter
Occupy UT Austin (University of Texas) - Infos
Prof. Martinez on Vimeo
CACHE: Coalition Against Corporate HE
CACHE Chicago (@CACHEChicago) sur Twitter
Occupy TCNJ - First General Assembly on October 12, 2011
At one of the first meetings of Occupy TCNJ, club members expressed enthusiasm but lacked direction.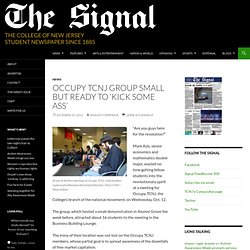 Occupy TCNJ group small but ready to 'kick some ass' | The Signal
CalState Bakersfield (@OccupyCSUB) sur Twitter
Occupy Chico State (@OcupyChicoState) sur Twitter
Our Schools NYC | Detailed information, news and analysis on NYC Schools
Our Schools NYC (@ourschoolsnyc) sur Twitter
Occupy FIU Page | OccupyMIA.org
Facebook: Occupy FIU
Occupy Wall Street.
Occupy Movement becomes local | FIUSM
occupyUMD
Occupy UMD (@OccupyUmd) sur Twitter
OCCUPY EDUCATION - Tell us how you OCCUPY EDU
Occupy Mills (@OccupyMills) sur Twitter
OccupyStetson (@OccupyStetson) sur Twitter
Tufts Occupiers (@TuftsOccupiers) sur Twitter
Tufts Occupiers - Mur
Occupy UConn (@OccupyUConn) sur Twitter
Occupy UConn and Occupy Storrs - Infos
Occupy Oakland (@OccupyOaklandU) sur Twitter
Occupy Oakland University
Occupy CSULB (@occupycsulb) sur Twitter
Facebook Occupy CSULB
Texas State: Occupied
OccupyTXState (@OccupyTXState) sur Twitter
Occupy the Classroom
OccupyTheClassroom (@OccupyClass) sur Twitter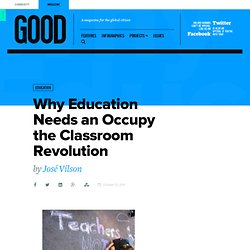 Over the last few months, the Occupy Wall Street movement has grown from a small collection of hardcore activists to a groundswell of everyday Americans frustrated with the lack of opportunity afforded them in the United States.
Why Education Needs an Occupy the Classroom Revolution - Education
Occupy the Classroom
Occupy the Classroom
By Nicholas Kristof Today's New York Times includes a column by Nicholas Kristof on the importance of early childhood education. The column features comments and research by a number of Ed School faculty including Dean Kathleen McCartney, Professor Hiro Yoshikawa, Assistant Professor David Deming, and doctoral candidate Christina Weiland, Ed.M.'08.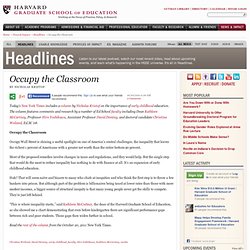 Pearltrees interface Help & intro Videos