Colleges / assemblies / Universities
Occupy Isla Vista
Occupy Virginia Tech
Occupy Virginia Tech - 10/13/2011
Language: English Bahasa Indonesia Bahasa Melayu Dansk Deutsch Español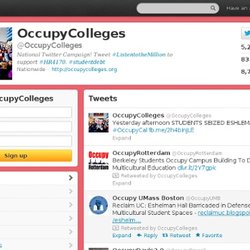 @OccupyColleges
Occupy Colleges
Glimpses of Occupy Virginia Tech
Occupy Isla Vista
Rowan University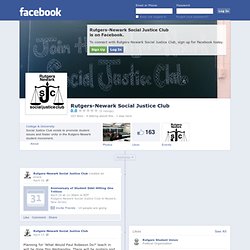 Social Justice Club a year later.... Here's a post from earlier this year that's relevant to yesterdays successful passage of in-state tuition for undocumented students. -------- Here's how MLK put it in Letter from a Birmingham Jail, whic...h I have edited down to a few sentences. If you haven't read it I included a link at the bottom. "I am sure that none of you would want to rest content with the superficial kind of social analysis that deals merely with effects and does not grapple with underlying causes. ... In the course of the negotiations, certain promises were made by the merchants--for example, to remove the stores' humiliating racial signs....As in so many past experiences, our hopes had been blasted ... You may well ask: "Why direct action?
Occupy Rutgers-Newark
Occupy Collegesuta
#OccupyUW
Occupy UW movement asks for education rights
Before the protesters marched north on Charter Street and up Bascom Hill, members of the movement made signs at Union South to inform those witnessing the march of their causes. More than a dozen students took to the streets on the UW campus Monday in an effort to voice concerns over unequal educational opportunities. The movement also sought to draw attention to the mounting debt organizers said students are likely to graduate with. In the efforts to continue the "Occupy Wall Street" and "Occupy Madison" movements, University of Wisconsin protesters kicked off an "Occupy UW" movement Monday afternoon, demanding more equal opportunities to higher education and reduced student debt. Organizer and UW freshman Noah Phillips said he hoped "Occupy UW" would encourage more students to become involved in the protests, which Monday afternoon included about 15 UW students and Madison community members.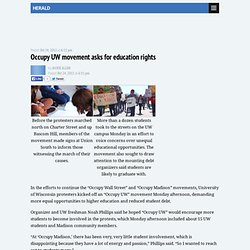 Occupy Norman
Occupy Norman (University of Oklahoma)
Occupy MU Ohio
Wall Street protesters vow to reoccupy on movement's anniversary www.guardian.co.uk occupywallstreet: " Activists at Occupy Wall Street have issued a call to thousands of protesters across the US to reoccupy outdoor public spaces to mark the movement's three-month anniversary.
OccupyGeneseo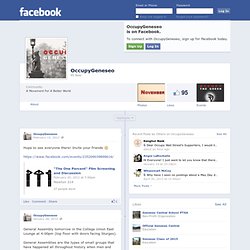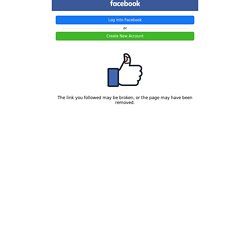 "Sept. 11, 1973, Chile: Democratically elected President Salvadore Allende died in a CIA-backed military coup that ushered in a reign of terror under dictator Augusto Pinochet, in which thousands of Chileans were killed. Sept. 11, 1977, So...uth Africa: Anti-apartheid leader Stephen Biko was being beaten in a police van. He died the next day. Sept. 11, 1990, Guatemala: Guatemalan anthropologist Myrna Mack was murdered by the U.S.
Occupy Susquehanna
Asnnmc EagleSpirit
Rhodes College
Asnnmc EagleSpirit
Occupy NKU
#OccupyFelician
Welcome Week kicks off today with a FREE In-N-Out Burger (drink and chips) for Welcome Day, Mon., Jan. 13 from 11 am – 1 pm (or until it runs out) in Falcon Square! - Students will need to have a Cerritos College student ID card with a sp...ring semester sticker. - Employees of the college will need to have a staff/faculty ID card. - Hourly employees will need to have the manager's business card. This is an Associated Students of Cerritos College (ASCC) sponsored event!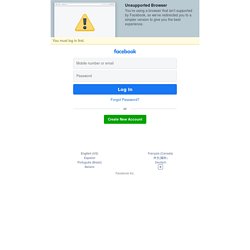 Cerritos College
Occupy C. W. Post/LIU - Organisme communautaire - Brookville, NY
Occupy CSU (@OccupyCSU) sur Twitter
OCCUPY UCLA (@Occupy_UCLA) sur Twitter
#OccupyLA (OccupyLA) on Twitter
Occupy Dartmouth (@OccupyDartmouth) sur Twitter
Occupy Colleges UTA - Google+
BU occupies Boston
@BUOccupyBoston
BU Occupies Boston (@BUOccupyBoston) sur Twitter
StudentsOccupyBoston (@StudentsOccupy) sur Twitter
OccupyDC students march to Sallie Mae
Dr. Santos Speaks Out Occupy CSUB
Chris Cruz Boone Talks Social Media @OccupyCSUB
Circle March
Occupy CSM (@OccupyCSM) sur Twitter
OccupyCSM Foto's
幹事の存在 大学生であれば、ゼミとは切っても切れない縁です。自分の研究を進めていく上で、ゼミに所属するということは、必要不可欠なことですからね。 そういったゼミでも、いろんなイベントがあると思います。その中でも、ゼミ合宿というのは特別なイベントなのではないでしょうか。 ゼミ合宿をする上のメリットはたくさんあります。
Occupy UT Austin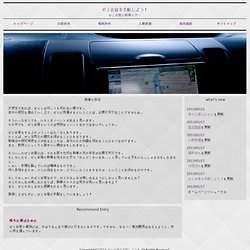 @occupyutaustin) sur Twitter
Have an account? Sign in New to Twitter? Join Today » Forgot password? Already using Twitter via text message? Language: English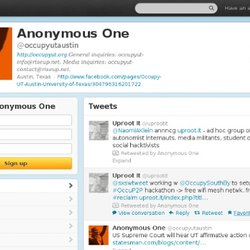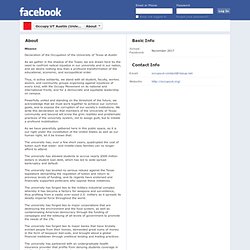 Occupy UT Austin (University of Texas) - Infos
Mission Declaration of the Occupation of the University of Texas at Austin As we gather in the shadow of the Tower, we are drawn here by the need to confront radical injustice in our university and in our nation, and we desire nothing less than a profound transformation of the educational, economic, and sociopolitical order. Thus, in active solidarity, we stand with all student, faculty, worker, alumni, and community groups organizing against injustices of every kind, with the Occupy Movement on its national and international fronts, and for a democratic and equitable leadership on campus. Powerfully united and standing on the threshold of the future, we acknowledge that we must work together to achieve our common goals, and to expose the corruption of our society's institutions.
Prof. Martinez on Vimeo
by Dan Stuckey of BicyclePrinter This May Day weekend radical bike ride will feature the current struggles and historical context of UIC and Columbia, told from the perspectives of a student, staff, and faculty member and culminating in stump speeches, rally calls, a bit of poetics shouted from a bullhorn. After the colleges, we'll be tying higher ed workers to workers everywhere by meeting at the Haymarket Memorial, where we'll hear from Sharon Smith, author of Subterranean Fire: A History of Working-Class Radicalism in the United States, perform human mic poetry lead by UIC United Faculty Local 6456′s Scott McFarland and his new book, O Human Microphone, and get riled up with the Haymarket martyrs' speeches with Brit Schulte as August Spies, Ashley Bohrer as Albert Parsons, and Emmanuel Gutierrez as George Engel. Stage 1: UIC, Hull House, 800 S. Halsted St. (or 1030 W.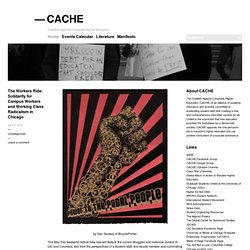 CACHE: Coalition Against Corporate HE
CACHE Chicago (@CACHEChicago) sur Twitter
Occupy TCNJ - First General Assembly on October 12, 2011
At one of the first meetings of Occupy TCNJ, club members expressed enthusiasm but lacked direction. (Tom O'Dell / Photo Editor) "Are you guys here for the revolution?" Mark Azic, senior economics and mathematics double major, wasted no time getting fellow students into the revolutionary spirit at a meeting for Occupy TCNJ, the College's branch of the national movement, on Wednesday, Oct. 12.
Occupy TCNJ group small but ready to 'kick some ass' | The Signal
CalState Bakersfield (@OccupyCSUB) sur Twitter
Occupy Chico State (@OcupyChicoState) sur Twitter
Our Schools NYC | Detailed information, news and analysis on NYC Schools
Our Schools NYC (@ourschoolsnyc) sur Twitter
Occupy FIU Page | OccupyMIA.org
Facebook: Occupy FIU
Occupy Movement becomes local | FIUSM
occupyUMD
Occupy UMD (@OccupyUmd) sur Twitter
OCCUPY EDUCATION - Tell us how you OCCUPY EDU
Occupy Mills (@OccupyMills) sur Twitter
OccupyStetson (@OccupyStetson) sur Twitter
Tufts Occupiers (@TuftsOccupiers) sur Twitter
Tufts Occupiers - Mur
Occupy UConn (@OccupyUConn) sur Twitter
Occupy UConn and Occupy Storrs - Infos
Occupy Oakland (@OccupyOaklandU) sur Twitter
Occupy Oakland University
Occupy CSULB (@occupycsulb) sur Twitter
Facebook Occupy CSULB
Texas State: Occupied
OccupyTXState (@OccupyTXState) sur Twitter
Occupy the Classroom
OccupyTheClassroom (@OccupyClass) sur Twitter
Why Education Needs an Occupy the Classroom Revolution - Education
Occupy the Classroom
Occupy the Classroom
Pearltrees interface Help & intro Videos