Cine
- StumbleUpon. Ragtime (1981. Top 10 Websites To Watch Movies Online For Free Without Downloading. It is easy to watch FREE movies online from China here, since there are many video websites for you to do that, but outside China, there may be not many video websites to watch movies online for free, because of the Copyright thing.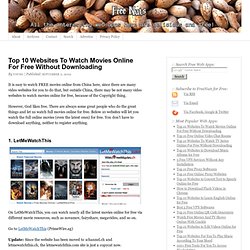 However, God likes free. There are always some great people who do the great things and let us watch full movies online for free. Below 10 websites will let you watch the full online movies (even the latest ones) for free. You don't have to download anything, neither to register anything. 1. 15 Amazing Animated Short films - StumbleUpon. We all love short animated films, but creating short film is very hard task.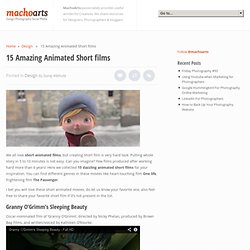 Putting whole story in 5 to 10 minutes is not easy. Can you imagine? Few films produced after working hard more than 6 years! 10 Movies I Wish Were Based on True Stories | Jinni Blog - StumbleUpon. The Men Who Stare at Goats, starring George Clooney, Kevin Spacey, Jeff Bridges and Ewan McGregor, is about a secret, psychic military unit.
Just a few things this unit does: Attempt to kill goats by staring at them and examine the use of Barney the Dinosaur's theme tune on Iraqi POWs. Oh, and it's based on a true story. Most Controversial Films of All Time - StumbleUpon. The Moon is Blue (1953) D.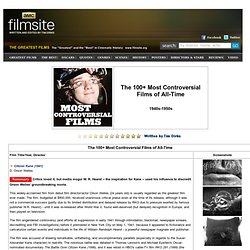 Otto Preminger Well-bred people in the 1950s didn't use words like "virgin," "seduce" and "mistress" in public, but this mild sex farce did and became a cause celebre. 25 Greatest Unscripted Scenes in Films | The Good, The Better, & The Funny. The Fifty Greatest Cult Movies of All Time | Nerve.com - StumbleUpon. It's midnight somewhere.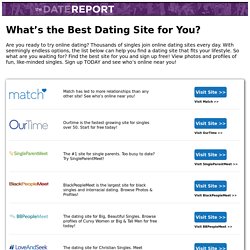 By Phil Nugent and Andrew Osborne "Cult movie" is a hard thing to pin down. For the purposes of this list — celebrating the tenth anniversary of Donnie Darko — we've put a premium on the intensity and selectiveness of a movie's appeal. We've also limited each director to one film. See you at midnight! Ganadores Festival de Cine de Sundance 2011 - Lo mejor y lo peor | Critica | Pelicula | Cine. Ene 30 2011 16:55 En la noche de ayer se celebró la gala de premiación del prestigioso Festival de Cine de Sundance que logra reunir en un solo evento a la mayor cantidad de films independientes hechos por fuera de la esfera de Hollywood.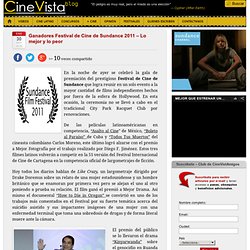 En esta ocasión, la ceremonia no se llevó a cabo en el tradicional City Park Racquet Club por renovaciones. De las películas latinoaméricanas en competencia, "Asalto al Cine" de México, "Boleto al Paraíso" de Cuba y "Todos Tus Muertos" del cineasta colombiano Carlos Moreno, este último logró alzarse con el premio a Mejor Fotografía por el trabajo realizado por Diego F. Jiménez. Estos tres filmes latinos volverán a competir en la 51 versión del Festival Internacional de Cine de Cartagena en la competencia oficial de largometrajes de ficción.
---