CHURCH
Directory - Catholic Online. Home - Consecration. MyCatholic.com » Customizable Catholic Homepage. American Catholic: Franciscan Media: Catholic News Magazine Books Videos. "Catholic Family Vacations: Experience Catholic Familyland a place set apart for your family! Family fun for everyone without leaving God behind!" Daily Readings for Wednesday March 09, 2011 - Daily Readings - Bible. Reading 1, Isaiah 50:4-9 4 Lord Yahweh has given me a disciple's tongue, for me to know how to give a word of comfort to the weary.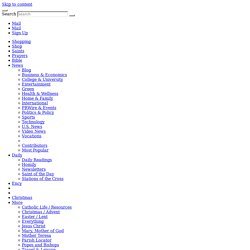 Morning by morning he makes my ear alert to listen like a disciple. 5 Lord Yahweh has opened my ear and I have not resisted, I have not turned away. 6 I have offered my back to those who struck me, my cheeks to those who plucked my beard; I have not turned my face away from insult and spitting. Catholic Television Network. The Holy See. Mass Times > Home. Catholic First - Center for Classic Reading, Prayers and Information. NEW ADVENT: Home. Catholic Answers: Catholic Apologetics, Catholic Evangelization, Catholic Teachings, Catholic Radio, Catholic Publishing, Catholic Truth.
United States Conference of Catholic Bishops. Catholic Information Network (CIN) The Society of Jesus in the United States. CatholicQandA.com -- Catholic Apologetics, Media, Community, Portal. Virtual Rosary. Catholic Education Resource Center. St. Apollonia. Monday, April 14, 2014 Blessed Peter Gonzalez (d. 1246) St.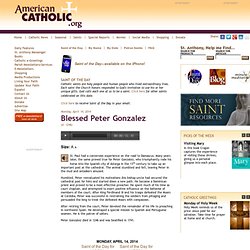 Paul had a conversion experience on the road to Damascus. Many years later, the same proved true for Peter Gonzalez, who triumphantly rode his horse into the Spanish city of Astorga in the 13th century to take up an important post at the cathedral. The animal stumbled and fell, leaving Peter in the mud and onlookers amused. The Perpetual Virginity of Mary (Jerome)
Against Helvidius.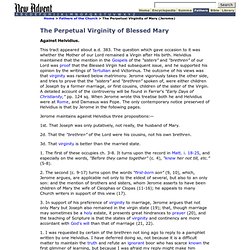 This tract appeared about a.d. 383. The question which gave occasion to it was whether the Mother of our Lord remained a Virgin after His birth. Helvidius maintained that the mention in the Gospels of the sisters and brethren of our Lord was proof that the Blessed Virgin had subsequent issue, and he supported his opinion by the writings of Tertullian and Victorinus. The outcome of his views was that virginity was ranked below matrimony.
---