Christmas!!!!
DIY :: Owl Be Home for Christmas
A few months ago, inspiration struck when I realized how much potential crafting material was being wasted with the unused cardboard boxes that always seem to be flowing through our office. With such a neat texture, I wondered, 'What, oh what, can we create using cardboard?' Shortly thereafter, I stumbled upon these beyond adorable ornaments at Anthro made out of, you guessed it… cardboard! So, I set out to create a cardboard owl ornament, and I must say, I'm completely smitten with the final product (just look at those beady little eyes and tiny twig feet!) Of course, we've got a downloadable template and step-by-step instructions for you to create your own little guy, all after the jump. cardboard3-inch Smoothfoam egg (available at Hobby Lobby)printable owl ornament template (download here)X-acto knife or scissorsgold, brown and bronze glitterspray adhesivestraight pins2 black beadsorange markerhot glue gunthread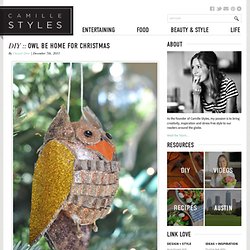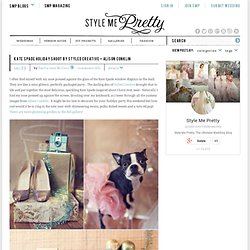 Kate Spade-inspired Photo Shoot from Styled Creative and Alison Conklin
Location Categories
Are you drooling yet? 'Cause I have been, ever since I laid eyes on these Gingersnap Milkshakes that Lisa sent over for her installment in our 12 Tastes of Christmas series. Lisa is not only an amazing cook, food stylist and photographer…I'm lucky to get to call this incredible girl a friend. We bonded at Alt Summit last year, and I got to hang with her during my San Fran trip earlier this month.
12 Tastes of Christmas :: Gingersnap Shake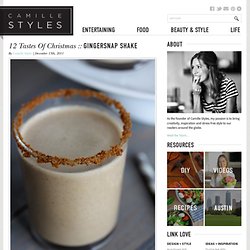 A little here, a little there...
A little Christmas everywhere!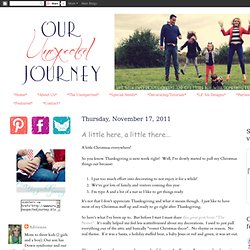 A Christmas Yuleblog
Let The Decorating Begin!
Can you believe it's that time of the year again!? Now, I haven't started to drag out my decorations from the attic but I'm definitely thinking about how I want to decorate this year and I've decided to go with a burlap theme! We're in a new and different house so I'm changing things up a little!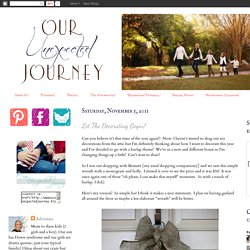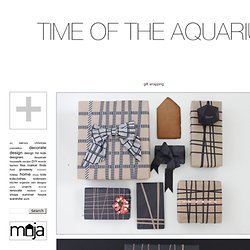 It´s nice to give and receive beautiful X-mas gifts. My wrapping papers are inexpensive black silk and basic brown wrapping papers but with a few nice elements you can create a simple and stylish gift packages. You can also use wrapping papers left overs as a ribbons.
time of the aquarius: gift wrapping
A Homemade Holiday at ShopRuche.com, Vintage Inspired Clothing, Affordable Clothes, Eco friendly Fashion
Black Owl Ornament Christmas Decoration Jeweled by midwestmaude
10 Christmas Gift Wrapping Ideas « my blessed life™
Handmade Holiday Decor Ebook
Tutorial: DIY Christmas Wreath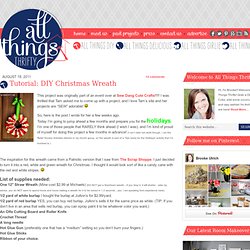 This project was originally part of an event over at Sew Dang Cute Crafts!!!!!
Christmas Stuff / toilet paper tubes into OWLS!
Christmas Stuff / Cute felt ornament!
Living Christmas Cards
Christmas is getting near, and that magical feeling is in the air. To help foster that festive mood, or to get you feeling that Christmas cheer if you aren't feeling it yet, why not tune in to some Christmas music online? There are many free online radio stations to choose from. Some even play Christmas music year round! Read on to learn of the most popular Christmas radio stations online.
The Best Websites To Listen To Christmas Music Online For Free | Suite101.com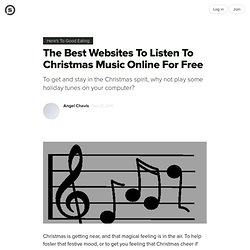 Holiday Baking Inspiration Holiday season is in full swing, and my kitchen has kicked into high gear with lots of baking going on. In case you are still deciding what to include in your holiday goody bags or just want something to enjoy with your family at home, here are a few of my favorite past recipes. This cappuccino fudge is one of the two holiday treats I must bake every year. Even if I'm not making it for others, I always make one batch for us to enjoy around the house.
Holiday Baking Inspiration » Annie's Eats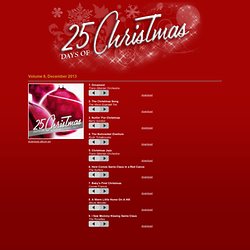 1. Deck The Halls Manheim Steamroller download
25 Days of Christmas
Okay, everyone… I've been schooled. I've learned a lesson in the how-to of the chocolately, ooey, gooey, deliciousness of making the perfect, and I mean PERFECT chocolate chip cookie. I used to own a cookie business, which worked out so well considering I ate most of the inventory, and over the years I have made it my mission to find the best chocolate chip cookie evah! You know the kind, the chewy, melt-in-your-mouth, sweet, but not too sweet, dunkable, munchable cookie.
101 Days of Christmas: Printable Advent Chain
If you're new to Life Your Way, welcome! Be sure to subscribe so you don't miss a thing!
If you're new to Life Your Way, welcome!
101 Days of Christmas: Paper Ornaments
101 Days of Christmas: Snowy Windows
If you're new to Life Your Way, welcome!
9 Unique Gift in a Jar Ideas
Holiday Decor How-To, thanks to Eddie Ross |
Faux Fire | Share the warmth.