Christian Music
Alan Jackson - The Old Rugged Cross
Alan Jackson - I Love To Tell The Story
I Know Who Holds Tomorrow - with Lyrics
How Great Thou Art - Alan Jackson with Lyrics
Carrie Underwood with Vince Gill How Great thou Art - 720P HD - Standing Ovation!
Alan Jackson - Are You Washed In The Blood / I'll Fly Away
In The Garden - with lyrics - by Alan Jackson
David Archuleta: How Great Thou Art
I Love To Tell The Story - Alan Jackson (Gospel For Asia video)
Alan Jackson - What A Friend We Have In Jesus
Alan Jackson - Blessed Assurance
Alan Jackson - Standing On The Promises
Leann Rimes - Amazing Grace
Softly and Tenderly - with lyrics - Alan Jacksons
Elvis Presley - Amazing Grace
Amazing Love (You Are My King)
Hillsong - Mighty to Save - With Subtitles/Lyrics
Who Am I - Casting Crowns
Jason Gray - Remind Me Who I Am (Official Music Video)
Here I am To Worship, Michael W. Smith
David Archuleta - When You Believe - Final 7 - 04/15/2008
Yours (New Verse) Steven Curtis Chapman
David Archuleta - Angels - American Idol Top 8
God of Wonders by Third Day
Beautiful One (With Lyrics) - By The Tree
Carrie Underwood - Jesus, Take The Wheel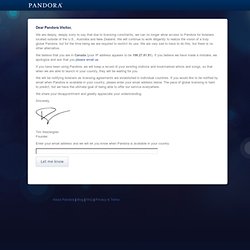 Radio - Listen to Free Internet Radio, Find New Music
Dear Pandora Visitor, We are deeply, deeply sorry to say that due to licensing constraints, we can no longer allow access to Pandora for listeners located outside of the U.S., Australia and New Zealand. We will continue to work diligently to realize the vision of a truly global Pandora, but for the time being we are required to restrict its use.
DC Talk - Colored People
Brad Paisley - When I Get Where I'm Going
DC Talk - What if I stumble W/Lyrics
Starfield-Hosanna
Alison Krauss - I'll fly away
casting crowns- if we are the body
I'll Fly Away - Jars of Clay
What if His People Prayed by Casting Crowns
Take My Life (And Let It Be) Chris Tomlin [Lyrics]
Lifehouse - Take Me Away
Matthew West - More
Revelation Song
"I Will Rise" by Chris Tomlin (with lyrics)
Unclouded Day
I Am Free (Newsboys)
Holy is the Lord God Almighty - Chris Tomlin
David Crowder Band - Everything Glorious lyrics
Chris Tomlin How Great is Our God Worship Video with Lyrics
David Crowder Band - I Saw The Light
We Are: Acoustic Version
Spoken For - Mercy Me
Casting Crowns - Until The Whole World Hears
Newsboys - He Reigns (Official Music Video HD)
Brandon Heath - I'm Not Who I Was
Johnny Cash - The Man Comes Around
Preachers and Thieves by Todd Agnew
Lifehouse - Halfway Gone
Strong Enough by Matthew West
My Jesus - Todd Agnew
Lifehouse - Broken
Grace Like Rain - Todd Agnew
Hillsong - At the Cross - With Subtitles/Lyrics
Lifehouse - All In
David Crowder Band's "O Praise Him"
Lifehouse - You And Me
Alison Krauss - There Is A Reason
Chris Tomlin - God Of This City
I Can Only Imagine (with lyrics) - MercyMe
David Crowder*Band - How He Loves
Come away - Jesus Culture (with lyrics) (Worship with tears 15)
Johnny Cash - I'll Fly Away
Chris Tomlin - Amazing Grace (My Chains Are Gone)
Holes In The Floor of Heaven
Jason Morant-We Lift You Up
There is Power In the Blood ~ Fernando Ortega
Diamond Rio - I Believe
Sea of Faces - Kutless (Live From Portland)
Casting Crowns - Does Anybody Hear Her
Switchfoot - Dare You To Move (Alt. Version)
Alan Jackson - I Want To Stroll Over Heaven With You
"Just A Little Talk With Jesus" By George Jones (2008)
Johnny Cash - God's Gonna Cut You Down
Alan Jackson - Where were you when the world stopped turning
Jeremy Camp - Walk By Faith
Lifehouse - Blind
David Archuleta - When You Believe - Studio Version + lyrics
Courageous-Casting Crowns with lyrics
Martina McBride - God's Will
The Roys - I Wonder What God's Thinking
Blackhawk Ships of heaven lyrics
Phil Vassar - This Is God
The Roys - That's What Makes It Love (2011)
ALABAMA - Angels Among Us
Tommy Brandt - My Father's Son
Lead me to the Cross - Hillsongs
Matt Redman - 10,000 Reasons (Bless the Lord)
Phil Wickham - At Your Name (Yahweh Yahweh)
Lamont Hiebert: Unashamed Love
Hillsong LIVE - Yahweh (Chapel)
All because of Jesus - Casting Crowns (lyrics)