CHRISTIAN MINISTRIES
With over 3,700 answers to frequently asked Bible questions published online, approximately 75% of the questions we are asked already have answers available to you instantly. We offer several options for finding the answers to your questions. You can search our site, which does a search of all of our articles based on the search terms you enter. You can browse our Top 20 most common Bible questions and Top 20 most visited articles, which together account for around 15% of the questions we are asked. You can look through our Frequently Asked Questions Archives, which divides questions and answers based on biblical categories.
Bible Questions Answered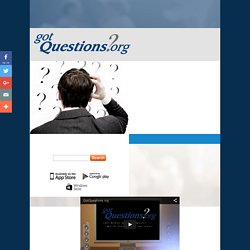 Alpha and Omega Ministries is a Christian apologetics organization based in Phoenix, Arizona. James White, director, is a professor, having taught Greek, Systematic Theology, and various topics in the field of apologetics for numerous schools. He has authored or contributed to more than twenty four books, including The King James Only Controversy, The Forgotten Trinity, The Potter's Freedom, The God Who Justifies and What Every Christian Needs to Know About the Qur'an. He is an accomplished debater, having engaged in more than one-hundred thirty moderated, public debates with leading proponents of Roman Catholicism, Islam, Jehovah's Witnesses, and Mormonism, as well as critics such as Bart Ehrman, John Dominic Crossan, Marcus Borg, and John Shelby Spong. He is an elder of the Phoenix Reformed Baptist Church.
Alpha and Omega Ministries, The Christian Apologetics Ministry of James R. White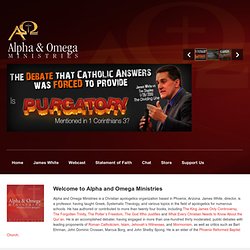 A special note regarding viruses: We have received inquiries from some of you regarding viruses that you think may have come from us, and from others who believe they have been put on a "mailing list" (although we have no mailing list). Therefore, it will be worth your time to read this.
Clarifying Christianity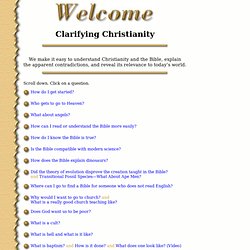 The Controversy of Zion and the Time of Jacob's Trouble: The Final Suffering and Salvation of the Jewish People — A Resource Center Based on the Book by Dalton Lifsey
Middletown Bible church - Know about our Lord Jesus Christ, Salvation, Sin, Truth and More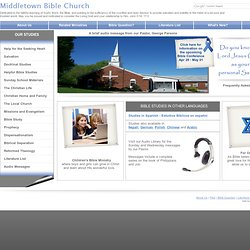 Custom Search Dedicated to the faithful teaching of God's Word, the Bible, and pointing to the sufficiency of the crucified and risen Saviour to provide salvation and stability in the midst of a sin-sick and troubled world. May you be moved and motivated to consider the Living God and your relationship to Him. John 3:16; 17:3 A brief audio message from our Pastor, George Parsons
Jubileum: God's Prophetic Outline for Prosperity Prosperity is a favorite topic of politicians, policymakers ... and yes, religions. In fact, there are alone many teachings on this topic under the big tent of so-called Christianity. This 3-part series is a straight-up, feet on the ground perspective that strives to observe the whole witness of the Bible ... not isolated verses that are the departure points for many false teachings. Part I: God's Prophetic Outline for Prosperity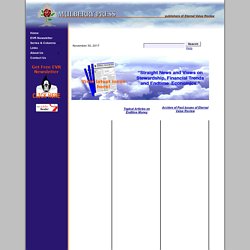 Eternal Value Review, Published by The Mulberry Ministry
Welcome to Berean Watchmen Ministries - Berean Watchmen Ministries
Soli Deo Gloria
Pass the Salt Ministries
Puritan Fellowship
The Law of Christ • Gal 6:2 Bear one another's burdens, and thus fulfill the law of Christ. • John 13:34 A new commandment I give to you, that you loveone another, even as I have loved you, that you also loveone another. A. Thelaw of Christ is specifically …
Church Planter (Hispanic People) - Tokyo, Japan Luis has been serving the Lord in Japan since 2004. He is a native of Lima, Peru. He met his wife Nicola in Japan and they were married in 2005. They are primarily laboring among the large Latin American community in Tokyo. Testimony of Conversion
HeartCry Missionary Society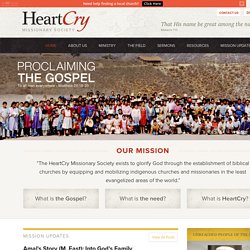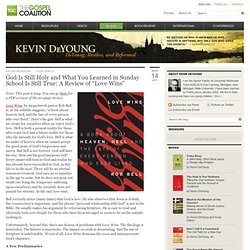 Note: This post is long. You can go here for a PDF version of the 20-page review. Love Wins, by megachurch pastor Rob Bell, is, as the subtitle suggests, "a book about heaven, hell, and the fate of every person who ever lived." Here's the gist: Hell is what we create for ourselves when we reject God's love.
God Is Still Holy and What You Learned in Sunday School Is Still True: A Review of "Love Wins" – Kevin DeYoung
Welcome to Grace to You
Charitable Gifts and Unique Gift Giving Ideas That do Good :: Ox
Share your weaknesses. Share your hard moments. Share your real side.
The Hope Blog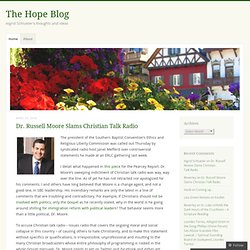 GraceThruFaith
A Bible Study by Jack Kelley Therefore hear the word of the LORD, you scoffers who rule this people in Jerusalem. You boast, "We have entered into a covenant with death, with the grave we have made an agreement. When an overwhelming scourge sweeps by, it cannot touch us, for we have made a lie our refuge and falsehood our hiding place."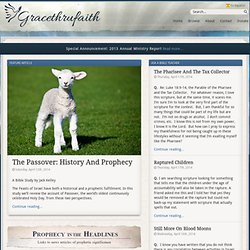 The Temple Institute: The Holy Temple in Jerusalem
The Temple Institute website is an ongoing project of the International Department of the Temple Institute, Jerusalem, Israel. Web site hosting and programming copyright ©2000-2014, graciously provided by Electric Scribe (SM). Web site contents, including all text and images, copyright ©1991-2014, The Temple Institute.
Zola Levitt Ministries
Ariel Ministries
World Bible Society - Christian Religious Ministry spreading the