CHRISTIAN MINISTRIES
Bible Questions Answered. Alpha and Omega Ministries, The Christian Apologetics Ministry of James R. White. Clarifying Christianity. A special note regarding viruses: We have received inquiries from some of you regarding viruses that you think may have come from us, and from others who believe they have been put on a "mailing list" (although we have no mailing list).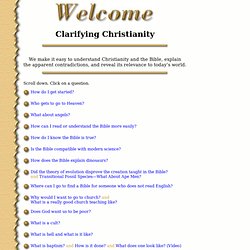 Therefore, it will be worth your time to read this. The Controversy of Zion and the Time of Jacob's Trouble: The Final Suffering and Salvation of the Jewish People — A Resource Center Based on the Book by Dalton Lifsey. Middletown Bible church - Know about our Lord Jesus Christ, Salvation, Sin, Truth and More. Eternal Value Review, Published by The Mulberry Ministry. Welcome to Berean Watchmen Ministries - Berean Watchmen Ministries. Soli Deo Gloria. Pass the Salt Ministries. Puritan Fellowship. HeartCry Missionary Society. God Is Still Holy and What You Learned in Sunday School Is Still True: A Review of "Love Wins"
Note: This post is long.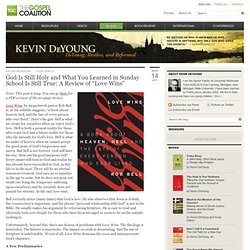 You can go here for a PDF version of the 20-page review. Love Wins, by megachurch pastor Rob Bell, is, as the subtitle suggests, "a book about heaven, hell, and the fate of every person who ever lived." Here's the gist: Hell is what we create for ourselves when we reject God's love. Welcome to Grace to You. Charitable Gifts and Unique Gift Giving Ideas That do Good :: Ox. The Hope Blog. GraceThruFaith. The Temple Institute: The Holy Temple in Jerusalem. Zola Levitt Ministries. Ariel Ministries. World Bible Society - Christian Religious Ministry spreading the.
---