CHOMSKY
Z Space
ZSearch Results
Chomsky: "Good News," Iraq & Beyond, Part II Zmag Article, May, 01 2008 Noam Chomsky Chomsky's ZSpace page Having brought up Iran [in Part I], we might as well turn briefly to the third member of the famous Axis of Evil, North Korea. The official story right now is that after having been forced to accept an agreement on dismantling its nuclear weapons ... Chomsky: We Own The World Zmag Article, January, 01 2008 Noam Chomsky Chomsky's ZSpace page
American Decline: Causes and Consequences by Noam Chomsky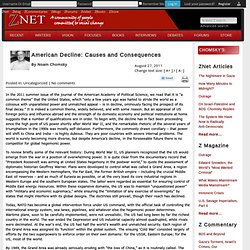 In the 2011 summer issue of the journal of the American Academy of Political Science, we read that it is "a common theme" that the United States, which "only a few years ago was hailed to stride the world as a colossus with unparalleled power and unmatched appeal – is in decline, ominously facing the prospect of its final decay." It is indeed a common theme, widely believed, and with some reason. But an appraisal of US foreign policy and influence abroad and the strength of its domestic economy and political institutions at home suggests that a number of qualifications are in order.
Reagan's Distorted Legacy by Noam Chomsky | ZSpace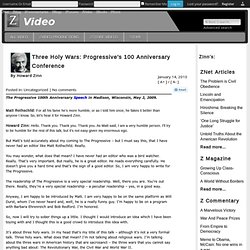 Three Holy Wars: Progressive's 100 Anniversary Conference by Howard Zinn | ZSpace
Matt Rothschild: For all his fame he's more humble, or as I told him once, he fakes it better than anyone I know. So, let's hear it for Howard Zinn. Howard Zinn: Hello. Thank you.
Z Video Productions
Z Video Productions Catalog
Νόαμ Τσόμσκι... Τα ΜΜΕ παγκοσμίως δεν γίνεται να αγνοήσουν τη γνώμη του, ανεξάρτητα από το αν συμφωνούν ή διαφωνούν με αυτήν. Σε μελέτη που έγινε στις ΗΠΑ την περίοδο 1980-1992 για τις δέκα σημαντικότερες «πηγές» στις οποίες προστρέχουν οι άνθρωποι σε ολόκληρο τον πλανήτη, ο διάσημος γλωσσολόγος, φιλόσοφος και πολιτικός αναλυτής κατετάγη στο Νούμερο 8.
Ενότητα 2012 - Νόαμ Τσόμσκι: Συνασπισμός των Νοτίων μέσα στο ευρώ