U.S.-China relations
Nicaragua's new waterway will be a higher-capacity alternative to the 99-year-old Panama Canal (pictured), which is currently being widened at the cost of $5.2bn. Photograph: Danny Lehman/Corbis Nicaragua has awarded a Chinese company a 100-year concession to build an alternative to the Panama Canal, in a step that looks set to have profound geopolitical ramifications.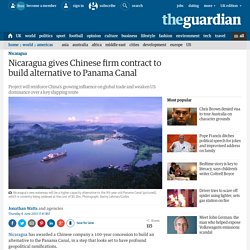 Nicaragua gives Chinese firm contract to build alternative to Panama Canal | World news
What's Right or Wrong with This Chinese Stance on Edward Snowden? | ChinaFile
Renewing America » Obama Slapdown on Chinese Wind Deal Sends Wrong Message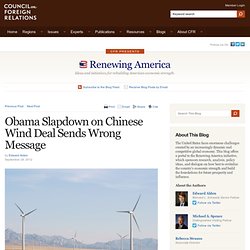 Wind turbines operate at a wind farm near Milford, Utah (George Frey/Courtesy Reuters). President Obama has become the first president in 22 years to issue a formal order blocking a foreign investment into the United States on national security grounds. The decision, which denies the acquisition of a small Oregon wind farm project by a Chinese-owned company, will unfortunately be seen as yet another signal – this time from the highest possible level — that the United States does not really want Chinese investment. And for an economy still struggling to create jobs, that's the wrong signal to send.
US Republican presidential candidate Mitt Romney continues to push a tough stance toward China as the US elections draw close, but observers downplayed his sharp rhetoric as pandering to voters. Romney's policy toward China is coming into focus after he advanced a set of military strategies that include arms sales to Taiwan, following previously announced blueprints mainly pointing to trade relations with Beijing. The candidate, locked in firece competition with sitting president Barack Obama, stated that the US under his administration would maintain adequate military power with its regional partners and expand its naval force in the west Pacific, Hong Kong-based Phoenix TV reported Thursday. He also stressed that the country would provide Taiwan with enough fighters and other military facilities, according to the report. "I don't think the governor support for Taiwan is new.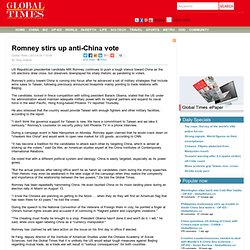 Romney stirs up anti-China vote
Mitt Romney vu par la Chine
Paru dans leJDD Pékin montre une certaine inquiétude autour d'une élection éventuelle de Romney. (Reuters)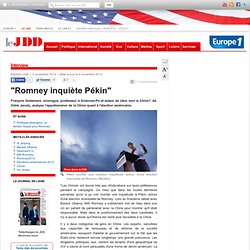 Chen Guangcheng's friend Bob Fu, president of ChinaAid, told a congressional commission Thursday that Chen only agreed to leave the U.S. Embassy in Beijing after U.S. officials conveyed a threat from the Chinese government that Chen would never see his wife again if he didn't leave the embassy that day. Fu has been in contact with Chen directly throughout the ordeal and told the Congressional Executive Commission on China (CECC) today that he had spoken to Chen Wednesday night as Chen and his family remained in a Beijing hospital, unable to leave or receive visitors. U.S. officials have insisted that Chen left the embassy of his own volition after agreeing to the terms of a deal U.S. officials struck with the Chinese government.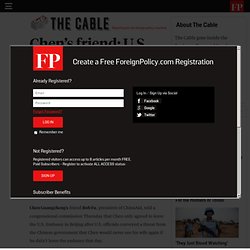 Chen's friend: U.S. conveyed Chinese threat against wife
As Michael Beckley acknowledges in his reply to Mark Thirlwell, it is hard to say definitively whether America is declining economically relative to China, because it depends what you measure. On some measures it is, and on others it's not. So the next question is: which measures should we pay attention to? And that depends on why we are interested. In the present debate, flowing from Michael's excellent essay in International Security, we are interested in what the economic trends mean for America's strategic and political power, particularly in relation to China.
China-US: Power in perspective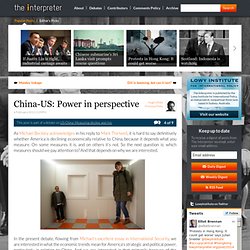 Author: Carlyle A Thayer, UNSW Canberra The Obama Administration's decision to sell Taiwan an arms package worth $5.85 billion is a carefully calibrated decision designed to meet US legal obligations under the Taiwan Relations Act of 1979. It is also a decision that carefully calibrates the impact on Sino–American relations at a time of improved relations not only between Washington and Beijing but between Beijing and Taipei. The Taiwan Relations Act imposes two legal obligations on the US Government. First it requires that the US 'provide Taiwan with arms of a defensive character.' Second, it requires the United States — in reality the Pacific Command — 'to maintain the capacity … to resist any resort to force or other forms of coercion that would jeopardise the security, or the social or economic system, of the people on Taiwan'.
US arms sales to Taiwan: impact on Sino-American relations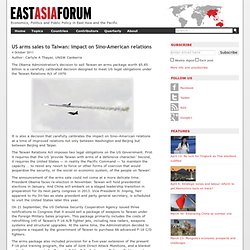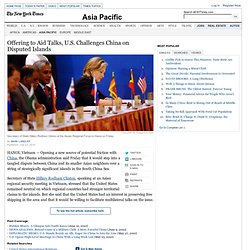 Pool photo by Hoang Dinh Nam Secretary of State Hillary Rodham Clinton at the Asean Regional Forum in Hanoi on Friday. Secretary of State , speaking at an Asian regional security meeting in Vietnam, stressed that the United States remained neutral on which regional countries had stronger territorial claims to the islands. But she said that the United States had an interest in preserving free shipping in the area and that it would be willing to facilitate multilateral talks on the issue.
U.S. Challenges China on Island Chain
Why China Won't Engage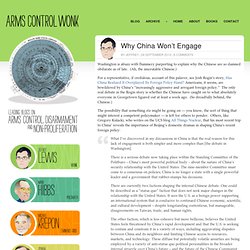 Washington is abuzz with flummery purporting to explain why the Chinese are so damned obdurate as of late. (Ah, the inscrutable Chinese.) For a representative, if credulous, account of this palaver, see Josh Rogin's story, Has China Realized It Overplayed Its Foreign Policy Hand? Americans, it seems, are bewildered by China's "increasingly aggressive and arrogant foreign policy."
Global Security Newswire - U.S. Wants Nuclear Force Talks With China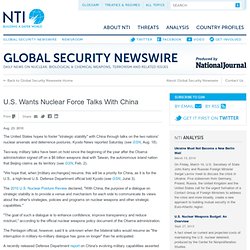 PrintShareEmailTwitterFacebookLinkedIn The United States hopes to foster "strategic stability" with China through talks on the two nations' nuclear arsenals and deterrence postures, Kyodo News reported Saturday (see GSN, Aug. 18). Two-way military talks have been on hold since the beginning of the year after the Obama administration signed off on a $6 billion weapons deal with Taiwan, the autonomous island nation that Beijing claims as its territory (see GSN, Feb. 2). "We hope that, when [military exchanges] resume, this will be a priority for China, as it is for the U.S., a high-level U.S. Defense Department official told Kyodo (see GSN, June 3). The 2010 U.S.
2005 : The Future ofU.S.-China Relations : Is Conflict Inevitable ? (Aaron L. Friedberg)