Chine - China
China's Tianhe-2 named world's fastest supercomputer
Subodh Varma, TNN Jun 10, 2013, 07.13PM IST (China's Tianhe-2 supercomputer,…) NEW DELHI: China's Tianhe-2 supercomputer, aka Milkyway-2, recently measured at speeds of nearly 31 petaflops surpassing the current record holder by 74 per cent, Ars Technica, the technology magazine reported. And it was not even running at its full capacity!
PLA - APL (People's Liberation Army - Armée Populaire de Libérat
ChinaGeeks | analysis and translation of modern China | media, censorship, injustice, and more in modern China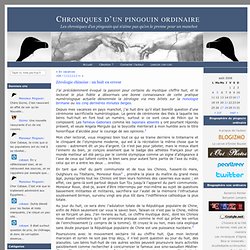 (Chine)» Zérologie chinoise : un huit en erreur
J'ai précédemment évoqué la passion pour certains du mystique chiffre huit, et le lectorat le plus fidèle a désormais une bonne connaissance de cette pratique numérologique actuelle dénommée la zérologie via mes billets sur la nonologie birmane ou les cinq dernières minutes belges. Depuis mes vacances en pays manchot, j'ai huit dire qu'il était bientôt question d'une cérémonie sacrificielle numérologique.
Mais que veulent les tibétains ?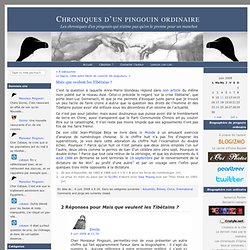 C'est la question à laquelle Anne-Marie blondeau répond dans son article du même nom publié sur le réseau Asie. Celui-ci précède le regard 'sur la crise tibétaine', que porte Jean-Luc Domenach, et que je me permets d'évoquer juste parce que je trouve un peu facile de faire croire à autrui que la question des droits de l'Homme et des Tibétains puisse avoir été enfouie sous les décombres d'un séisme de l'actualité.
Machinistes, rions du Tibet (Tibet, Chine)
Monsieur Pingouin dédie cette chronique aux ouvriers du spectacle chinois parce que ma Chine – telle qu'elle est perçue par les alcidés qui observent la scène internationale – n'est jamais que l'histrion du Tibet, c'est vous dire si je suis d'humeur à vous jouer la comédie.
L'homme à l'harmonica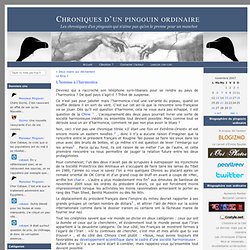 Devinez qui a raccroché son téléphone syro-libanais pour se rendre au pays de l'harmonica ? De quel pays s'agit-il ?
Humour relatif à la Chine