Culture & Chine
Me and myself in Beijing... and Paris | Sauf exception, toutes les photos de ce blog sont prises avec l'un des appareils argentiques suivants : Minox 35 EL, Hongmei 304, Miranda Sensorex, Diana F+ et Holga Pinhole 135. Aucune photo n'est retouchée. Ce ser
De retour à Pékin pour 3 mois La der des der Le salut de l'artiste La dernière révérence… … Jusqu'à la prochaine fois. Déjà un mois à Pékin… Débarquer dans une ville que l'on a pas vue depuis 4 mois et avoir l'impression d'être partie hier. Se refaire à un mode de vie alors qu'on venait tout juste de s'habituer à Paris. "Découvrir" Pékin d'un point de vue extérieur, débarrassé de toute nostalgie.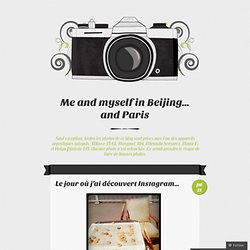 Ancient China is Now Online with Google Art Project
Google Art Project took off in 2011 with the aim to make the world's great cultural artifacts viewable online. But mainland China has always been a sizable omission from its digital archives. That has finally changed with the first-ever Chinese museum now cataloged by Google. 50 priceless pieces from the Hunan Provincial Museum in central China can now be seen here. The museum specializes in items excavated from local Han-era tombs, plus bronzeware from the Shang and Zhou dynasties dating back to 1600BC. One of the oldest – and most adorable – of the ancient relics is this boar-shaped bronze wine vessel which is at least 3,000 years old: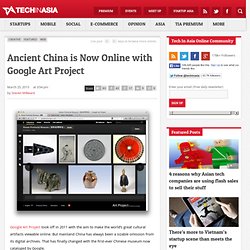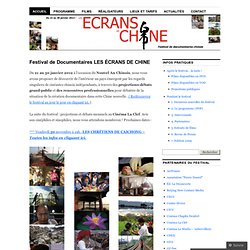 Du 21 au 30 janvier 2012 à l'occasion du Nouvel An Chinois, nous vous avons proposer de découvrir de l'intérieur un pays émergent par les regards singuliers de cinéastes chinois indépendants, à travers des projections-débats grand-public et des rencontres professionnelles pour débattre de la situation de la création documentaire dans cette Chine nouvelle. ( Redécouvrez le festival au jour le jour en cliquant ici. ) La suite du festival : projections et débats mensuels au Cinéma La Clef.
Les Ecrans de Chine | Festival de films documentaires (21-29 janvier 2012)
Me and myself in Beijing - Welcome to my world
Pascale Coulette's Bookmarks
Chaziliao
Giuseppe Castiglione (1688-1766)
Arsinica
Shadows Festival 2008
Faguowenhua.com
» Tiananmen Square [1989] - Famous Photo - World's famous photos