Resources
shadowpboc
ChinaFile
ShiftingWealth
Also sprach Analyst: World Economy, China, Investment, Real Estate
China Financial News, Jobs, Business News, Economic Review, Currency, Money&Investing, Technologies-ChinaStakes.com
CASS
The Chinese Academy of Social Sciences (CASS) is the highest academic research organization in the fields of philosophy and social sciences as well as a national center for comprehensive studies in the People""s Republic of China. 1. Short History CASS was established in May 1977 growing out of the Department of Philosophy and Social Sciences, Chinese Academy of Sciences.
China Matters
Patrick Chovanec
FOCUS ON: China | GPlus.com
Michael Pettis
Michael Pettis is a senior associate in the Carnegie Asia Program based in Beijing. An expert on China's economy, Pettis is professor of finance at Peking University's Guanghua School of Management, where he specializes in Chinese financial markets.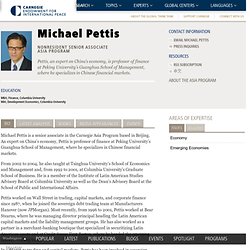 Caixin Online