Resources
shadowpboc
Which interbank market rate is real? China's negotiable CDs will kick off tomorrow. As MNI reported: China's largest banks will sell CNY19 billion in negotiable certificates of deposit (NCDs) on Thursday as part of the government's latest push to liberalize the country's interest rate regime. The "Big Four" state banks plus China Development Bank will sell the certificates at tenors between […] One reform, two growth scenarios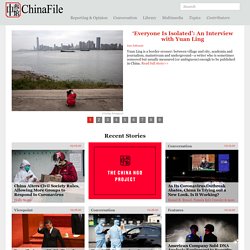 ChinaFile
Culture Wu Fei is a Beijing-born composer, vocalist, and guzheng (Chinese zither) player. Her music career...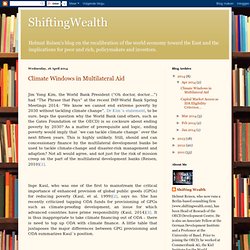 ShiftingWealth
In 1960, private capital flows to poor countries were unimportant relative to trade; they were fairly tranquil and consisted mostly of direct foreign investment. That year, IDA was established in recognition of the fact that, for many of the poorest countries, private capital and market based multilateral sources of financing were not adequate. From the start, demand for IDA resources outstripped supply.
Also sprach Analyst: World Economy, China, Investment, Real Estate
About Contact Write for us Also sprach Analyst Investment Analysis, China Economy, Global Economy, Real Estate and Financials
China Financial News, Jobs, Business News, Economic Review, Currency, Money&Investing, Technologies-ChinaStakes.com
CASS
The Chinese Academy of Social Sciences (CASS) is the highest academic research organization in the fields of philosophy and social sciences as well as a national center for comprehensive studies in the People""s Republic of China. 1. Short History CASS was established in May 1977 growing out of the Department of Philosophy and Social Sciences, Chinese Academy of Sciences.
Or... US Pivot Hoisted on Japanese Petard Again Via M.
China Matters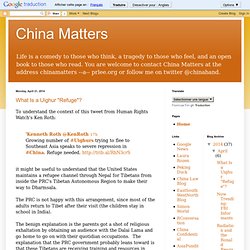 <div style="width: 22em; position: absolute; left: 50%; margin-left: -11em; color: red; background-color: white; border: 1px solid red; padding: 4px; font-family: sans-serif"> Your web browser must have JavaScript enabled in order for this application to display correctly.</div> China 1850—1950: an interactive resource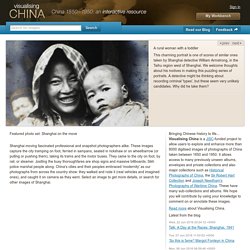 I have an article in the October 2012 issue of Boao Review, the new journal published by the Boao Forum, on what the future may hold for China's currency, the Renminbi. I am told the article will be posted on the magazine's website this week, and I will post a link when one is available. The Rise of the Renminbi as an International Currency: Challenges and Solutions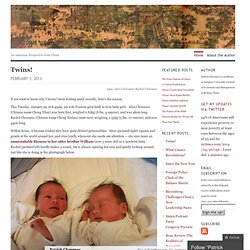 Patrick Chovanec
FOCUS ON: China | GPlus.com
Michael Pettis
Michael Pettis is a senior associate in the Carnegie Asia Program based in Beijing. An expert on China's economy, Pettis is professor of finance at Peking University's Guanghua School of Management, where he specializes in Chinese financial markets. From 2002 to 2004, he also taught at Tsinghua University's School of Economics and Management and, from 1992 to 2001, at Columbia University's Graduate School of Business. He is a member of the Institute of Latin American Studies Advisory Board at Columbia University as well as the Dean's Advisory Board at the School of Public and International Affairs. Pettis worked on Wall Street in trading, capital markets, and corporate finance since 1987, when he joined the sovereign debt trading team at Manufacturers Hanover (now JPMorgan). Most recently, from 1996 to 2001, Pettis worked at Bear Stearns, where he was managing director principal heading the Latin American capital markets and the liability management groups.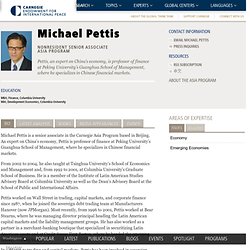 Caixin Online