China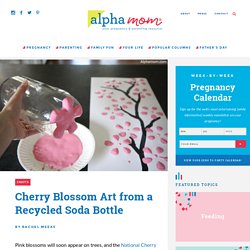 Mar 01 by Rachel Meeks Pink blossoms will soon appear on trees, and the National Cherry Blossom Festival starts on March 20. In 1912 the city of Tokyo, Japan, gave Washington, D.C., a beautiful gift of 3,000 cherry blossom trees.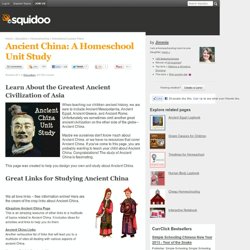 When teaching our children ancient history, we are sure to include Ancient Mesopotamia, Ancient Egypt, Ancient Greece, and Ancient Rome. Unfortunately we sometimes omit another great ancient civilization on the other side of the globe-- Ancient China. Maybe we ourselves don't know much about Ancient China, or we have no resources that cover Ancient China. If you've come to this page, you are probably wanting to teach your child about Ancient China. Congratulations! The study of Ancient China is fascinating.
Ancient China: A Homeschool Unit Study
Ancient China - Ancient Chinese Life for Kids
Empress Wu If you're a teacher , parent, or day camp counselor thinking of spending a week or so on ancient China , here's some ideas other people have found useful: Clothes: For boys, loose cotton pants in blue or black, and a matching cotton jacket – pajamas may be the easiest way to find this, or an athletic outfit with sweatpants. For girls, a long white nightgown is a good place to start – it should reach her ankles. Over it, maybe a long embroidered robe, like a kimono, tied at the waist.
Ancient China Projects for Kids!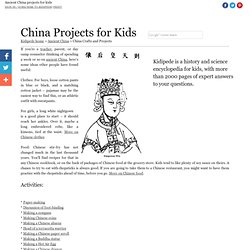 for YOUR KIDS!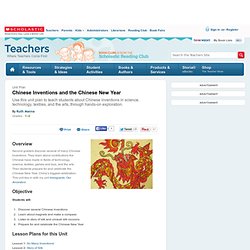 Chinese Inventions and the Chinese New Year
Overview Second graders discover several of many Chinese inventions. They learn about contributions the Chinese have made in fields of technology, science, textiles, games and toys, and the arts.
World History Crafts for Kids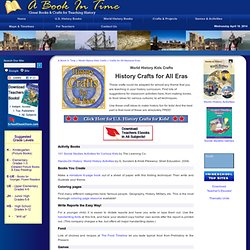 A Book In Time » World History Kids Crafts » Crafts for All Historical Eras World History Kids Crafts These crafts could be adapted for almost any theme that you are teaching in your history curriculum. Find lots of suggestions for classroom activities here, from making books, to food ideas for various cultures, to art techniques.
A popular old-fashioned noise-making toy, the Chinese drum (rattle) is twisted in the hand so that the beads bounce of it and make a noise. With practise you can get a good rhythm going! Here's one the kids can make themselves.. You will need: Shoelace Wooden beads Wooden spoon Two old cds/dvds Strong glue Acrylic paint
Chinese Drum Craft
China Lesson Plans
Social Studies | Learn about Ancient China
Great Wall of China Lesson Activities: Teaching the History and Geography of the Amazing Chinese Landmark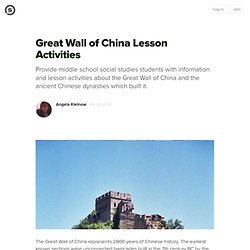 The Great Wall of China represents 2000 years of Chinese history. The earliest known sections were unconnected barricades built in the 7th century BC by the Zhou Dynasty. In 221 BC, during the Qin Dynasty, the first emperor of China, Qin Shi Huang, connected the smaller walls, linking them and extending them into the current foundation for one wall.
China Do not want others to know what you have done? Better not have done it anyways. - Chinese Proverb I Hear, and I Forget I See, and I Remember I Do, and I Understand -Chinese Proverb Click to print the above Chinese Proverb
A to Z Kids Stuff | China
China
BBC – Schools – Primary Languages – Mandarin: Vocabulary, activities, games, clips and songs for children learning Chinese
China
Get to know China! Get the facts about its land, products and people. Official name: People's Republic of China Size: 3,705,386 square miles (9,596,960 square kilometers); slightly smaller than the United States Population: 1,321,851,888 as of July 2007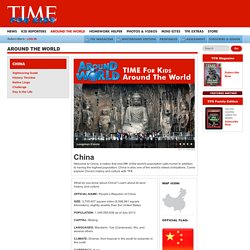 China
Chinese Children Photos, China Kids Pictures, Chinese Minority Kids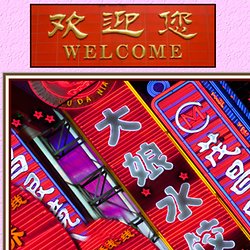 Greetings and welcome to this site dedicated for learning Chinese This site ALL IN CHINESE China according to the BBC/more info below Jim's Multilanguage Homepage Site Geographic Expeditions to China and Tibet Back to the top of this page . . . . If you would like to know the harder things about learning the language... go to: How hard is Chinese? or Why is Chinese so damn hard?
Best Chinese Websites
Panda Kids - Fun Facts
Chinese New Year Games and Activities - Year of the Dragon
Chinese Children's Songs -- Chinese Songs for Kids -- Children's Songs in Chinese
Learning for Kids_Confucius Institute Online
Advertisement. EnchantedLearning.com is a user-supported site. As a bonus, site members have access to a banner-ad-free version of the site, with print-friendly pages.
China
Continent: East Asia Climate: Varies dramatically, from cold and dry in the north to steamy in the south School: Most schools in China run from about 7:30 a.m. to 5:00 p.m., including a two-hour break for lunch. Uniforms are typically required. Besides subjects such as language and math, schools teach moral education-values and attitudes that are believed to be important for all citizens.
Kids from China
eChineseLearning provides a huge number of kids' Chinese language resources for your kids to learn Chinese. These Chinese materials for kids are edited by eChineseLearning's professional Chinese teaching staff, and specially designed for kids to learn Chinese. We offer a variety of interesting, kid-friendly topics which enable kids to Chinese effective with fun! Best of all, these Chinese materials for kids are totally FREE!
Free Chinese Materials for Kids to Learn Chinese
Ancient China - Ancient Chinese Life for Kids
A Kids Life in China
China for Kids! Free crafts, coloring pages, puzzles, maps and more.
Chinese Culture... for kids!
So what's the Chinese bad luck number? It isn't 13... If you get on an elevator, what's the missing number on the pad? You will notice the number 4 is missing... yes, Chinese consider this a "bad luck" number as the pronunciation "suh" sounds similar to the Chinese character for "death".
Ancient China for Kids - Stories, Games, Dynasties, Geography, Daily Life, Religion, Inventions, and More!
Here at Activity Village, children can find out some interesting facts about China, its people, its history and its culture. We have fun puzzles, printables and worksheets to print on everything from The Great Wall of China to the colourful celebrations of Chinese New Year . Enjoy our Chinese craft ideas, try out some traditional Chinese games, or read from our collection of ancient Chinese myths and fables. Explore our China for Kids theme below... Learn About China
China for Kids
Chinese New Year Games - Online Games
China Pictures, Maps and Flags - China Clipart - China Royalty Free Photographs and Illustrations