China
He Told the Truth About China's Tyranny by Simon Leys. No Enemies, No Hatred: Selected Essays and Poems by Liu Xiaobo, edited by Perry Link, Tienchi Martin-Liao, and Liu Xia, and with a foreword by Václav Havel Belknap Press/Harvard University Press, 366 pp., $29.95 Better than the assent of the crowd: The dissent of one brave man!
—Sima Qian (145–90 BC)Records of the Grand Historian Truth will set you free. Chinese Computer Games. An Internet cafe in Taiyuan, Shanxi province.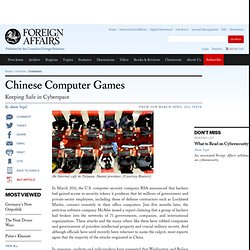 (Courtesy Reuters) In March 2011, the U.S. computer security company RSA announced that hackers had gained access to security tokens it produces that let millions of government and private-sector employees, including those of defense contractors such as Lockheed Martin, connect remotely to their office computers. Just five months later, the antivirus software company McAfee issued a report claiming that a group of hackers had broken into the networks of 71 governments, companies, and international organizations. These attacks and the many others like them have robbed companies and governments of priceless intellectual property and crucial military secrets.
And although officials have until recently been reluctant to name the culprit, most experts agree that the majority of the attacks originated in China. How China censors its social networks - tech - 08 March 2012. The way the Chinese government censors and deletes politically-sensitive terms online has been revealed for the first time.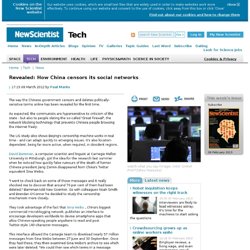 As expected, the communists are hypersensitive to criticism of the state - but also to people slating the so-called 'Great Firewall', the network blocking technology that prevents Chinese people browsing the internet freely. The US study also shows Beijing's censorship machine works in real time - and can adapt quickly to emerging issues. In China, Facebook's Shadow and Worries About Innovation. How do you have a feeding frenzy when you can't—officially, at least—see what's being served?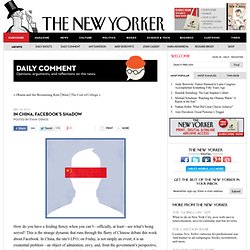 This is the strange dynamic that runs through the flurry of Chinese debate this week about Facebook. In China, the site's I.P.O, on Friday, is not simply an event; it is an existential problem—an object of admiration, envy, and, from the government's perspective, suspicion. In Facebook's shadow, there is also a persistent question about the weakness of Chinese innovation. In Asia, the Facebook offering is already more than twenty-five times oversubscribed, the Times reports. That is all the more remarkable because the Chinese government has blocked Facebook since July, 2009, largely on the belief that it will promote the kind of organized agitation that swept the Middle East. The key to China. To grasp the new spirit of this country, read this fresh, contrarian short fiction "Hiding in the City No. 83" (2009) by artist Liu Bolin.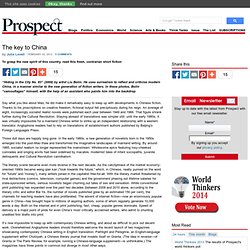 He uses surrealism to reflect and criticise modern China, in a manner similar to the new generation of fiction writers. In these photos, Bolin "camouflages" himself, with the help of an assistant who paints him into the backdrop Say what you like about Mao, he did make it remarkably easy to keep up with developments in Chinese fiction. Thanks to his proscriptions on creative freedom, fictional output fell precipitously during his reign.
What Does a Suicide Bombing Say about Unrest in China? Last Thursday, a Chinese suicide bomber killed three bystanders in a protest over the forced seizure of the bomber's home by a local government in Qiaojia County, in southwestern Yunnan Province.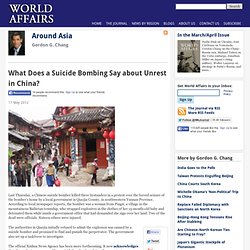 According to local newspaper reports, the bomber was a woman from Pingzi, a village in the mountainous Baihetan township, who wrapped explosives in the clothes of her 15-month-old baby and detonated them while inside a government office that had demanded she sign over her land. Two of the dead were officials. Is Democracy Chinese? An Interview with Journalist Chang Ping by Ian Johnson. This is the fourth in an NYRblog series about the fate of democracy in different parts of the world.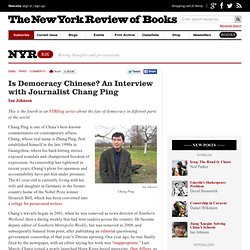 Chang Ping is one of China's best-known commentators on contemporary affairs. Chang, whose real name is Zhang Ping, first established himself in the late 1990s in Guangzhou, where his hard-hitting stories exposed scandals and championed freedom of expression. As censorship has tightened in recent years, Chang's pleas for openness and accountability have put him under pressure. "China's Misrule of Law" by Michael A. Fitts and Amy Gadsden. Exit from comment view mode.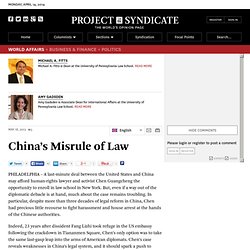 Click to hide this space PHILADELPHIA – A last-minute deal between the United States and China may afford human-rights lawyer and activist Chen Guangcheng the opportunity to enroll in law school in New York. The Forbidden Citizen - By Sophie Richardson. It's only been a month, and 2012 is already looking bleak for the notion that peaceful criticism can exist within China.
In January, a court in the central Chinese city of Wuhan sentenced writer Li Tie to 10 years on charges of subversion of state power, and prosecutors in Hangzhou charged poet Zhu Yufu with subversion for penning a poem about political reform. Prominent dissident Yu Jie, who fled China in January, explained at a press conference in Washington how Beijing policemen beat him for hours and burned him with cigarettes. Learning How to Argue: An Interview with Ran Yunfei by Ian Johnson. One of China's most outspoken public intellectuals, Ran Yunfei was detained last year after calls went out for China to emulate the "Jasmine Revolution" protests sweeping North Africa.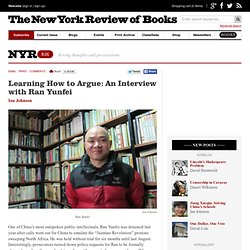 He was held without trial for six months until last August. Interestingly, prosecutors turned down police requests for Ran to be formally charged, sending the case back to police with requests for more evidence. When police failed to come up with more evidence, he was then held under house arrest until early February. Point of Order. CHANGING THE RULESAmitai Etzioni G. John Ikenberry asks whether China will buy into the prevailing liberal, rule-based international order, which has been promoted and underwritten by the United States ("The Future of the Liberal World Order," May/June 2011).
"China on the Launch Pad" by Michael Raska. Exit from comment view mode. Click to hide this space SINGAPORE – Behind a veil of secrecy, China's development of strategic and tactical missiles is well into its third generation of modernization. While the development of Chinese long-range missile and nuclear forces has traditionally been characterized as conservative, incremental, and slow, it has taken place against a backdrop of steadily growing official emphasis on the country's defense-industrial complex, particularly its aerospace sector.
This process has been accelerated by a confluence of defense-industry reforms, comprehensive military upgrading, and integration of innovative operational concepts. A Transformation | The Majalla. Inside Out In conversation with eminent Chinese scholars, Professor Li Weijian and Professor Ye Qing, The Majalla discusses China, the Middle East and the Arab World Transformation. Pro Assad demonstrators wave a chinese flag at a rally in Damascus. Good Foreigner, Bad Foreigner - By Anne Henochowicz. The more than half a million foreigners living in China exist in a legal and ethical gray area. Over the past 60 years, the Communist Party has often attempted to keep foreigners at a distance. In the 1980s foreigners shopped at special supermarkets in Beijing, buying goods that were forbidden to most locals. Today, expats can live in the same apartment buildings, shop in the same stores, and even get cozy with Communist Party officials, as the murder of former Bo Xilai confidant Neil Heywood revealed.
Chinese police tend to be more lenient to (non-African) foreigners than to locals, wary of provoking international incidents; foreign journalists receive far more leeway to write and report than their domestic counterparts. Jesus Loves China, Too - By Bob Fu. Like most Chinese, I was educated as an atheist. All textbooks, philosophy classes, and conferences taught us that the Christian faith is an "opiate of the people's spirit" that Westerners use to numb and neutralize the creativity of the Chinese mind.
But as a student of English literature at Liaocheng University in Shandong province in 1987, my American teachers after class would sometimes pull out what we Chinese students called a "Little Red Book. " China, Inc. Goes Global - Karl P. Sauvant. Shanghai Gets Supersized | Travel. How Casinos in Macau, China Made Siu Yun Ping Rich. "China's Expanding Core" by Yuriko Koike. Nixon Then, China Now - Minxin Pei. "The Future of China's Growth" by Justin Yifu Lin. The Great China Debate. The End of the Con. China's Left Behind Children - by Deborah Jian Lee and Sushma Subramanian.
China's Corporate Leninism - John Lee. China Digs It. Glowing Pork, Exploding Watermelons. "The Art of Chinese Management?" by Stefano Casertano. The Long March from Shanghai - Christopher R. Hill. The Loneliest Superpower - By Minxin Pei. "Why a More Flexible Renminbi Still Matters" by Kenneth Rogoff. "Chinese Values?" by Joschka Fischer. How Chinese Innovation is Changing Green Technology. Time Out Hong Kong - stories, interviews and guides about Hong Kong | Evil overlords or lucky devils. "The Pig, the Wolf, and the Dragon" by Sin-ming Shaw. Hong Kong. One Chief, Two Systems. Scenes from the tobacco harvest: Why China can't quit smoking. Where Coal Is King in China. China's Dam Frenzy - Brahma Chellaney. As Climate Becomes Less Certain, So Does China's Ability to Grow Enough Food.
The most important story in the world: Guardian reporter Jonathan Watts' parting thoughts on nine years of environmental journalism in China | chinadialogue. How Walmart Is Changing China - Magazine. Inside Wukan: the Chinese village that fought back. The Power of China's Powerless - Ma Jian. Rising Protests in China - In Focus. Chinese state media thanks women for being hot.
All the shengnu ladies. The Startling Plight of China's Leftover Ladies - By Christina Larson. China's Connectivity Revolution - Stephen S. Roach. Inside the Eastern Rise of Weibo, China's Twitter. The Not-So-Great Firewall of China - By Rebecca MacKinnon. US-China Today: Joining the Party: Youth Recruitment in the Chinese Communist Party. How China Can Defeat America. When China Rules - Ivan Krastev. "Why China Won't Rule" by Robert Skidelsky. China's Syrian Folly - Steve Tsang. The Great China Debate. The Future of U.S.-Chinese Relations. Chinese Computer Games. Co-operation from China? Friends Like These - By Dan Blumenthal and Lara Crouch. Comrade Locke - By Anne Henochowicz. A New China-Russia Axis? "China's Afghan Game Plan" by Shlomo Ben-Ami. The Real Deng by Fang Lizhi. The Leadership Secrets of Bismarck. Behind <i>The Rise of the Great Powers</i> Pipeline to Nowhere: The Beijing-Moscow Dance Continues. China And The Politics Of Oil - Analysis.
On That Horrible Toddler-Death Story from China - James Fallows - International. Orphans, Strawberries, and the Death Penalty in Beijing. The Xinjiang Procedure. The South China Sea Is the Future of Conflict - By Robert D. Kaplan. China Goes to Sea by Jonathan Holslag. All Quiet in the South China Sea. It may only smell like oil and fish on the South China Sea.
Confrontation in the South China Sea.
---