中国 / China
Urges Microsoft and Cisco to Reconsider China
This week saw two disappointing decisions by two major American companies, Microsoft and Cisco, that appear to be choosing to become little tech helpers to China's repressive regime rather than choosing to be a force for good.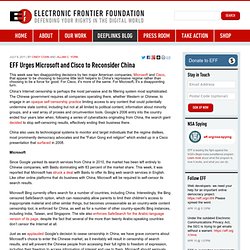 Breaching Trust: An analysis of surveillance and security practices on China's TOM-Skype platform
绕过防火墙 / Firewall of China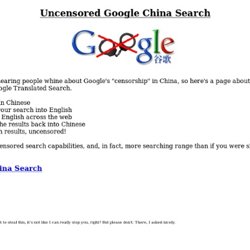 Uncensored Google China Search
I'm sick and tired of hearing people whine about Google's "censorship" in China, so here's a page about something that proves otherwise: Google Translated Search.
List of blacklisted keywords in the People's Republic of China
The government of China has set up a system of internet censorship, intending to block internet users within Mainland China from accessing material deemed undesirable, such as foreign news sites, sites with dissident political content, many Hong Kong and Taiwanese websites, and pornography. However, some people in mainland China are buying software for them to access Google, Facebook,etc. This software is generally not very expensive.