Chickens etc
HenPals Chicken Nest Boxes
EggBoxes.com is your #1 source for all your eggboxes, eggcartons and poultry supply needs. We carry everything you need to feed, breed and harvest your poultry. If you don't see it online just give us a call, We will be glad to get it for you. We offer wholesale prices to qualified buyers with larger orders. Browse our Catalog Our online catalog of egg boxes, egg cartons, filler flats, egg trays and other poultry supplies are available 24 hours a day for your convenience.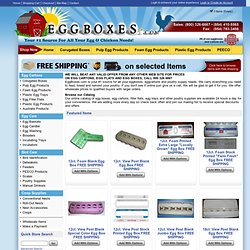 is your #1 source for all your egg boxes, egg cartons and poultr
10-Hole Rear Roll-out Nest The 10-Hole Rear Roll-out Laying Nest is the only of its kind on the market. This unit combines economical pricing with unsacraficed quality and functionality. Special Features Include: Plastic perches and nest bottoms that make this unit fully sanitizable versus competitive brands utilizing wooden perches that harbor lice and bacteria. Rear roll-out design allowing the back of the nest to face a central aisle for fast and trouble-free egg collection.
Roll-Out Nests