Chicago
Intelligentsia Coffee & Tea. Chicago Architecture Foundation - Tours. Cruise Chicago - Chicago's First Lady - Chicago Boat Cruise. The Art Institute of Chicago. Mercat a la planxa | A Taste of Catalonia. The Purple Pig Chicago. Longman & Eagle. Chicago Luxury Hotels: The Boutique Hotel Monaco Chicago.
Publican. Restaurants: Restaurants. When we opened our first restaurant, Frontera Grill, in 1987, the thought that we might someday have a churros shop on the corner—or a tortas shop at O'Hare!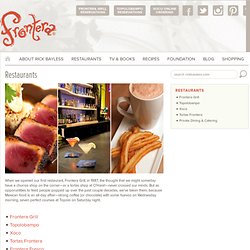 —never crossed our minds. But as opporuntities to feed people popped up over the past couple decades, we've taken them, because Mexican food is an all-day affair—strong coffee (or chocolate) with some huevos on Wednesday morning, seven perfect courses at Topolo on Saturday night.
---