Chicago
Intelligentsia Coffee & Tea
Chicago Architecture Foundation - Tours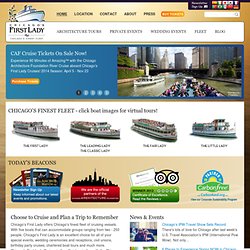 Choose to Cruise and Plan a Trip to Remember Chicago's First Lady offers Chicago's finest fleet of cruising vessels. With five boats that can accommodate groups ranging from two - 250 people, Chicago's First Lady is an excellent choice for all of your special events, wedding ceremonies and receptions, civil unions, birthday party cruises, chartered boat tours and much more. Chicago's First Lady Cruises is the official cruiseline with the Chicago Architecture Foundation and is proud to present the official Chicago Architecture Foundation River Cruise.
Cruise Chicago - Chicago's First Lady - Chicago Boat Cruise
Mercat a la planxa | A Taste of Catalonia
The Purple Pig Chicago
Longman & Eagle
Chicago Luxury Hotels: The Boutique Hotel Monaco Chicago
Make a Reservation A beer-focused restaurant with an eclectic menu inspired by simple farmhouse fare in a space evocative of a European beer hall. Updates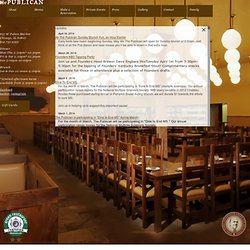 Publican
Restaurants: Restaurants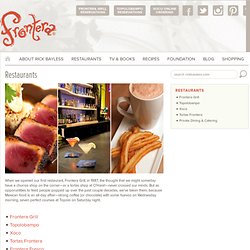 When we opened our first restaurant, Frontera Grill, in 1987, the thought that we might someday have a churros shop on the corner—or a tortas shop at O'Hare!—never crossed our minds. But as opporuntities to feed people popped up over the past couple decades, we've taken them, because Mexican food is an all-day affair—strong coffee (or chocolate) with some huevos on Wednesday morning, seven perfect courses at Topolo on Saturday night.