Chess
Chess tactics training - Improve your chess
Exeter Chess Club | A place to enjoy and learn about chess
WhyChess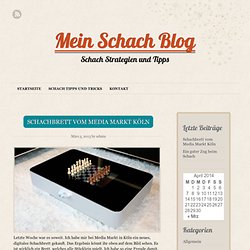 اتحاد الإمارات للشطرنج
Er unterrichtet Schach. Wir haben mehrere Lehren gehabt. Er tut private Schachinstruktion. Er hat es seit 10 Jahren getan.
ابريل المفاجآت تغيب عن نتائج الجولة الأولى من «دبي للشطرنج» خلت نتائج الجولة الأولى لبطولة دبي الدولية للشطرنج من أي مفاجآت، إذ تمكن الكبار من تحقيق انتصارات... إبراهيم الخوري بطل الامارات للرجال والشامسي ثالث فردية الامارات للفتيات للسنة الثانية على التوالي أبوظبي للشطرنج تفوز ببطولة الامارات للرجال ويفوز لاعبه ابراهيم الخوري... «أبوظبي للشطرنج» يكافئ المتميزين برحلة عمرة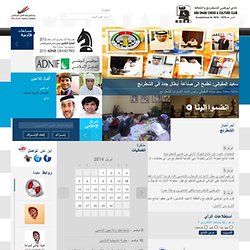 Welcome to Abu Dhabi Chess
نادي دبي للشطرنج والثقافة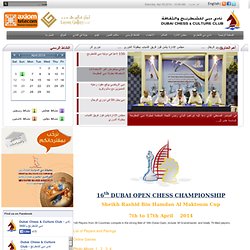 16th DUBAI OPEN CHESS CHAMPIONSHIP 7th to 17th April 2014 148 Players from 39 Countries compete in the strong field of 16th Dubai Open, include 38 Grandmaster, and totally 79 titled players. List of Players and Pairings Online Games Photo Album: 1 , 2 , 3, 4
International Chess News Zhu Chen Arab Chess Champion 2013 Qatari Grandmaster Zhu Chen Became the Arab Women Chess Champion 2013 for Classical Chess and Blitz Chess held in Abudhabi - UAE during the period 7-17 Dec 2013. GM Mohammed AL-Sayed shared the 2nd place in Tradewise Gibraltar Masters 2014
Welcome to The Qatar Chess Association Website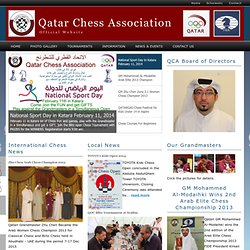 Chess South Africa
This is the 'Rooms' tab. The list on the right shows all available rooms. Each room corresponds to a particular chess event, e.g. a tournament, or a match. Just click on a room in the list, in order to open it in a new tab. This is the 'Room' tab. The list on the right shows all available online chess games from this event.
Chessdom | Chess, chess news, live chess games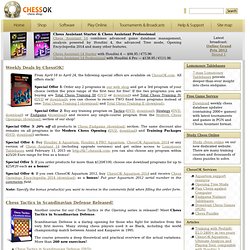 Weekly Deals by ChessOK! From April 18 to April 24, the following special offers are available on ChessOK.com. All offers stack! Special Offer 1: Order any 2 programs in our web shop and get a 3rd program of your choice (within the price range of the first two) for free!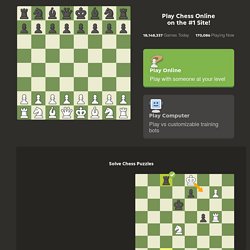 Available languages: Schach - Deutsch Шахматы - Русский Шахи - Українська Chess - English Ajedrez - Español Échecs - Français Scacchi - Italiano Sakk - Magyar Schaken - Nederlands Szachy - Polski Help us finish translating: My language is not listed We are working hard to make Chess.com available in over 70 languages. Check back over the year as we develop the technology to add more, and we will try our best to notify you when your language is ready for translating!
Chess-Results Server Chess-results.com - Homepage
Exeter Chess Club | A place to enjoy and learn about chess
DGT presents to you the Revelation II with Ebony Pieces - Luxury Wooden Chess Set and Integrated Chess Computer Designed for your ultimate chess playing experience, Revelation II is the perfect combination of a luxurious wooden chess board and integrated chess computer system developed in the Netherlands by Digital Game Technology and Phoenix Chess Systems. The tournament size chess board is an innovative DGT sensor board with individual piece recognition and inlaid LED lights to indicate the chess moves. Read more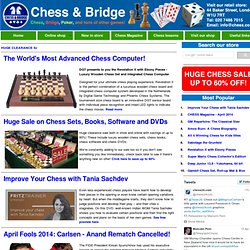 Currently we provide 36,869 tactical chess problems ranging in difficulty from trivial to ambitious. Your tactical performance will be measured by the Glicko rating system wich takes into account both the difficulty of each problem and the time you take to solve it. You can sign in as guest completely anonymous to get familiar with the chess board interface, browse some problems or just look around. You just need a valid email address to register and join our community. Guía de utilización en Español by GM ICCF Roberto Alvarez This is a non-commercial service created and supported by chess enthusiasts from our chess club in Berlin, Germany.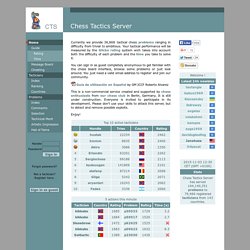 NEW USERS: Getting Started Chessgames.com is a database of historical chess games combined with discussion forums, forming the internet's oldest and best chess learning community. You are encouraged to participate and learn from players stronger than yourself, while guiding those who are weaker.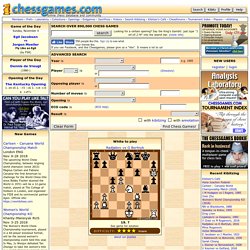 The sensational Olga Girya!17.04.2014Annotated games, News, News feature Hou Yifan enteres the rest day on the right foot, remaining a point ahead of the second place after drawing Zhao Xue. But in the 9th round she will still have to face the sensation of today: Olga Girya!
Chess in Translation: Russian chess news and interviews in English
Chess on Stamps
Chess History Center - Chess Notes